Christmas Food
Christmas Food can be fun, easy, and healthy!  We've provided some tips below to simplify your time in the kitchen, and provide some healthy options to go along with the traditional favorites!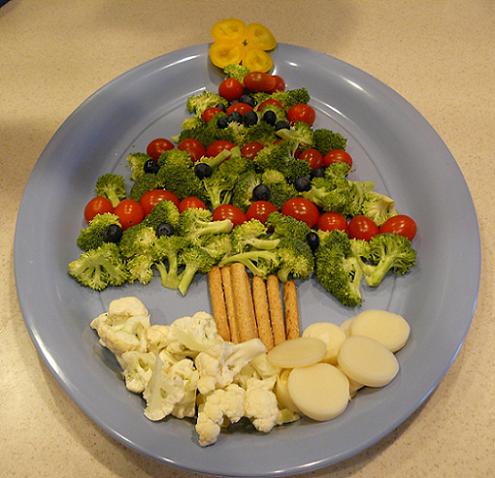 Veggie Christmas Tree - See our Tips to making Produce Trays
Making a Fruit/Veggie Tree is so easy, it is a great project for the kids to do to get them involved with helping!  Just cut up your families favorite food choices, show them a picture of what you are trying to do, and let them decorate it as they want!  I'm sure they will be proud of their work, and more inclined to eat from it! 
I used broccoli, cherry tomatoes (strawberries will work great too), blueberries and pomegranate seeds for the ornaments (olives work great for these too!), and the end of a yellow bell pepper for the Christmas Tree star. The tree trunk was made with the honey whole wheat stick pretzels from Trader Joes (one of my must have weekly snacks!).
I put some cauliflower, and heart of palm at the bottom of the tree. You can customize this, with veggies that you love.
On our Christmas Food Pinterest Board below that shows our last 30 Pins, you can see that there are lots of variations for doing a Christmas tree using Fruits, Veggies, Cheeses etc.
Some of our Christmas Food Traditions
Most of our family lives in Roseville, CA or very close, except for Kerry's family who lives in Seattle, WA. Kerry typically comes down every couple of years to spend Christmas with the rest of us, and her husband's family in Los Angeles, CA.  
For our family, we do Christmas Eve at our brother Scott's house, who lives two blocks away. His wife Julie includes her mother and sister and usually some friends as well.  We do a $10 Christmas Gift Exchange, and our latest tradition has been for everyone just to bring an appetizer or dessert.
(We had way too many desserts as you can tell from the picture below, so we are cutting back this year. I plan to bring an appetizer and a salad myself this year - way too many sweets!!)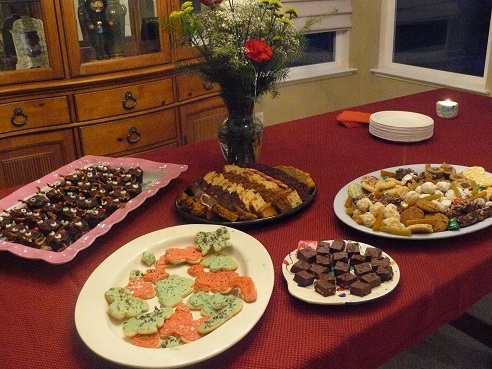 Then on Christmas morning, we all head over to the Parental's House, where we open packages on Christmas morning, along with Christmas Coffee and Breakfast, and we have Christmas dinner later in the day. Since we do a the traditional Thanksgiving Turkey Dinner on Thanksgiving, we typically do a Ham for Christmas.
Decisions, Decisions!
There are so many questions that can run through your mind before this special day, that it is easy to become overwhelmed!  By the time Christmas rolls around, many people are stressed out and sometimes dread the day. Too much work, and possible disappointment! So much food to prepare too, and unending dishes to wash! The operative words here are to simplify, and delegate!
Most people will have a bunch of decisions to make for the day! Here are some of the questions, you might ask yourself:
Will we cook at home, or will we hire a Caterer to help if we are having lots of people?
Will we skip cooking, and just go out to a great Restaurant, or eat at a friends house?
How many different cookies and sweets are you going to bake this year?  Do we really need 10 different kinds?
Should you do ham or turkey for dinner, or what will you serve if you have Vegan or Vegetarian eaters in the family? (We have both in our family!)
Should you bother getting out your china for the holidays, (if you have a set) when you have to hand-wash them?
Which home-made gifts should you prepare this year? Gag gifts, or useful ones, or edible treats like granola or jams?
Will you buy or make your table centerpiece?
Will you make hot apple cider, and will you serve wine for dinner? (Check out our Holiday Drinks page)
Will you invite just your family, or include friends that might not have family nearby to go to? 
Christmas Food Tips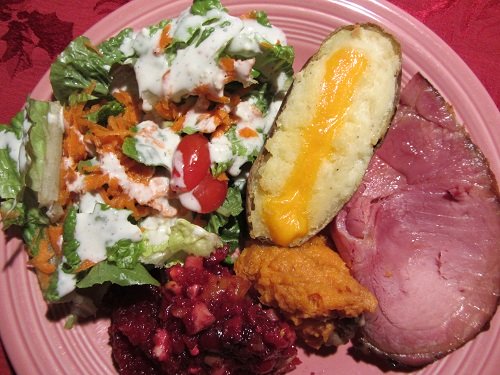 Here are a few of Kerry's Healthy Diet Habits to help simplify your mealtimes:
Figure out all of your meals way beforehand and delegate!

My son Zach worked at Trader Joe's during his college years. During that time, he got in the habit of buying our Christmas Eve meal. We just do finger foods, and it is very fun!  He gathers a variety of foods we have never tried, and we splurge. I provide a few veggies for dipping, and he does the rest.  It is so helpful, and we have found many new love foods! It is simple!  We do not do fancy serving dishes, just serve from the wrappers.  It's a new tradition that we love, and it's his deal totally, and a great help to me.
Prepare all meal items beforehand, and keep it simple! This is not the time to try out fancy new dishes and show off.  Keep it simple, and use your favorite stand-by easy dishes and holiday food. You can't go wrong with a ham, baked potatoes, salad or produce tray (or both), fresh green beans, and a pie. (even a Costco pie will do!). This meal is easy, delicious, and will allow you time to enjoy the day. If you decide on Turkey, dressing, and gravy, there is no reason why you can't fix everything the day before and just warm it up, so you can enjoy the day.  We recently bought a smoker, and since they take longer to smoke, we can just do one or more the day before. Leftovers are always great!
Prepare your breakfast meal the night before.

 We usually buy frozen chocolate croissants (Trader Joe's has great ones!), and I set them to rise the night before. I prepare an egg bake that is simple. I simply stick them both in the oven while we are opening fits, and we have tantalizing smells coming from the kitchen. Paper Plates, so no dishes to wash! Delish, and no slaving away!  It's my day too!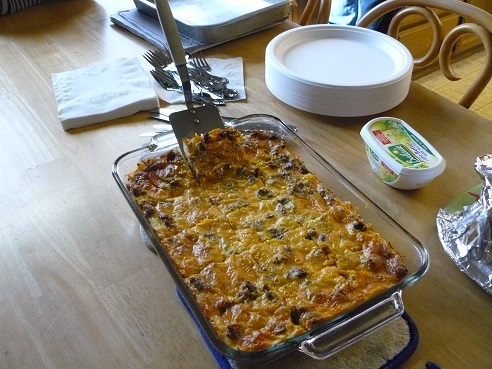 (Checkout Kerry's Breakfast Casserole Recipe) 
Skip lunch and have an early dinner.  If anyone can't wait, they can dig into the leftover goodies, but they must clean up their own mess!
Keep it simple is the lifestyle solution that you want to adopt.  This is a holiday about celebration, whatever your religious beliefs! Celebrate, and enjoy the day with your family.  Develop easier traditions, and ones that actually mean something!
Last year, my friend and her family prepared 30 gift bags full of McDonald's $10 coupon, socks, toiletries, and candy, and handed them out to homeless men in Seattle!  It was their favorite memory, and changed their holiday!  Look for those activities to engage in, and be surprised when Christmas Day looks a whole lot brighter!
Leftovers!
Here are some helpful pages on Kerry's, Healthy Diet Habits website that will give you some ideas and recipes on what to do with your Christmas Food Leftovers! (Links open in a new browser window)
| | |
| --- | --- |
| | Leftover Ham is a staple of holiday meals. Here are a few ideas and recipes to re-purpose ham into delicious new meals! |
| | |
| --- | --- |
| | Turkey leftovers and Thanksgiving are synonymous! A little up front planning can help you re-purpose your leftovers into different meals! |
Share YOUR Christmas Recipes
If you have any great Christmas Recipes, please submit them on our new Holiday Recipes page, and we will include them also on this page, and on any other relevant page! Thanks!!
---
Pinterest
Please Follow our Holidays and Observances Christmas Food - Holiday Board on Pinterest - below you will see our 30 most recent pins to this photo board! (Lots of great ideas to inspire your creativity!)
Follow Holidays and Observances's board Christmas Food on Pinterest.
Click on the SEE ON PINTEREST bar right above, (link will take you to our Pinterest Boards where we have many more Christmas Boards) to see all the rest of our photo's on this board, and to Follow the board. New photos will be constantly added!
Like this Page?
Like this Site?
---