Easter
Easter is a Religious Holiday that is associated with the death, and resurrection of Jesus Christ. He was crucified on the Friday before (Good Friday), and arose from the dead and ascended into heaven on Easter Sunday.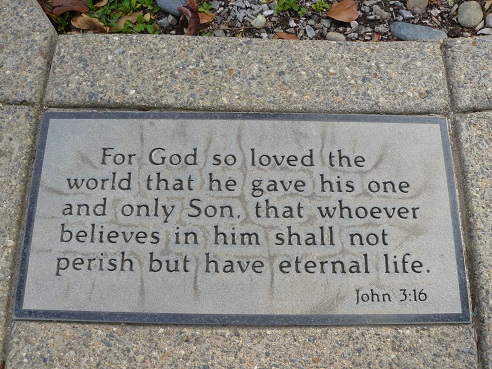 When is Easter?

Easter is celebrated on different dates each year on a Sunday between March 22nd and April 25th. The day after Easter is known as Easter Monday, and is a legal holiday in many Countries.
In 2023, it will be celebrated on Sunday, April 9, 2023
In 2024, it will be celebrated on Sunday, March 31, 2024
In 2025, it will be celebrated on Sunday, April 20, 2025
In 2026, it will be celebrated on Sunday, April 5, 2026
In 2027, it will be celebrated on Sunday, March 28, 2027
In 2028, it will be celebrated on Sunday, April 16, 2028
Easter Holiday Traditions

Attending Church on Sunday. Typically, many of those who do not attend church on a regular basis, attend Church on Easter Sunday and Christmas. I remember as a child that my sister and I used to always get a new fancy dress, and often a hat to go along with it to wear to Sunday school and church.

Flowers such as Lilies and Tulips are popular to give on this day.
Having a Family Dinner Meal with the Traditional Ham and fixings! See our devoted page on Easter Food for some tips, ideas, recipes and ideas on what to do with all your leftover ham!
Giving your kids an Easter Basket Basket in the morning, full of Chocolate bunnies, candies such as Jelly Beans and Marshmallow Peeps, and often a stuffed animal bunny or chick.
Great photo opportunities abound on this day with pictures of your kids searching for eggs, and digging through their baskets, and all dolled up for church.  Our Easter Pinterest board below is full of great photo ideas of infants sleeping in baskets, chocolate eggs, and wearing adorable hats while sleeping!
On Easter Monday, the President of the United States holds an annual Easter Egg Roll on the White House lawn for young children. Below is a Time Lapse video of the 2019 event. No matter who is President at the time, this looks like a super fun event, especially if you have small children!!  We lived in Washington D.C. for four years while our Dad worked at the White House.  I definitely will need to speak to the Parental Units, about why they never took us to this event!

New York City holds an annual parade on Easter Sunday.
Many schools, give kids a week off of school for a Spring break, around this time.
My daughter Brie always wanted to have her face painted for the annual egg hunt, when we lived in Truckee. The picture below was taken in Truckee, where they also had an annual Easter Hat contest.  The pink cap that Brie was wearing in the picture below, was actually my grandmother Maurine's old shower cap! (She is laughing up in heaven, that we got such great use out of her cap!)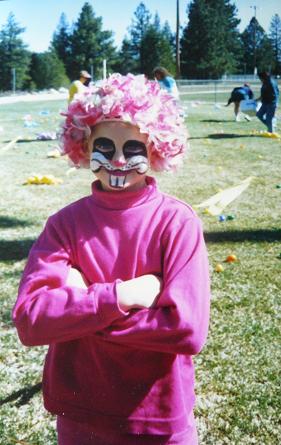 Decorating Easter Eggs

The Easter Egg is a symbol of fertility, rebirth and resurrection. The tradition of decorating eggs dates back to 2,500 years ago when ancient Persians painted eggs for Nowrooz, their New Year celebration on the Spring equinox. The egg is widely used as a symbol of springtime, and the start of new life, just as new life emerges from an egg when the chick hatches out.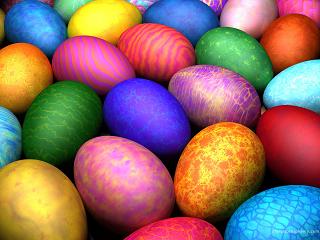 Egg hunts are popular, and a fun thing for the kids to do on this holiday.  Eggs are hidden, and kids run around with their baskets trying to find them.  One idea that I found on Pinterest, to account for the fact, that the faster older kids typically find the most eggs, is to hide different colored eggs, and each age group (or child for smaller egg hunts) have to find their own colored eggs. 
Typically, for Egg hunts, you can use the plastic eggs, and put treats in the different eggs.  I like the ideas that don't include "SUGAR", like maybe putting some coins in the eggs, some small toys, or one idea I saw is putting different kinds of healthy snacks in the eggs, that the kids would then eat for their lunch.
Another fun idea is to take small glow sticks, and put them in plastic eggs. Then hid them in the house after dark, and turn off the lights for the hunt.
Bunnies!!!

I loved this picture of the bunny rabbit, that I saw on Pinterest!  Baby bunnies in particular are so adorable, that many parents present their kids with a live bunny for a present.  However, their life span is around 8-10 years, and the novelty of owning a rabbit, especially if you don't have a place out in the country, often wears off.  Animal Shelters are inundated with bunnies soon after this holiday, and they are the third most euthanized animal :(  An adorable stuffed bunny is a great option!
I love animals, and I love the Best Friends Animal Santuary in Kanab Utah.  It is so amazing, and I would love to be able to visit it one day. They have different little towns through out their Sanctuary for the different animals...below is a video of some of their favorite pictures of bunnies taken over the years from their Bunny House.

---
Additional Easter Information
Some of the additional Easter related pages that we have planned for the site are: (as pages are completed, they will be linked below)

Easter Baskets
Easter Bunny
Easter Candy
Easter Eggs
Easter History
Easter Monday
Palm Sunday
Passover
---
Please Follow our Holidays and Observances Easter Holiday Board on Pinterest - below you will see our 30 most recent pins to this photo board!
Click on the SEE ON PINTEREST bar right above, (link goes to our Pinterest) to see all the rest of our photo's on this board, and to Follow the board. New photos will be constantly added!
Happy Easter to All....

Like this Page?
Like this Site?
---