Hanukkah Food
Hanukkah Food, is typically a traditional meal plan full of fried foods, dairy, and sweet treats!
During Hanukkah, many families invite their relatives and friends over to light the Menorah, play dreidel, exchange gifts, and eat a traditional holiday meal.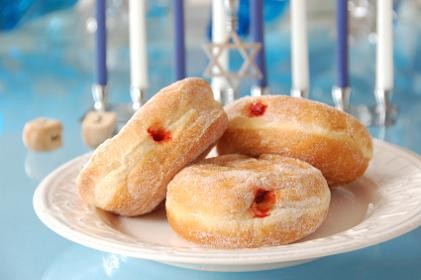 Hanukkah Treats - Deep-fried jelly filled donuts called Sufganiot
Hanukkah Meal
The typical holiday meal usually includes:


Meat: Usually brisket or chicken is served.


Side dishes usually include the most popular food called Latkes. Traditionally they were made with potatoes, but today there are twists on this favorite, from sweet potatoes to other vegetables, and even tuna latkes. Each family has their traditional recipe, but all are fried.


Dairy: Serving dairy is another tradition, so cheeses are often served.


Deep-fried jelly filled donuts called Sufganiot. These are especially loved by all kids.



Traditional treats of cakes and cookies. There are cut-out decorated sugar cookies, cupcakes shaped like Menorahs, many other cakes and cookies, candy dreidels, and the jelly donuts!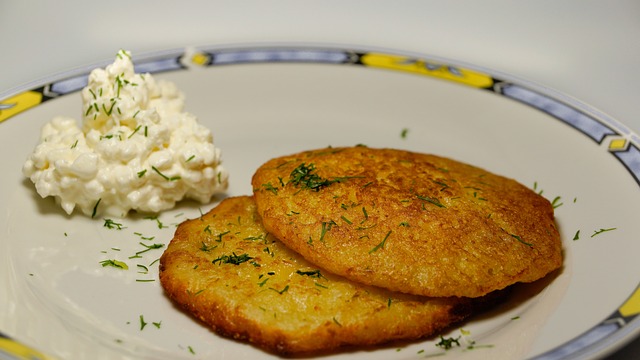 Pinterest
Please Follow our Holidays and Observances Hanukkah Food - Holiday Board on Pinterest - below you will see our 30 most recent pins to this photo board!
Follow Holidays and Observances Hanukkah Food on Pinterest
Click on the SEE ON PINTEREST bar right above, (link will take you to our Pinterest Boards) to see all the rest of our photo's on this board, and to Follow the board. New photos will be constantly added!
Like this Page?
Like this Site?
---