Holidays and Observances
Alphabetical Listing of O Holidays

Below, you can find a Holidays and Observances Alphabetical Listing of US Holidays and World Holidays and Observances that start with O.  We are still adding names to the list, so more information will be coming. 
After we complete the summary pages on the site, we will start working on a detailed page(s) for each Holidays and Observance. Once a page is completed for each Holiday or Observance, it will be linked up below, as well as it's related Daily Holidays page. (that should keep us busy for the next 20 years or so!!)
Search for Holidays Alphabetically:
A, B, C, D, E, F, G, H, I, J, K, L, M, N, N-Pg2 O, P, Q, R, S, T, U, V, W, X-Y-Z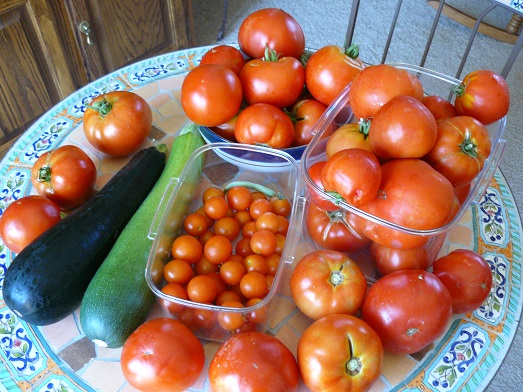 Organic Harvest Month is the Entire Month of September! I've been growing my own Organic Vegetables over the last couple of years. Not only does it save a lot of money, but there is nothing better than going outside to pick stuff for dinner! This was one day's haul - with this many tomatoes, I took off the skins and ran everything through my juicer.  I was then able to freeze the juice/pulp in freezer quart size bags which are perfect for taking out to make pasta sauce or any type of soup. For excess zucchini - I peeled them and just grated them and put in freezer baggies to add to soups and sauces.
O Holidays and Observances
O. Henry Pun-Off Day - May 15, 2020 (Third Saturday in May)
Oatmeal Monday - February 10, 2020 (Second Monday in February)
Occupational Safety and Health Professionals Day - May 9
Occupational Therapy Day - October 27
Occupational Therapy Month - April
Odd Day - (Last one was 9-11-13 - three consecutive odd numbers)
Office Chocolate Day - October 20
Official Lost & Found Day - December 11, 2020 (Second Friday in December)
Oklahoma City Bombing Commemoration Day - April 19
Oktoberfest

 - September 19, 2020 - October 4, 2020 Beer Festival in Munich, Germany. This festival is now held all over the World. Also, check out our Holidays in Germany page!
Old Clem's Night - November 23
Old Farmers Day - October 12
Old Time Fiddlers Week - June 22-27, 2020 (Third Week in June)
Old Time Player Piano Weekend - May 23-25, 2020 (Memorial Day Weekend)
Older Americans Mental Health Week - May 24-30, 2020 
Older Americans Month - May
One Day Without Shoes Day - May 10, 2020
One-on-One Month - September
Open that Bottle Night - February 29, 2020 (Last Saturday in February)

Operating Room Nurse Awareness Week - Third Week of November
Operating Room Nurse Day - November 14
Operation Red Wings Observance - June 28
Operation Safe Driver Week - July 12-18, 2020
Operation Santa Paws - December
Oral, Head and Neck Cancer Awareness Week - April 13-19, 2020
Orange Shirt Day - September 30
Organic Harvest Month - September
Organize Your Home Office Day - March 10, 2020 (Second Tuesday in March)

Organize Your Medical Information Month - October
Origami Day - November 11
Orphan Sunday - November 8, 2020 (Second Sunday in November)
Orthodox Easter Monday - April 20, 2020 

Orthodox Forgiveness Sunday - March 1, 2020
Orthodox Green Monday - March 2, 2020
Orthodox Holy Week - April 12-18, 2020
Orthodox Lent - March 2 - April 18, 2020
Ostara - March 19, 2020 (Spring Equinox) 
Osteoporosis Prevention Month - May
Own Business Day - October 13, 2020 (Second Tuesday in October)
Search for Holidays Alphabetically:
A, B, C, D, E, F, G, H, I, J, K, L, M, N, N-Pg2 O, P, Q, R, S, T, U, V, W, X-Y-Z
Like this Page?
Like this Site?
---