November 30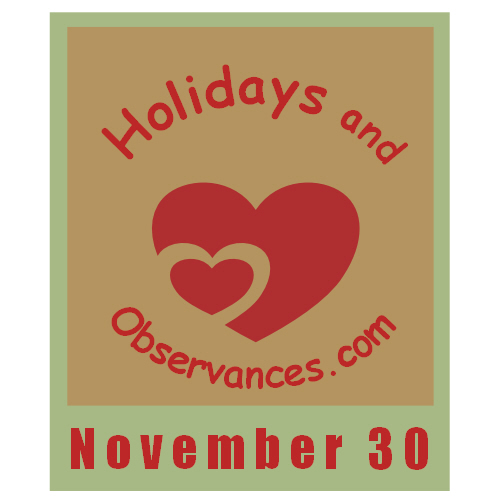 Holidays and Observances
(Alphabetical Order)
2023 Daily Holidays that fall on November 30, include:
Cities for Life Day
International Computer Security Day 
National Mason Jar Day 

National Meth Awareness Day 
National Mousse Day 
National Personal Space Day 
Native Women's Equal Pay Day - November 30, 2023
Perpetual Youth Day 
Stay Home Because You're Well Day 
2023 Weekly Holidays that include November 30, are:
2023 Monthly Holidays that include November 30, are:
There are too many monthly holidays to include here, so please check out our November Holidays page to see all of the holidays that are celebrated the entire month of November.
NOTE: A page on each holiday will be coming soon and linked above.
Astrological Sign

The Astrological Sign for November 30 is Sagittarius.

Birth Flower of the Month

The Birth Flower(s) for the Month for November are:
Chrysanthemum - abundance, cheerfulness, compassion, friendship, secret love
Birthstone
The Birthstone(s) for November is Topaz and Citrine.
Famous Birthdays

1835 - Mark Twain, America novelist, humorist and lecturer (The Adventures of Tom Sawyer, Adventures of Huckleberry Finn (d. 1910)
1874 - Winston Churchill, English Colonel, Journalist and politician who became the Prime Minister of the United Kingdom (d. 1965)
1929 - Dick Clar, American t.v. host and producer who founded Dick Clark Productions (d 2012)
1955 - Billy Idol, English singer, songwriter and actor
1975 - Mindy McCready, American singer and songwriter (d. 2013)
Famous Deaths

1016 - Edmund Ironside, English King (b. 993)
1900 - Oscar Wilde, Irish playwright, novelist and poet (The Picture of Dorian Gray) (b. 1854)
1979 - Zeppo Marx, American actor and comedian (Marx Brothers) (b. 1901)
2013 - Paul Walker, Actor (Fast & Furious Movies), and founder of non-profit Reach Out Worldwide 
2017 - Jim Nabors, American actor and comedian (Gomer Pyle) (b. 1930)
2018 - George H. W. Bush, American politician who became the 41st President of the United States (b. 1924)
Famous Weddings and Divorces

1940 - Actress Lucill Ball (I Love Lucy) marries Cuban actor and singer Desi Arnaz
1945 - Actress Bette Davis (All About Eve) marries artist William Grant Sherry
1980 - Comedian Jay Leno marries Mavis Nicholson
Quote of the Day

Let your children know they are Loved!
Recipe of the Day or a
Healthy Diet Habit Tip of the Day

Info. to Come Soon!
This Day in History

1803 - In New Orleans, Louisiana, the Spanish transfer the Louisiana Territory to an official from the French First Republic who transfers it 20 days later to the United States as the Louisiana Purchase
1900 - A German engineer patents front wheel drive for automobiles
1934 - The LNER Class A3 4472 Flying Scotsman becomes the first steam locomotive to reach 100 mps
1936 - The Crystal Palance in London, England is destroyed by fire
1939 - During World War II, the Winter War is started when the Soviet Red Army crosses the Finnish border and bombs Helsinki and several other Finnish cities
1941 - The SS-Einsatzgruppen round up 11,000 Jews from the Riga Ghetto and kill them in the Rumbula massacre during the Holocaust
1966 - Barbados becomes independent from the United Kingdom
1967 - South Yemen becomes independent from the United Kingdom
1995 - Operation Desert Storm officially ends in Iraq
1999 - ExxonMobil is created when Exxon and Mobil sign a $73.7 billion agreement to merge becoming te world's largest company
2001 - Gary Ridgway, who was the Green River Killer in the State of Washington is caught and charged with four murders, ultimately convicted of 49 murders
2021 - Barbados becomes a republic


This Day in Music

1974 - Elton John's Greatest Hits album hits #1 in America
1977 - Bing Crosby's last Christmas special airs
1979 - The Wall is released by Pink Floyd which has a #1 - Another Brick In The Wall (Part II) (Video Below)
1982 - Thriller is released by Michael Jackson and goes on to become the best selling album in the world
1985 - Separate Lives by Phil Collins & Marilyn Martin hits #1
2012 - At 76 years old, Glen Campbell plays his final concert in Napa, California after being diagnosed with Alzheimer's disease
This Day in Sports

1872 - The first international soccer game is played between Scotland and England with a draw of 0-0
1956 - At 21 years old, Floyd Patterson becomes the youngest world heavyweight boxing champion after he KOs Archie Moore in 5, he also becomes the first Olympic gold medalist to win a professional heavyweight title
1956 - Australian Jon Henricks swims a world record 55.4 to win the men's 100m at the Melbourne Olympics with his teammates John Devitt and Gary Chapman taking the silver and bronze
1956 - American Milt Campbell sets an Olympic record of 7,937 points and wins the decathlon gold medal at the Melbourne Olympic Games
Word of the Day from Wiktionary

Diapir (noun)
1. (geology) An intrusion of a ductile rock into an overburden.


Wishing You a Great Day Today!


Like this Page?
Like this Site?
---