Alabama State Holidays
Alabama State Holidays include the following dates:
February 16, 2021 - Mardi Gras Day (Baldwin & Mobile Counties only)
April 26, 2021 - Confederate Memorial Day
June 7, 2021 - Jefferson Davis' Birthday
These are in addition to the US Federal Holidays!
Here is a PDF of the 2021 Alabama Holidays from the State of Alabama Government website!
Local Alabama Observance Days
Spring Severe Weather Awareness Week (Flood) - February 16-21, 2020 (2021 TBA)
Hurricane Preparedness Week - 2021 TBA
Summer Safety: Lightning, Heat, Rip Currents, Boating - May 17-23, 2020
Fall Severe Weather Awareness Day - 2021 TBA
Winter Weather Awareness Week - 2021 TBA
Alabama State Seal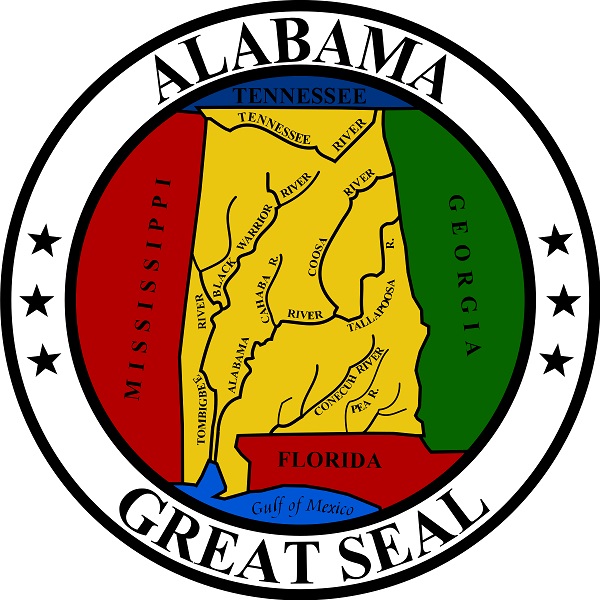 Map of Alabama
Overview of Alabama
National Parks in Alabama
There are no National Parks in Alabama, but there are some National Monuments, National Historic Trails, National Historic Sites, National Military Parks, National Preserves and the Natchez Trace Parkway. Find out the details at National Park Service.
State Parks in Alabama
There are 24 State Parks in Alabama! The State Parks website is a great resource to find detailed information on all of the State Parks as well as the National Parks:  http://www.stateparks.com/al.html
Alabama State Facts and History
Alabama became the 22nd State on December 14, 1819
Alabama State Abbreviation: AL
Alabama State Capital: Montgomery
Alabama State Amphibian: Red Hills Salamander
Alabama State Animal: Black Bear
Alabama State Bird: Northern Flicker
Alabama State Butterfly: Monarch Butterfly
Alabama State Fish: Largemouth Bass
Alabama State Flower: Camellia
Alabama State Gemstone: Quartz
Alabama State Nickname: Yellowhammer State, Heart of Dixie
Alabama State Nut: Pecan
Alabama State Reptile: Alabama red-bellied turtle
Alabama State Tree: Southern Longleaf Pine
Alabama State Flag

Alabama Resources
Pinterest Board of Alabama
Like this Page?
Like this Site?
---