Alaska State Holidays
Alaska State Holidays include the following dates:
March 27, 2023 - Seward's Day (Last Monday in March)
October 18, 2023 - Alaska Day - The day that Russia sold Alaska to the United States for $7.2 million
These are in addition to the US Federal Holidays, except that Alaska does not celebrate Columbus Day on October 9, 2023.
Here is a PDF of the 2023 Alaska Holidays from the State of Alaska Government Website!



Local Alaska Observance Days/Weeks
Alaska Law Enforcement Appreciation Day - January 6, 2023
Alaska School Choice Week - January 22-28, 2023
Elizabeth Peratrovich Day - February 16
Tsunami Preparedness Week - March 26-31, 2023
Great Alaska Good Friday Earthquake Remembrance Day - March 27
Commercial Fishing and Agriculture Bank Day - April 3, 2022 (2023 TBA)
Flood Safety Awareness Week - April 10-16, 2022 (2023 TBA)
Alaska Mining Day - May 10, 2023

Alaska Employ People with Disabilities Week - October 1-7, 2023 (First Full Week of October)
Winter Weather Preparedness Week - September 25 - October 1, 2022 (2023 TBD)
Alaska Territorial Guard Day - October 18
International Inuit Day - November 7

Alaska Festivals and Events 
(Date Order)
Alaska State Seal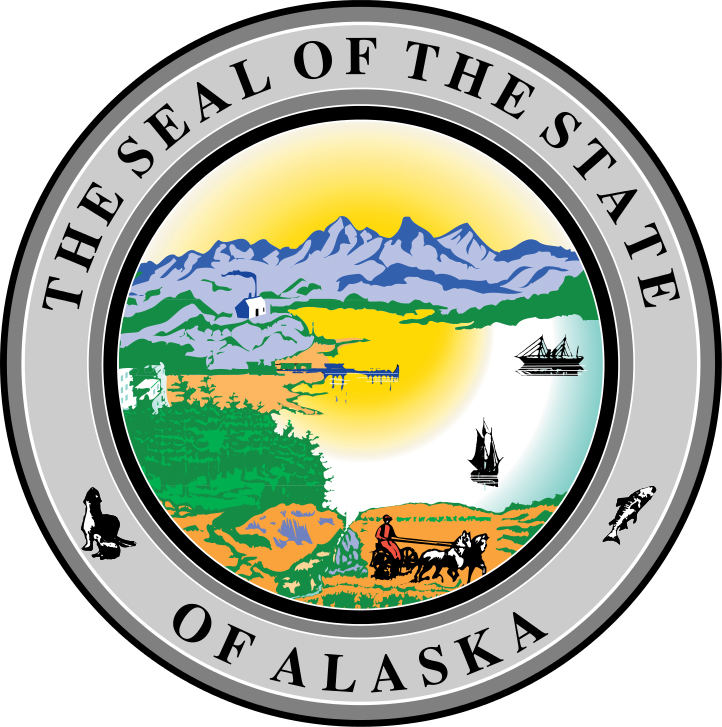 Map of Alaska
National Parks in Alaska
Denali National Park and Preserve
Gates of the Arctic National Park
Glacier Bay National Park
Katmai National Park and Preserve
Kenai Fjords National Park
Kobuk Valley National Park
Lake Clark National Park
For additional information on National Parks in Alaska, visit the National Park Service.
State Parks in Alaska
There are four State Parks in Alaska.  The State Parks website is a great resource to find detailed information on all of the State Parks as well as the National Parks: http://www.stateparks.com/ak.html
Overview of Alaska
Alaska State Facts and History
Alaska became the 49th State on January 3, 1959
Alaska State Abbreviation: AK
Alaska State Capital:  Juneau
Alaska State Amphibian: N/A
Alaska State Animal: Moose
Alaska State Bird: Willow Ptarmigan
Alaska State Butterfly/Insect: Four-spot Skimmer Dragonfly
Alaska State Dog: Alaskan Malamute
Alaska State Fish: Giant King Salmon
Alaska State Flower: Alpine Forget Me Not
Alaska State Gemstone: Jade
Alaska State Nickname: The Last Frontier
Alaska State Nut: N/A
Alaska State Reptile: N/A
Alaska State Sport: Dog Mushing
Alaska State Tree: Sitka Spruce
Alaska State Flag
Alaska Resources
Pinterest Board of Alaska
Like this Page?
Like this Site?
---