April 10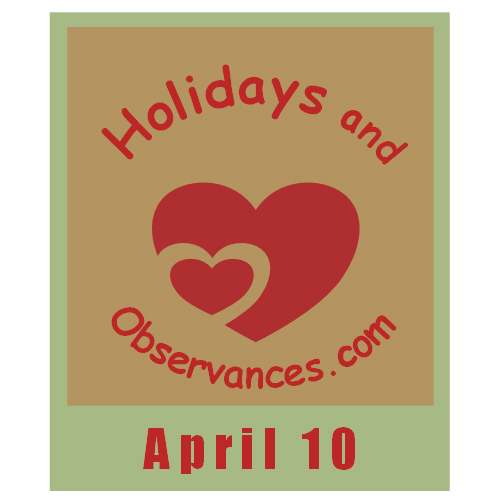 Holidays and Observances

2019 Daily Holidays that fall on April 10, include:
ASPCA Day (American Society for the Prevention of Cruelty to Animals) 

Encourage a Young Writer Day 

Free Cone Day (at Ben & Jerry's) - April 10, 2018 from 12pm-8pm (2019 TBA)
Golfer's Day 
International Safety Pin Day 

National Bookmobile Day - April 10, 2019 (Third Wednesday of April)
National Cinnamon Crescent Day 
National Farm Animals Day

National Sibling Day 
National Youth HIV and AIDS Awareness Day 
Safety Pin Day 
Salvation Army Founder's Day
2019 Weekly Holidays that include April 10, are:
American Indian Awareness Week - April 8-12, 2019
Bat Appreciation Week - April 7-13, 2019 (First Full Week of April)
Consider Christianity Week - April 7-13, 2019 (Begins the Second Sunday before Easter)
Hate Week - April 4-10
Lent - Begins on Ash Wednesday - March 6, 2019 through April 18, 2019
Make Mine Chocolate - (Campaign kicks off annually on Feb 15, and ends on Easter which is April 21, 2019)
National Blue Ribbon Week - April 7-13, 2019 (First Full Week of April)
National Cherry Blossom Festival - March 20 - April 14, 2019
National Crime Victims' Rights Week - April 7-13, 2019
National Dental Hygienist Week - April 8-12, 2019
National Library Week - April 7-13, 2019 (Second Full Week of April)
National Occupational Health Nursing Week - April 8-12, 2019
National Oral, Head, and Neck Cancer Awareness Week - April 7-14, 2019
National Public Health Week - April 7-13, 2019
National Robotics Week - April 6-14, 2019
National Volunteer Week - April 7-13, 2019
National Window Safety Week - April 7-13, 2019 (First Full Week of April)
National Work Zone Safety Awareness Week - April 8-12, 2019
National Youth Violence Prevention Week - April 8-12, 2019
Orthodox Lent - March 11 - April 27, 2019
Passion Week - April 7-13, 2019 (Starts on the Fifth Sunday in Lent; the Week before Holy Week)
Passiontide - April 7-20, 2019 (The Last Two Weeks of Lent - Passion Week and Holy Week)
Undergraduate Research Week - April 8-12, 2019 (Always has April 11th in it)
2019 Monthly Holidays that include April 10, are:
There are too many monthly holidays to include here, so please check out our April Holidays page to see all of the holidays that are celebrated the entire month of April.
NOTE:
A page on each holiday will be coming soon and linked above.
If a date is a movable holiday, that is different every year, I'll include the year as well as the date rule above. Otherwise, the holiday falls on the same date each year.
World Festivals and Events
The Masters Tournament - April 8-14, 2019  - The Masters Tournament is one of the four major championships in professional golf.  The event will be held at the Augusta National Golf Course in Augusta, GA
Astrological Sign

The Astrological Sign for April 10 is Aries.

Birth Flower of the Month

The Birth Flower(s) for the Month for April are:
Daisy - signifies innocence, loyal love, and purity
Sweet Pea - signify blissful pleasure, but are also used to say good-bye.
Birthstone
The Birthstone(s) for April is the diamond, a symbol of enduring love.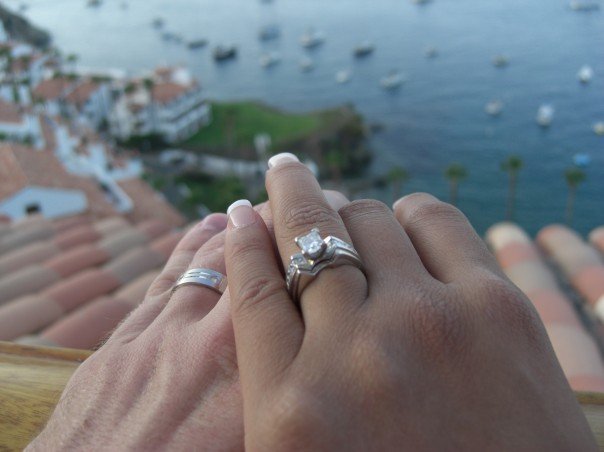 Famous Birthdays

Famous Deaths

2010 – Dixie Carter, American actress (Designing Women) (b. 1939)
Famous Weddings and Divorces

1959 - Japan's Crown Prince Akihito marries commoner Michiko Shoda
1978 - Aretha Franklin marries her second husband, actor Glynn Turman
Quote of the Day

(links above go to Pinterest) - William Booth, who was born  on this day in 1829, was a British Minister, who, along with his wife Catherine Booth, founded the Salvation Army. It is known for being one of the largest distributors of humanitarian aid. During William Booth's lifetime, he established his Salvation Army organization in 58 Countries.

Recipe of the Day or a
Healthy Diet Habit Tip of the Day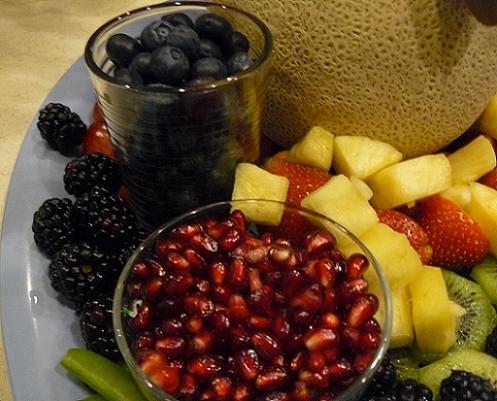 The Holidays and Observances Recipe/Healthy Diet Habits Tip of the Day for April 10, is some Tips on the Diet Goal Process, from Kerry, of Healthy Diet Habits (link goes to her website). Your diet goals must be doable! If you are going to make any New Years Resolutions related to losing weight, these are great to know, so you can set some attainable goals!

This Day in History

1790 - Robert Gray is the 1st American to circumnavigate the Earth
1825 - 1st hotel in Hawaii opens
1849 - Walter Hunt got a patent for the Safety Pin

1866 – The American Society for the Prevention of Cruelty to Animals (ASPCA) is founded in New York City by Henry Bergh  - (See our Animal Holidays and Pet Holidays (Dogs/Cats) pages)
1869 - Congress increases number of Supreme Court judges from 7 to 9
1874 – The first Arbor Day is celebrated in Nebraska
1877 - 1st human cannonball act is performed in London
1955 - Dr Jonas Salk successfully tests Polio vaccine
1960 - Senate passes landmark Civil Rights Bill
1972 - For the first time since November 1967, American B-52 bombers reportedly begin bombing North Vietnam.
1972 – Seventy four nations sign the Biological Weapons Convention, the first multilateral disarmament treaty banning the production of biological weapons which have the ability to adversely affect human health in a variety of ways from mild allergies, to serious conditions, including death.
1995 - New York City bans smoking in all restaurants that seat 35 or more
1998 - The Belfast Agreement is signed (also called the Good Friday Agreement) 
This Day in Music

1954 - Perry Como's Wanted hits #1

1973 - Led Zeppelin's album Houses Of The Holy is certified gold
1976 - Peter Frampton's album Frampton Comes Alive! hits #1
1985 - Madonna starts her first tour, called The Virgin Tour, in Seattle, Washington. The Beastie Boys opened for Madonna on this tour.
1999 - A charity tribute concert for the late Linda McCartney was held at the Royal Albert Hall, London. Some of the performers included were, Paul McCartney, George Michael, Elvis Costello and Sinead O'Connor
2005 - Natalie Imbruglia's third album and first #1 Counting Down the Days hits #1 in the UK
Above, is Natalie Imbruglia's song Torn, which helped to launch her career internationally, and for which she won many awards.  She was born in 1975 in Sydney, Australia (see Holidays in Australia)
This Day in Sports

1916 – The Professional Golfers Association of America (PGA) is formed in New York City
1945 - NFL's Boston Yanks & Brooklyn Tigers merge
1947 - Jackie Robinson joins the Dodgers, and becomes the 1st black in major league baseball
1962 - 1st baseball game at LA's Dodger Stadium, they lose 6-3 to Reds
1962 - NY Yankee Mickey Mantle hits his 375th HR
1985 - Leo Sites, at age 80, becomes the oldest bowler to score a 300 game
Word of the Day from Wiktionary

popliteal (adjective)
1. (anatomy) Of the area behind the knee.


Wishing You a Great Day Today!