April 22

 Holidays and Observances

2017 Daily Holidays that fall on April 22, include:
Chemists Celebrate the Earth Day 
Confederate Memorial Day - April 22 (States of AL, FL, GA)

Girl Scout Leader Appreciation Day
In God We Trust Day
International Mother Earth Day 

Mother Earth Day 
National Dance Day - April 22, 2017 (Fourth Saturday in April)
National Jelly Bean Day
Oklahoma Day 
2017 Weekly Holidays that include April 22, are:
Animal Cruelty / Human Violence Awareness Week - April 16-22, 2017 (Third Week in April)
Cleaning for a Reason Week - April 18-24
Consumer Awareness Week - April 18-23
Global Youth Service Days - April 21-23, 2017
International Wildlife Film Week - April 15-22, 2017
Just Pray No! Worldwide Weekend of Prayer and Fasting - April 22-23, 2017
Money Smart Week - April 22-29, 2017
National Coin Week - April 16-22, 2017 (Fourth Week of April)
National Egg Salad Week - April 17-23, 2017 (Movable Week observed the week after Easter)
National Infants Immunization Week - April 16-22, 2017 (Fourth Week of April)
National Karaoke Week - April 16-22, 2017  (Fourth Week of April)
National Organ / Tissue Donor Awareness Week - April 17-23, 2017 (Last Week of April)
National Osteopathic Medicine Week - April 16-22, 2017
National Paperboard Packaging Week - April 16-22, 2017
National Park Week - April 15-22, 2017
National Pet ID Week - April 16-22, 2017 (Third Week of April)
National Toddler Immunization Week - April 16-22, 2017
Police Officers Who Gave Their Lives in the Line of Duty Week - April 18-23
Safe Kids Week - April 17-22, 2017
2017 Monthly Holidays that include April 22, are:
There are too many monthly holidays to include here, so please check out our April Holidays page to see all of the holidays that are celebrated the entire month of April.
NOTE:
A page on each holiday will be coming soon and linked above.
If a date is a movable holiday, that is different every year, I'll include the year as well as the date rule above. Otherwise, the holiday falls on the same date each year.
World Festivals and Events
Fiddler's Frolic - April 20-23, 2017
Coachella Valley Music & Arts Festival  - Weekend One = April 14-16, 2017 and Weekend Two April 21-23, 2017 in Indio, California
Texas Sandfest - April 21-23, 2017 in Port Aransas, Texas is one of the largest sand sculpture competitions in the world!
Astrological Sign

The Astrological Sign for April 22 is Taurus.

Birth Flower of the Month

The Birth Flower(s) for the Month for April are:
Daisy - signifies innocence, loyal love, and purity
Sweet Pea - signify blissful pleasure, but are also used to say good-bye.
Birthstone
The Birthstone(s) for April is the diamond, a symbol of enduring love.
Famous Birthdays

1832 - Julius Sterling Morton, was an American Journalist and politician (Governor of Nebraska), who started Arbor Day (d. 1902)
1870 - Vladimir Lenin was a USSR communist revolutionary and Premier of Russia
1872 - Princess Margaret of Prussia, Queen of Finland (d. 1954)
1906 - Eddie Albert, American actor (Green Acres) (d. 2005)
1923 - Aaron Spelling, American actor, screenwriter, and producer (Charlie's Angels) (d. 2006)
1936 - Glen Campbell, American country singer, songwriter, guitarist and actor (Time I Get to Phoenix)
1937 - Jack Nicholson, American actor, director, producer, and screenwriter (One Flew Over the Cuckoo's Nest)
1946 - Steven L. Bennett, American captain, pilot and Medal of Honor recipient (d. 1972)
1950  - Peter Frampton, English singer, songwriter, guitarist and producer (Frampton Comes Alive)
1959 - Catherine Mary Stewart, Canadian actress
1972 - Willie Robertson, American TV personality and businessman (Duck Dynasty)
Famous Deaths

1980 - Jane Froman, American actress and singer (b. 1907)
1984 - Ansel Adam, American photographer (b. 1902)
1994 - Richard Nixon, American politician and lawyer who became the 37th President of the U.S. from 1969-1975 (b. 1913)
1996 - Erma Bombeck, American journalist and author (Grass is Greener) (b. 1927)
2004 - Jason Dunham, American soldier and Medal of Honor recipient (b. 1981)
2004 - Pat Tillman - American football player and U.S. Army Ranger who was killed in action (b. 1976)
2008 - Paul Davis, American singer and songwriter (born on April 21, 2948) - One of his top hits, "I Go Crazy" is featured on our April 21 page
2013 - Richie Havens, American singer, songwriter and guitarist who opened the 1969 Woodstock rock festival (b. 1941)
Famous Weddings and Divorces

1939 - Douglas Fairbanks Jr., an actor and naval office of World War II, marries Mary Lee Hartford
2000 - Emmitt Smith, NFL football player weds Patricia Southall, Miss Virginia USA beauty queen
2006 - Kevin Dillon, actor, weds Jane Stuart, model-actress
Quote of the Day

We can all contribute in some way to help take care of our Earth! 
This is a quote from Sydney Smith, who was an English writer, and cleric
Recipe of the Day or a
Healthy Diet Habit Tip of the Day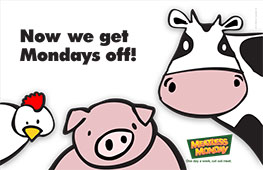 Photo above used with permission with the Meatless Monday website!
Today, April 22 is Earth Day! Kerry has done some great Healthy Diet Habit Eating Tips to support Earth Day, that we can practice every day of the year! 
Practice Healthy Grocery Shopping
Practice Portion Control
Limit Eating Meat - Consider at least joining Meatless Monday!
Use ALL Leftovers
Make a pot of Healthy Soup Every Week
Learn to Can and Freeze
Join a CSA, or Shop at a Farmers Market
Drink Tap Water
Purchase Organics
Find out more about each of these items on our EATING HABITS page!!
This Day in History

1823 - Roller skates are patented by R. J. Ryers
1864 - The U.S. Congress passes the Coinage Act of 1864 that mandates that "In God We Trust" be placed on all coins minted as U.S. currency
1889 - Oklahoma land rush officially starts at high noon and Oklahoma City and Guthrie are formed within hours 
1898 - Congress passes the Volunteer Army Act calling for a Volunteer Cavalry
1915 - 1st military use of poison gas (chlorine) by Germany during World War I
1930 - U.S., United Kingdom, and Japan sign the London Naval Treaty which limits shipbuilding and regulates submarine warfare
1945 - The Concentration Camp at Sachsenhausen is liberated
1969 - The 1st human eye transplant is performed
1970 - The 1st Earth Day is celebrated internationally to conserve natural resources
1976 - Barbara Walters becomes the 1st female nightly network news anchor
1977 - Optical fiber is used to carry live telephone traffic for the first time
1981 - Tucson, Arizona has the largest U.S. bank robbery, with more than $3.3 million stolen
1993 - The Holocaust Memorial Museum is dedicated in Washington D.C.
1998 - Disney's Animal Kingdom opens at Walt Disney World near Orlando, Florida
2008 - The U.S. Air Force retires the remaining F-117 Nighthawk aircraft in service
2016 - The U.N. sign the Paris Agreement regarding Climate Change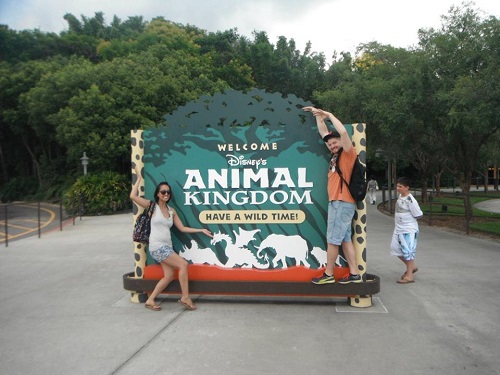 Leigh's son Ryan and his wife Marlene visited Disney's Animal Kingdom in 2011
This Day in Music

1876 - Tsjaikovsky finishes his "Swan Lake" ballet
1978 - 1st appearance by the Blues Brothers (John Belushi and Dan Aykroyd) on Saturday Night Live
1978 - Bob Marley and the Wailers performed at the "One Love Peace Concert" in Jamaica
1985 - Prince released his album, "Around the World in a Day"
1989 - Guns N' Roses released "Patience"
1989 - Madonna's single "Like a Prayer" hits #1 on the US singles chart and remains at the top for three weeks
2003 - Madonna released her album, "American Life"
2010 - Bret Michaels was rushed to the hospital as a result of a brain hemorrhage
Guns N' Roses is an American hard rock band, but their Patience ballad was released using just three acoustic guitars.
Please check out our Music Holidays page!
This Day in Sports

1876 - The 1st National League baseball game in played in Philadelphia - Boston Braves beat the Philadelphia Athletics 6-5
1884 - Thomas Stevens starts a bike trip around the world that took 2 years and 9 months
1906 - The 1906 Summer Olympics were held in Athens Greece, but they were not officially recognized as they were between the III and IV Olympics
1906 - New rule puts umpire in sole charge of all game balls
1914 - Babe Ruth's 1st professional game as a pitcher is a 6-hit 6-0 win
1947 - 1st NBA Championship - the Philadelphia Warriors beat the Chicago Stags, 4 games to 2
1969 - Joe Frazier KOs Dave Zyglewick in 1 for heavyweight boxing title
Word of the Day from Wiktionary

Crosswordese (noun)
1. The jargon of crossword puzzle answers, classically consisting of rare, archaic, or dialectal words.


Wishing You a Great Day Today!



Solo Build It, or Solo Build It, is the awesome E-Business software that we are using for this site!
---