April 23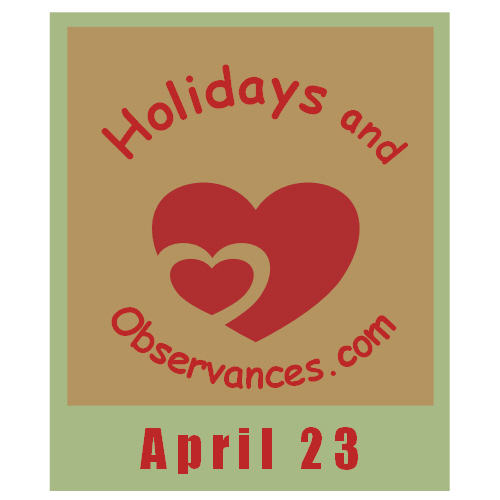 Holidays and Observances

2018 Daily Holidays that fall on April 23, include:
Army Reserves Birthday 
Canada Book Day 
Confederate Memorial Day - April 23, 2018 (States of AL, FL, GA)
English Language Day 
Impossible Astronaut Day 
International Marconi Day 
International Pixel-Stained Technopeasant Day 
Movie Theatre Day 
National Cherry Cheesecake Day 
National English Muffin Day 
National Picnic Day 
Saint George's Day 
State Holiday (Georgia) - April 23, 2018
Take A Chance Day 
Talk Like Shakespeare Day 
UN English Language Day 
World Book and Copyright Day (also known as World Book Day or International Day of the Book)
World Book Night
2018 Weekly Holidays that include April 23, are:
Administrative Professional's Week - April 22-28, 2018 (Last Week of April)
American Quilters Society Week - April 18-24, 2018
Bed Bug Awareness Week - April 22-28, 2018
Canadian Immunization Awareness Week - April 21-28, 2018 (Last Week in April)
Chemists Celebrate Earth Week - April 22-28, 2018
Cleaning for a Reason Week - April 18-24
Consumer Awareness Week - April 18-23
Every Kid Healthy Week - April 23-27, 2018
Fibroid Awareness Week - April 22-28, 2018 (Fourth Week in April)
International Dark Sky Week - April 22-28, 2018
Money Smart Week - April 21-28, 2018
National Dance Week - April 23 - May 4, 2018
National Environmental Education Week - April 22-28, 2018
National Infants Immunization Week - April 21-28, 2018 (Fourth Week of April)
National Medical Laboratory Professionals Week - April 22-28, 2018 (Last Full Week of April)
National Organ / Tissue Donor Awareness Week - April 22-29, 2018 (Last Week of April)
National Park Week - April 21-29, 2018
National Playground Safety Week - April 23-27, 2018
National Princess Week - April 22-28, 2018 (Last Full Week of April)
Police Officers Who Gave Their Lives in the Line of Duty Week - April 18-23
Preservation Week - April 22-28, 2018
Sky Awareness Week - April 22-28, 2018 (Last Full Week in April)
UN Global Road Safety Week - April 23-29
World Immunization Week - April 23-29, 2018
World Laboratory Animal Liberation Week - April 22-28, 2018 (Week that surrounds April 24th each year) 
2018 Monthly Holidays that include April 23, are:
There are too many monthly holidays to include here, so please check out our April Holidays page to see all of the holidays that are celebrated the entire month of April.
NOTE:
A page on each holiday will be coming soon and linked above.
If a date is a movable holiday, that is different every year, I'll include the year as well as the date rule above. Otherwise, the holiday falls on the same date each year.
Astrological Sign

The Astrological Sign for April 23 is Taurus.

Birth Flower of the Month

The Birth Flower(s) for the Month for April are:
Daisy - signifies innocence, loyal love, and purity
Sweet Pea - signify blissful pleasure, but are also used to say good-bye.
Birthstone
The Birthstone(s) for April is the diamond, a symbol of enduring love.
Famous Birthdays

1621 - William Penn, English admiral and politician (d. 1670)
1791 - James Buchanan, American politican, 15th President of the U.S. from 1857-1861) (d. 1868)
1928 - Shirley Temple, American actress, singer, dancer and diplomat (d. 2014)
1936 - Roy Orbison, American singer-songwriter (Traveling Wilburys) (Pretty Woman) (d. 1988)
1939 - Lee Majors, American actor ($6 Million Dollar Man, The Fall Guy)
1949 - Joyce DeWitt, American actress (Three's Company)
1960 - Valerie Bertinelli, American actress (One Day at a Time, Hot in Cleveland)
1961 - George Lopez, American actor, comedian, and talk show host
1966 - Tommy DeCarlo, American singer (Boston)
1967 - Melina Kanakaredes, American actress (CSI: New York)
1979 - Jaime King, American actress and model (Pearl Harbor, Hart of Dixie
Famous Deaths

303 - Saint George, Roman soldier and martyr. Patron saint of many lands including England (b. 275)
1616 - William Shakespeare, English playwright, poet, and actor (b 1564)
1850 - William Wordsworth, English poet (b. 1770)
1951 - Charles G. Dawes, 30th U.S. Vice President, banker, politician, and recipient of the Nobel Peace Prize (b. 1865)
1993 - Cesar Chavez, American farm worker, labor leader, and civil rights activist who co-founded the National Farm Workers Association (b. 1927)
1995 - Howard Cosell, American lawyer, journalist, sportscaster (Monday Night Football) (b. 1918)
2007 - Boris Yeltsin, 1st President of Russia (b. 1931)
2017 - Erin Moran, American actress (Happy Days) (b. 1960)
Famous Weddings and Divorces

1956 - C.S. Lewis, novelist and poet, (Chronicles of Narnia) marries Joy Davidman in Oxford, England
1992 - British Princess Anne, and her 1st husband Captain Mark Phillips divorce after 19 years
Quote of the Day

Some great advice from William Shakespeare who died on this day, April 23, 1616!
Recipe of the Day or a
Healthy Diet Habit Tip of the Day

April is Emotional Overeating Awareness Month. Ending emotional eating, is about developing Healthy Diet Habits in your life! Emotional eating is a habit, and habits CAN BE changed!
Here are some tips and steps to take to end emotional eating, from Kerry of Healthy Diet Habits.
This Day in History

1635 - The 1st U.S. public school, Boston Latin School, is founded in Boston, Massachusetts
1851 - Canada issues its 1st postage stamps
1861 - Robert E. Lee is named the commander of Virginia Confederate forces
1891 - Jews are expelled from Moscow, Russia
1904 - The American Academy of Arts & Letters forms
1949 - During the Chinese Civil War, the People's Liberation Army Navy is established
1962 - The 1st U.S. satellite to reach the moon is launched
1968 - The United Methodist Church forms
1984 - The AIDS virus is identified (Acquired Immune Deficiency Syndrome)
1985 - Coca-Cola changes its formula and New Coke debuts - they change back to their original formula after less than 3 months
1990 - Namibia becomes the 50th member of the Commonwealth of Nations and the 160th member of the United Nations
1995 - U.S. President Clinton declares a National Day of Mourning for Oklahoma City
This Day in Music

1963 -

Jan & Dean recorded '

Surf City

'.

1971

- The Rolling Stones released their album '

Sticky Fingers

'.

1985

- The '

We Are the World

' album was released

1988

- Prince released the single '

Alphabet St.

'

1988

- Whitney Houston hits # 1 on the U.S. charts with '

Where Do Broken Hearts Go

'.

1993 - 'Tommy', a musical from Peter Townshend of the British group, The Who, premieres in NYC
1997 - The Four Tops received a star on the Hollywood Walk of Fame
Above, is Whitney Houston's, 'Where Do Broken Hearts Go', which hit #1 on this day in 1988.  What an amazing voice!
This Day in Sports

1939 - Ted Williams, of the Boston Red Sox, hits his 1st Home Run
1950 - 1st major league day game completed under lights
1954 - Hank Aaron hits hit 1st of 755 home runs
1962 - NY Mets win their 1st game ever after going 0-9
Word of the Day from Wiktionary

Bardolator (noun)
1. (usually pejorative) One who loves or worships the works of William Shakespeare. 


Wishing You a Great Day Today!