April 8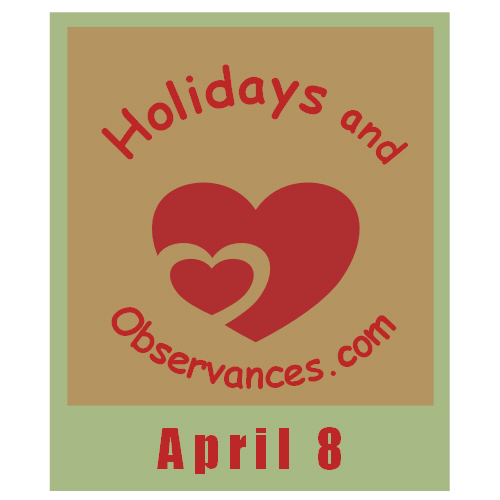 Holidays and Observances

2018 Daily Holidays that fall on April 8, include:
Buddha Day 
Draw a Picture of a Bird Day 
International Romani Day 
National Dog Fighting Awareness Day 
National Empanada Day 
Orthodox Easter - April 8, 2018 (movable date)
Trading Cards for Grown-ups Day 
Zoo Lovers Day 
2018 Weekly Holidays that include April 8, are:
Hate Week - April 4-10
Holocaust Remembrance Week - April 8-15, 2018 (Starts the Sunday before Yom HaShoah, Holocaust Remembrance Day, and continues through the following Sunday)
Just Pray No! Worldwide Weekend of Prayer and Fasting - April 7-8, 2018
Mule Day - April 2-8, 2018
NanoDays - March 31 - April 8, 2018
National Animal Control Appreciation Week - April 8-14, 2018 (Second Full Week of April)
National Animal Control Officer Appreciation Week - April 8-14, 2018
National Bake Week - April 2-8, 2018 (Begins First Monday of April)
National Crime Victims' Rights Week - April 8-14, 2018
National Dog Bite Prevention Week - April 8-14, 2018
National Egg Salad Week - April 2-8, 2018 (Movable Week observed the week after Easter)
National Library Week - April 8-14, 2018 (Second Full Week of April)
National Oral, Head, and Neck Cancer Awareness Week - April 8-15, 2018
National Public Health Week - April 2-8, 2018 
National Public Safety Telecommunicators Week - April 8-14, 2018 (Second Full Week of April)
National Robotics Week - April 7-15, 2018
National Student Employment Week - April 8-14, 2018 (Second Full Week of April)
Oral, Head and Neck Cancer Awareness Week - April 1-8, 2018
Pan American Week - April 8-14, 2018 (Week that includes April 14th)
Undergraduate Research Week - April 8-14, 2018 (Always has April 11th in it)
2018 Monthly Holidays that include April 8, are:
There are too many monthly holidays to include here, so please check out our April Holidays page to see all of the holidays that are celebrated the entire month of April.
NOTE:
A page on each holiday will be coming soon and linked above.
If a date is a movable holiday, that is different every year, I'll include the year as well as the date rule above. Otherwise, the holiday falls on the same date each year.
World Festivals and Events
The Masters Tournament - April 5-8, 2018  - The Masters Tournament is one of the four major championships in professional golf.  The event will be held at the Augusta National Golf Course in Augusta, GA
Astrological Sign

The Astrological Sign for April 8 is Aries.

Birth Flower of the Month

The Birth Flower(s) for the Month for April are:
Daisy - signifies innocence, loyal love, and purity
Sweet Pea - signify blissful pleasure, but are also used to say good-bye.
Birthstone
The Birthstone(s) for April is the diamond, a symbol of enduring love.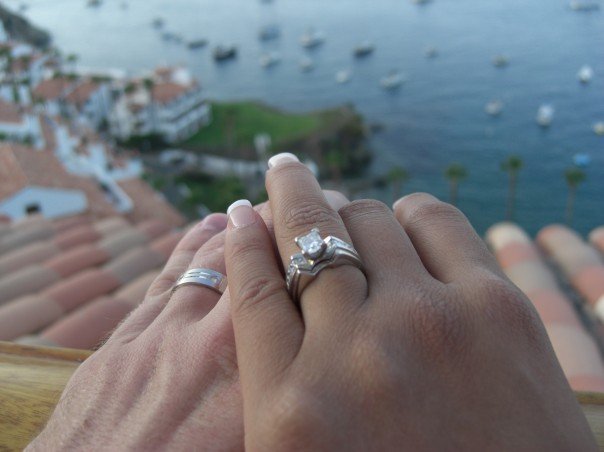 Famous Birthdays

1918 – Betty Ford, American First Lady (1974-1977), wife of former US President Gerald Ford, and founder of the Betty Ford Center (d. 2011)
1946 – Catfish Hunter, American baseball player (d. 1999)
1963 – Julian Lennon, English singer songwriter (son of John Lennon), actor, and photographer
1966 – Robin Wright, American actress (Forrest Gump, Message in a Bottle)
1968 – Patricia Arquette, American actress (Medium)
Famous Deaths

1947 - Henry Ford, US industrialist (Ford Motor Company Founder)
1973 – Pablo Picasso, Spanish artist and sculptor (b. 1881)
1990 – Ryan White, American AIDS activist,he became infected with the Aids virus from contaminated blood and gained National attention when he was expelled from middle school (b. 1971)
2013 – Annette Funicello, American actress and singer (Original Mickey Mouse Club in the 1950's) (b. 1942)
2013 – Margaret Thatcher, former Prime Minister of the United Kingdom (b. 1925)
Famous Weddings and Divorces

1989 - Entertainment Tonight's Mary Hart marries producer Burt Sugarman
2006 - Former Miss USA and actress Ali Landry, weds film director Alejandro Gomez Monteverde
2012 - American actress and television host Ricki Lake weds jewelry designer Christian Evans

Quote of the Day

Margaret Thatcher passed away on April 8th, in 2013.  She was the Prime Minister for the United Kingdom from 1979 to 1990 and the Leader of the Conservative Party from 1975 to 1990.  She was the only woman to have held the Prime Minister position, and was often called the IRON LADY.
Recipe of the Day or a
Healthy Diet Habit Tip of the Day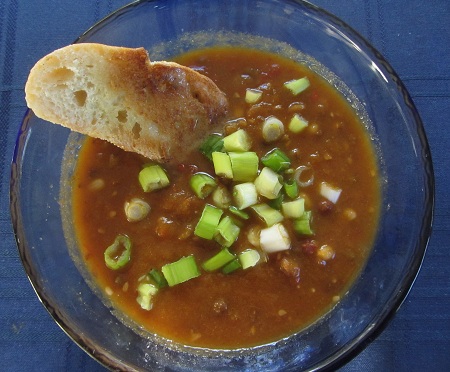 The Holidays and Observances Recipe of the Day for April 8, is a Sprouted Bean Trio Soup Recipe, from Kerry, of Healthy Diet Habits. (link opens a new browser in her website)
This Day in History

1766 - 1st fire escape patented
1789 - House of Representatives 1st meeting
1820 - The Venus de Milo is discovered on the Aegean island of Melos
1869 - American Museum of Natural History opens in New York City
1879 - Milk was sold in glass bottles for 1st time
1893 – The first recorded college basketball game occurs at Geneva College in Beaver Falls, Pennsylvania
1904 – Longacre Square in  Manhattan is renamed Times Square after The New York Times
1913 - 17th amendment, requiring direct election of senators, ratified
1914 - US & Colombia sign a treaty concerning Panama Canal Zone
1952 – U.S. President Harry Truman calls for the seizure of all domestic steel mills to prevent a nationwide strike
1986 - Clint Eastwood elected mayor of Carmel California
1991 - Michael Landon, the beloved actor of Little House on the Prairie, announces he has inoperable cancer of pancreas
1994 - Smoking banned in Pentagon & all US military bases (See Military Holidays)

2005 – Over four million people attend the funeral of Pope John Paul II
This Day in Music

1980 - CBS airs the TV movie The Gambler, staring Kenny Rogers, based on his song, The Gambler
1989 - Roxette' single, The Look hits # 1 in the US
1994 - The Offspring's breakthrough album Smash is released
Above, is Roxette's video, The Look that hit #1 on this day in 1989. They are one of Sweden's most famous bands. (Please check out my Holidays in Sweden page - I have another one of their video's that was featured in the movie, Pretty Woman)
This Day in Sports

1968 - Baseball's Opening Day is postponed because of Martin Luther King assassination
1974 - Hank Aaron hits 715th Home Run, and breaks Babe Ruth's record
1991 - Major league umpires & baseball reach a 4-year agreement
1991 - Oakland A's stadium, in Oakland, California becomes the 1st outdoor arena to ban smoking
Word of the Day from Wiktionary

cross swords (verb)
1. (idiomatic) To quarrel or argue with someone, to have a dispute with someone.


Wishing You a Great Day Today!