Arkansas State Holidays
Arkansas State Holidays include the following dates:
Daisy Gatson Bates Day - February 19, 2018 (3rd Monday in February)
Christmas Eve - December 24
These are in addition to the US Federal Holidays!
Local Arkansas Observance Days
Severe Weather Awareness Week - February 25 - March 3, 2018
Tornado Drill - February 28, 2018 at 9:30am
Arkansas State Flag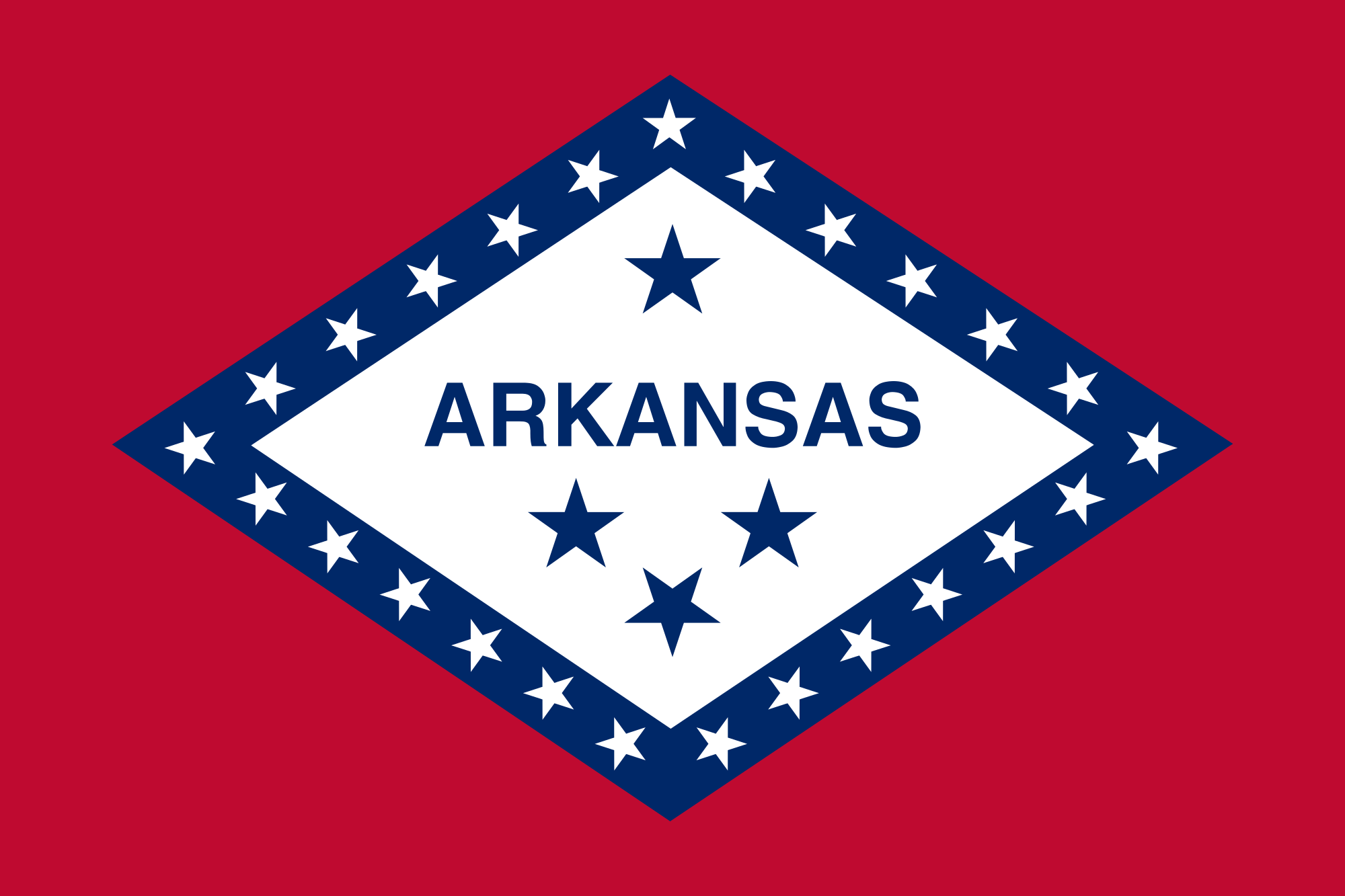 Map of Arkansas
Overview of Arkansas
The short video below was one of the best tourism videos about the State of Arkansas that I found:


National Parks in Arkansas
Hot Springs National Park
For additional information on National Parks in Arkansas, visit the National Park Service website.
State Parks in Arkansas
There are 52 State Parks in the State of Arkansas.  For additional information on each park please visit the Arkansas State Parks website.
Also, The State Parks website is a great resource to find detailed information on all of the State Parks as well as the National Parks in Arkansas: http://www.stateparks.com/ar.html
Arkansas State Facts and History
Arkansas became the 25th State on June 15, 1836
Arkansas State Abbreviation: AR
Arkansas State Capital: Little Rock
Arkansas State Amphibian: N/A
Arkansas State Animal: White Tailed Deer
Arkansas State Beverage: Milk 
Arkansas State Bird: Mockingbird
Arkansas State Butterfly/Insect: European Honey Bee and the Diana Fritillary Butterfly
Arkansas State Dog: N/A
Arkansas State Fish: N/A
Arkansas State Flower: Apple Blossom
Arkansas State Fruit and Vegetable: Vine Ripe Pink Tomato
Arkansas State Gemstone: Diamond
Arkansas State Motto: The People Rule
Arkansas State Nickname: The Natural State
Arkansas State Nut: Pecan
Arkansas State Reptile: N/A
Arkansas State Sport: N/A
Arkansas State Tree: Pine
Arkansas State Seal
Arkansas Resources
Pinterest Board of Arkansas