August 14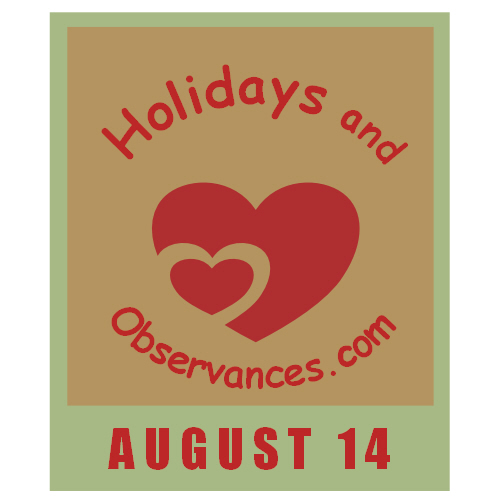 Holidays and Observances
(Alphabetical Order)
2023 Daily Holidays that fall on August 14, include:
Color Book Day 
International Rose' Day (Wine!)
Military Marriage Day 
National Creamsicle Day 

National Financial Awareness Day 
National Navajo Code Talkers Day 
National Tattoo Removal Day
National Wiffle Ball Day
Social Security Day 
V-J Day 
Victory Day (State Holiday in Rhode Island) - August 14, 2023 (Second Monday in August)
World Lizard Day 
2023 Weekly Holidays that include August 14, are:
Air Conditioning Appreciation Days - July 3 - August 15
Elvis Week - August 10-16, 2023
Feeding Pets of the Homeless Week - August 13-19, 2023 (Second Week in August)
National Resurrect Romance Week - August 13-19, 2023 (Second Full Week in August)

National Smile Week - August 13-19, 2023 (Second Full Week of August)
Perseid Meteor Showers - July 17 - August 24, 2023, will peak on the nights between August 12-13, 2023)
U.S. Amateur Golf Week - August 14-20, 2023
2023 Monthly Holidays that include August 14, are:
There are too many monthly holidays to include here, so please check out our August Holidays page to see all of the holidays that are celebrated the entire month of August.
NOTE:
A page on each holiday will be coming soon and linked above.
If a date is a movable holiday, that is different every year, I'll include the year as well as the date rule above. Otherwise, the holiday falls on the same date each year.
Astrological Sign

The Astrological Sign for August 14 is Leo.

Birth Flower of the Month

The Birth Flower(s) for the Month of August are:
Gladiolus - Strength, moral integrity, remembrance, infatuation. It blooms in a variety of colors like red, pink, white, yellow and orange.  It stands for sincerity and symbolizes strength of character.
Birthstone
The Birthstone(s) for August is:
Peridot which is known for its shimmering yellow-green color and the peace and good luck it brings to its wearer.
Famous Birthdays

1479 - Catherine of York (d. 1527)
1586 - William Hutchinson, the founder of the U.S. State, Rhode Island (d. 1642)
1851 - Doc Holliday, American dentist and gambler (d. 1887)
1940 - Darrell Crofts, American singer and songwriter (Seals and Crofts)
1941 - David Crosby, American singer and songwriter (The Byrds and Crosby, Stills, & Nash)
1945 - Steve Martin, American comedian, actor, musician, and producer
1947 - Danielle Steel, American author
1959 - Magic Johnson, American basketball player and coach
1987 - Tim Tebow, American football, baseball player, TV sportscaster
Famous Deaths

1890 - Michael J. McGivney, American priest who founded the Knights of Columbus (b. 1852)
1951 - William Randolph Hearst, American publisher and politician who founded the Hearst Corporation and built Heart Castle in San Simeon, CA (b. 1893)
1988 - Enzo Ferrari, Italian race car driver who founded Ferrari (b. 1898)
2015 - Bob Farrell, American businessman who founded Farrell's Ice Cream Parlour (b. 1927)
Famous Weddings and Divorces

1756 - American frontiersman Daniel Boone marries Rebecca Bryan
Quote of the Day

Recipe of the Day or a
Healthy Diet Habit Tip of the Day

Have you ever heard of Calorie counts per pound? Some foods per pound are almost as caloric as eating straight butter per pound! That is something none of us would do! Yet we do quite frequently, we just don't know it!
Check out Kerry's Calorie Counts Per Pound chart on her Healthy Diet Habits website.
This Day in History

1592 - John Davis is the first to discover the Falkland Islands
1720 - Pawnee and Otoe warriors wipe out the Spanish military Villasur expedition in Nebraska
1842 - The Second Seminole War ends when they are forced from Florida to Oklahoma
1848 - The Oregon Territory is organized by and Act of Congress
1893 - France is the first country to introduce motor vehicle registration
1916 - Romania declares war on Austria-Hungary
1933 - Loggers cause a forest fire in the Coast Range of Oregon that destroys 240,000 acres and is not extinguished until September 5
1935 - The Social Security Act creating a government pension system for the retired is signed by U.S. President Franklin D. Roosevelt
1975 - The Rocky Horror Picture Show opens in London
2003 - A power blackout affects the Northeast United States and Canada
2015 - After 54 years of being closed, the U.S. Embassy in Havana, Cuba reopens
This Day in Music

1965 - I Got You Babe by Sonny and Cher hits #1
1971 - Maggie May is released by Rod Stewart
1974 - You're Having My Baby by Paul Anka is certified Gold
2000 - Born to Do It is the first album released by Craig David (Fill Me In - video below)
2007 - The High School Musical 2 soundtrack is released and goes to #1 in the first week
2007 - I'll Stay Me is the debut album released by country singer Luke Bryan
This Day in Sports

1920 - The Olympic Games open in Antwerp, Belgium
1932 - The 10th Olympic Games close in Los Angeles
1948 - The 14th Olympic Games close in London
1959 - The American Football League is formed with their first official meeting
1993 - The NY Yankees retire #44 with Reggie Jackson Day
2010 - The 1st Summer Youth Olympic Games opens in Singapore
Word of the Day from Wiktionary

Teenybopper (noun)

1. A person, especially a female, in her early teens who follows popular clothing fashions, music trends, and the like.


Wishing You a Great Day Today!


Like this Page?
Like this Site?
---