December 15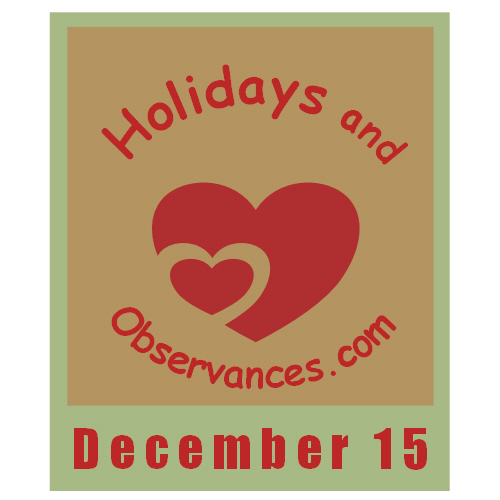 Holidays and Observances
(Alphabetical Order)
2023 Daily Holidays that fall on December 15, include:
Bill of Rights Day 
Cat Herders Day 
International Tea Day 
Miss America Pageant - December 15, 2022 (2023 TBA)
National Cupcake Day 
National Lemon Cupcake Day 
National Ugly Christmas Sweater Day - December 15, 2023 (Third Friday in December)
Underdog Day - December 15, 2023 (Third Friday in December)
National Wear Your Pearls Day 
2023 Weekly Holidays that include December 15, are:
Advent - December 3 - 24, 2023
Christmas Bird Count Week - December 14, 2023 - January 5, 2024
Hanukkah - Evening of December 7, 2023 through Evening of December 15, 2023

Human Rights Week - December 10-17
Lager Beer Week - December 10-16, 2023 (Second Week of December)
Tie One On For Safety Campaign - Runs November 23, 2023 through January 1, 2024 (Thanksgiving to New Year's Day)
2023 Monthly Holidays that include December 15, are:
There are too many monthly holidays to include here, so please check out our December Holidays page to see all of the holidays that are celebrated the entire month of December.
NOTE:
A page on each holiday will be coming soon and linked above.
If a date is a movable holiday, that is different every year, I'll include the year as well as the date rule above. Otherwise, the holiday falls on the same date each year.
Astrological Sign

The Astrological Sign for December 15 is Sagittarius.

Birth Flower of the Month

The Birth Flower(s) for the Month for December are:
Holly/Narcissus - Sweetness, Self-Esteem, Vanity, The Sweetness of whoever receives it
Birthstone
The Birthstone(s) for December is:
Famous Birthdays

AD 37 - Nero, Roman emperor (d. 68)
1832 - Gustave Eiffel, French architect and engineer who co-designed the Eiffel Tower in Paris, France (d. 1923)
1892 - J. Paul Getty, American-English businessman who founded Getty Oil (d. 1976)
1919 - Max Yasgur, American dairy farmer and the host of the Woodstock Music & Art Fair held August 15-18, 1969 in Bethel, New York (d. 1973)
1933 - Tim Conway, American comedian, actor, producer and screenwriter (McHale's Navy, The Carol Burnett Show) (d. 2019)
Famous Deaths

1890 - Sitting Bull, Hunkpapa Lakota tribal chief (b. 1831)
1944 - Glenn Miller, American bandleader and composer (b. 1904)
1966 - Walt Disney, American animator, director, producer and screenwriter who co-founded The Walt Disney Company (b. 1901)
2009 - Oral Roberts, American evangelist who founded the Oral Roberts Evangelistic Association (b. 1918)
Famous Weddings and Divorces

1933 - American actor Gary Cooper marries American actress Veronica Balfe
1944 - Country music star Hank Williams marries Audrey Sheppard
1984 - Australian singer and actress Olivia Newton-John marries Xanadu dancer Matt Lattanzi
1984 - Actress Sally Field marries Alan Greisman
1990 - Singer Rod Stewart marries supermodel Rachel Hunter
2008 - American singer, songwriter and actress Madonna divorces film director Guy Ritchie after close to 8 years of marriage
Quote of the Day

December 15th is International Tea Day!

We lived in Australia for four years, and while there we did afternoon tea, similar to the British. I still do it most days! A cup of coffee in the morning, and afternoon tea / snack and a break to get me through the rest of the day.
"There is something in the nature of tea that leads us into a world of quiet contemplation of life."-Lin Yutang
"Tea time is a chance to slow down, pull back and appreciate our surroundings." –Letitia Baldrige
"You can never get a cup of tea large enough or a book long enough to suit me." – C.S. Lewis
"Where there's tea there's hope."  -Arthur Wing Pinero
'The spirit of the tea beverage is one of peace, comfort, and refinement." – Arthur Gray
"Tea is a part of daily life. It is as simple as eating when hungry and drinking when thirsty."  – Yamamoto Soshun
"Rainy days should be spent at home with a cup of tea and a good book." -Bill Watterson
Recipe of the Day or a
Healthy Diet Habit Tip of the Day

Info. to Come!
This Day in History

1791 - The Virgina General Assembly ratified the United States Bill of Rights
1836 - The U.S. Patent Office building in Washington, D.C. almost burns to the ground, and all 9,956 patents issues to date are destroyed, along with 7,000 related models
1890 - The Hunkpapa Lakota Leader Sitting Bull is killed on Standing Rock Indian Reservation, leading to the Wounded Knee Massacre
1903 - A U.S. patent for inventing a machine that makes ice cream cones is given to Italian American food cart vendor Italo Marchiony
1906 - The London Underground's Great Norther, Piccadilly, and Brompton Railway opens
1939 - Gone with the Wind premieres at Loew's Grand Theatre in Atlanta, Georgia
1941 - German troops murder over 15,000 Jews at Drobytsky Yar, a ravine that is southeast of the city of Kharkiv in Ukraine
1970 - Soviet spacecraft Venera 7 lands on Venus
1973 - John Paul Getty III, the grandson of American billionaire J. Paul Getty, is found alive near Naples, Italy after he was kidnappd by an Italian gang on July 10th
1981 - The Iraqi embassy in Beirut, Lebanon is the target of a suicide car bombing that levels the embassy and kills 61 people, including Iraq's ambassador to Lebanon
1997 - Tajikistan Airlines Flight 3183 crashes near Sharjah, United Arab Emirates in the desert, killing 85
2000 - The third reactor at the Chernobyl Nuclear Power Plant is shut down
2001 - The Leaning Tower of Pisa in Pisa, Italy reopens after 11 years and $27 million is spent to stabilize it
2005 - The Lockheed Martin F-22 Raptor is introduced into USAF active service
This Day in Music

1973 - The Most Beautiful Girl by Charlie Rich hits #1
1977 - The Who perform a secret concert for fan club members in London
1979 - Another Brick in the Wall (Part II) by Pink Floyd hits #1 on the UK singles chart
2001 - Kent State University gives Joe Walsh an honorary doctorate of music
2014 - Black Messiah is the third studio album released by D'Angelo
2014 - Girl Crush by Little Town is released and goes to #1 on the Country chart and goes on to win the CMA Award for Single of the Year and Song of the Year (video below)
This Day in Sports

1980 - Dave Winfield of the New York Yankees becomes the highest paid player when he gets a $15 million, 10-year contract
1992 - Tennis player Arthur Ashe is names Sports Illustrated Sportsperson of the Year
1997 - The San Francisco 49ers retire Joe Montan's #16 Jersey number
Word of the Day from Wiktionary

Mango (verb)
1. To remove the innards of, stuff (especially with spicy foods), seal and pickle or pour boiling vinegar over (a fruit).


Wishing You a Great Day Today!


Like this Page?
Like this Site?
---