February 15

 Holidays and Observances

2019 Daily Holidays that fall on February 15, include:
Angelman Syndrome Day 
Annoy Squidward Day (Sponge Bob Square Pants) 
International Angelman Day 
International Childhood Cancer Awareness Day 
Lupercalia 

National Caregivers Day - February 15, 2019 (Third Friday in February)
National Gumdrop Day 
National Hippo Day 
Nirvana Day - (Buddhist)
Remember the Maine Day 
Susan B. Anthony Day 
World Information Architecture Day - February 15, 2019 (Third Friday in February)
2019 Weekly Holidays that include February 15, are:
Alzheimer's Disease and Dementia Staff Education Week - February 14-21
American Association For the Advancement of Science Week - February 14-17, 2019
Celebration of Love Week - February 10-16, 2019 (Second Full Week in February)
Children of Alcoholics Week - February 10-16, 2019 (Second Full Week in February)
Duchenne Muscular Dystrophy Awareness Week - February 13-19
Freelance Writers Appreciation Week - February 11-15, 2019 (Second Week of February)
Great Backyard Bird Count - February 15-18, 2019
International Flirting Week - February 10-16, 2019 (Week of Valentines Day)
International Week of Black Women In the Arts - February 7-15
Jell-O Week - February 10-16, 2019 (Second Full Week of February)
Love a Mensch Week - February 11-17, 2019
Love Data Week - February 11-15, 2019
Make Mine Chocolate - (Campaign kicks off annually on Feb 15, and ends on Easter which is April 21, 2019)
National Cardiac Rehabilitation Week - February 10-16, 2019 - Second Week of February
National Condom Week - February 14-21
National Date Week (Fruit) - February 15-24, 2019
National Green Week - February 11-15, 2019
National Salute to Veteran Patients - February 10-16, 2019 (Week of February 14 - Valentine's Day)
National Secondhand Wardrobe Week - February 10-16, 2019 (Second Full Week in February)
NCCDP Alzheimer's & Dementia Staff Education Week - February 14-21
Take Your Family to School Week - February 10-17, 2019
Women in Blue Jeans Days - February 15-16, 2019
2019 Monthly Holidays that include February 15, are:
There are too many monthly holidays to include here, so please check out our February Holidays page to see all of the holidays that are celebrated the entire month of February.
NOTE:
A page on each holiday will be coming soon and linked above.
If a date is a movable holiday, that is different every year, I'll include the year as well as the date rule above. Otherwise, the holiday falls on the same date each year.
World Festivals and Events
Harbin Ice and Snow Sculpture Festival - Starts annually on January 5, and typically runs for a month or more, in Harbin, China and is the largest ice and snow festival in the world! 
Simplot Games - February 14-16, 2019 - Held at Idaho State University's Holt Arena, it is one of the Nation's premier high school indoor track and field events.
Astrological Sign

The Astrological Sign for February 15 is an Aquarius.
Birth Flower of the Month

The Birth Flower(s) for the Month for February are:
Violet - symbolizes faithfulness, loyalty, humility, wisdom, and hope

Primrose - Modesty, distinction, and virtue


Birthstone
The Birthstone for February is Amethyst.
Famous Birthdays

1564 - Galileo Galilei, astronomer/physicist
1725 – Abraham Clark, American founding father, signed Declaration of Independence (d. 1794)
1792 – Floride Calhoun, Second Lady of the United States (d. 1866)
1812 – Charles Lewis Tiffany, American jeweler (Tiffany & Co.) (d. 1902)
1820 – Susan B. Anthony, American suffragist (d. 1906)
1877 – Louis Renault, French automotive executive (one of the founders of Renault) (d. 1944)
1907 – Cesar Romero, American actor who played the Joker in the Batman T.V. show (d. 1994)
1927 – Harvey Korman, American actor and comedian (The Carol Burnett Show, Blazing Saddles) (d. 2008)
1951 – Jane Seymour, English actress
1976 - Brandon Boyd, American musician (Incubus)
Famous Deaths

1820 - William Ellery, US attorney who signed the Declaration of Independence, dies at 92
1965 – Nat King Cole, American singer and musician (Unforgettable) (b. 1919)
1984 – Ethel Merman, American singer and actress (b. 1908)
1996 – McLean Stevenson, American actor (M*A*S*H) (b. 1929)
Quote of the Day

Instead of a Quote today, above is a clip from the Old Carol Burnett Show.  To me, there was nothing funnier than the skits that Carol Burnett, Vicki Lawrence, Tim Conway, and Harvey Korman did in front of a live audience.  Tim Conway was famous for his "ad libs" after rehearsals and cracking his cast mates up.  In this scene, Harvey, who was born on this day in 1927, is at the dentist and was struggling with his urge to laugh through the scene.
Recipe of the Day or a
Healthy Diet Habit Tip of the Day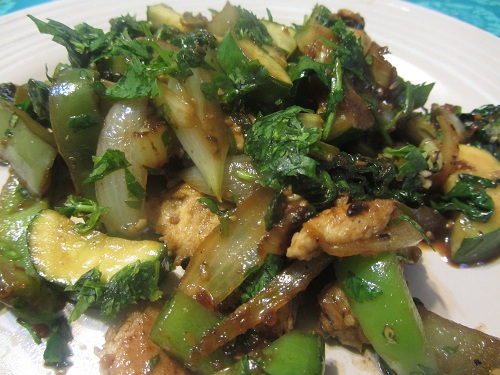 The Holidays and Observances Recipe of the Day for February 15, is a Healthy Chicken and Zucchini Stir Fry Recipe from Kerry, of Healthy Diet Habits. (link goes to her website)
This Day in History

1898 – The USS 

Maine

explodes and sinks in Havana harbor in Cuba, killing more than 260. This event leads the United States to declare war on Spain.
1903 - 1st Teddy Bear introduced in America, made by Morris & Rose Michtom
1917 - San Francisco Public Library Main Branch at Civic Center is dedicated
1918 - 1st WW I US Army troop ship is torpedoed & sunk by the Germans off of Ireland
1931 - 1st Dracula movie is released
1932 - George Burns & Gracie Allen debuted as regulars on  the Guy Lombardo Show
1933 - President Elect Franklin Roosevelt survives assassination attempt
1950 - Walt Disney's, Cinderella is released
1965 - Canada replaces Union Jack flag with Maple Leaf
2005 - YouTube, the popular Internet site on which videos may be shared and viewed by others, is launched in the United States.
2013 – A meteor crashing in Russia's Ural mountains, injured at least 950 people, as a shock wave blew out windows and rocked buildings.
This Day in Music

1958 - Elvis Presley's Don't hits #1
1964 - The Beatles', Meet the Beatles!, album goes #1 & stays #1 for 11 weeks
1965 - The Beatles, Eight Days A Week is released

1969 - Sly and the Family Stone's Everyday People hits #1
1972 - The US government's new anti-piracy laws are enacted, a response to widespread bootlegging of major artists.
1975 - Linda Ronstadt's You're No Good hits #1
1975 - Linda Ronstadt's album Heart Like a Wheel hits #1
1977 - The Best Of George Harrison is certified gold.

1978 -

The

Saturday Night Fever soundtrack wins Album of the year at The Grammys
1978 - Billy Joel's  Just The Way You Are wins Record of the Year and Song of the Year at the Grammys

1979 - Donna Summer's Last Dance wins two Grammys - Best Female R&B Vocal and Best R&B Song.
1986 - Whitney Houston's How Will I Know hits #1 
1997 - U2's, Discotheque hits #1 in the UK
Nat King Cole died on this day in 1965.  His daughter Natalie Cole did an amazing duet with him of his song, Unforgettable.
This Day in Sports

1916 - NY Yankees buy Frank "Home Run" Baker from the Athletics for $37,500
1932 - 3rd Winter Olympic games close at Lake Placid, NY
1932 - US bobsled team member Eddie Eagan becomes the only athlete to win gold in both Summer & Winter Olympics (1920 boxing gold)
1936 - Sonja Henie of Norway, wins her 3rd consecutive Olympic figure skating gold
1958 - Ladies Figure Skating Championship in Paris won by Carol Heiss of USA
1958 - Men's Figure Skating Championship in Paris won by David Jenkins USA
1961 - Entire US figure skating team of 18, dies in Belgian Sabena 707 crash
1964 - Bill Bradley scores 51 points for Princeton
1976 - 12th Winter Olympic games close at Innsbruck, Austria
1978 - Leon Spinks beats Muhammad Ali in 15 for heavyweight boxing title
1997 - US female Figure Skating championship won by Tara Lipinski
1997 - US male Figure Skating championship won by Todd Eldridge
Word of the Day from Wiktionary

bridge the gap (verb)
1. (idiomatic) To serve as or create a connection between two disconnected or disparate things.


Wishing You a Great Day Today!