February 4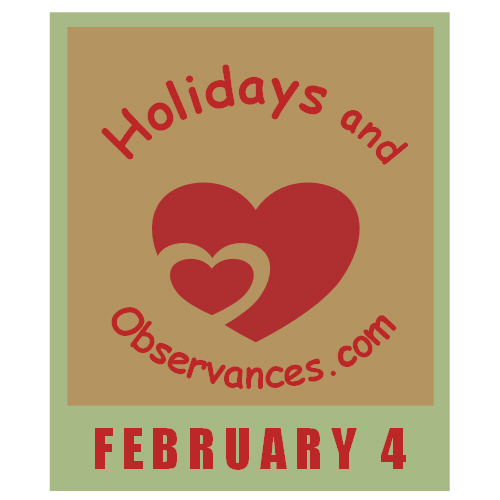 Holidays and Observances
(Alphabetical Order)
2023 Daily Holidays that fall on February 4, include:
Barber Day - February 4, 2023 (First Saturday in February)
Facebook's Birthday 
Homemade Soup Day 
Ice Cream for Breakfast Day - February 4, 2023 (First Saturday in February)

International Pisco Sour Day - February 4, 2023 (First Saturday in February)
Liberace Day 
Medjoola Date Day
National Create a Vacuum Day 
National Hemp Day 
National Play Outside Day - February 4, 2023 - First Saturday of EVERY Month)
National Stuffed Mushroom Day 
National Thank a Mailman Day 
Quacker Day 
Rosa Parks Day - (State of CA and OH)
Take Your Child to the Library Day - February 4, 2023 (First Saturday in February)
Torture Abolition Day 
USO Day 
World Cancer Day 
2023 Weekly Holidays that include February 4, are:
African Heritage & Health Week - February 1-7
Catholic Schools Week - January 29, 2023 - February 4, 2023 (Begins on the last Sunday in January)
Cordova Ice Worm Days - January 28 - February 4, 2023

National Cowboy Poetry Gathering Week - January 30 - February 4, 2023
National Meat Week - January 29 - February 4, 2023 (8 Days starting on the fourth Sunday)
National Patient Recognition Week - February 1-7
Publicity for Profit Week - February 2-8

Solo Diners Eat Out Week - February 1-7
Take a New Year's Resolution to Stop Smoking Month (TANYRSS) - December 17, 2022 - February 5, 2023; December 17, 2023 - February 5, 2024
U.S. Snow Sculpting Week - February 1-5, 2023

Women's Heart Week - February 1-7 (Annually for 7 days starting February 1)
World Interfaith Harmony Week - February 1-7 (First Week of February)
2023 Monthly Holidays that include February 4, are:
There are too many monthly holidays to include here, so please check out our February Holidays page to see all of the holidays that are celebrated the entire month of February.
NOTE:
A page on each holiday will be coming soon and linked above.
If a date is a movable holiday, that is different every year, I'll include the year as well as the date rule above. Otherwise, the holiday falls on the same date each year.
World Festivals and Events
(Date Order)
Harbin Ice and Snow Sculpture Festival - Usually starts annually on January 5, and typically runs for a month or more, in Harbin, China and is the largest ice and snow festival in the world! 2023 dates are December 23, 2022 - February 28, 2023
Southwestern Exposition and Livestock Show - January 13 - February 4, 2023 (Fort Worth, TX)

Chinese New Year Festival and Parade - (San Francisco) - January 14 - March 5, 2023, Parade on February 4, 2023
Saint Paul Winter Carnival - January 26 - February 5, 2023 (St. Paul, MN)
Astrological Sign

The Astrological Sign for February 4 is an Aquarius.
Birth Flower of the Month

The Birth Flower(s) for the Month for February are:
Violet - symbolizes faithfulness, loyalty, humility, wisdom, and hope

Primrose - Modesty, distinction, and virtue


Birthstone
The Birthstone for February is Amethyst.
Famous Birthdays

1677 – Johann Ludwig Bach, German composer (d. 1731)
1902 – Charles Lindbergh, American pilot and activist (d. 1974)
1913 - Rosa Parks - American civil rights activist (d. 2005)
1947 – Dan Quayle, 44th Vice President of the United States, serving with President George H. W. Bush (1989–1993).
1948 – Alice Cooper, American musician
1962 – Clint Black, American country music singer-songwriter
1975 - Natalie Imbruglia, singer

Famous Deaths

1983 – Karen Carpenter, American singer and drummer (The Carpenters) (b. 1950) She died at age 32, from complications from anorexia.
1987 - Liberace
2006 – Myron Waldman, American animator (b. 1908) He worked on Betty Boop, Raggedy Ann,

Gulliver's Travels

, the animated adaptations of Superman, and Popeye, and the Casper the Friendly Ghost series.
2012 – Florence Green, British, last surviving veteran of World War I (b. 1901)
Famous Weddings and Divorces

1924 - Musician Louis Armstrong marries his pianist Lillian Hardin 
1939 - Actor and singler Frank Sinatra married Nancy Barbato
Quote of the Day

Today is World Cancer Day.  Most people have been affected by Cancer, in one way or another....either as Cancer Survivors, one of the many who did not survive the fight, or you might currently have friends or family that are fighting cancer or have lost the fight. 
Childhood Cancer, is especially heartbreaking to me, as kids, or their families should not have to struggle with a disease such as Cancer.  I can't even imagine!   I loved this quote about focusing on the things that Cancer cannot take away from you!

I follow a lot of Kids on Facebook with Cancer, and other life threatening, or terminal illnesses. Everytime I am having a bad day, or something is not going right in my life, I will see a post from the families of one of these kids about their struggles, or the fight that was lost that day, and it is always a wake up call to me, that I really don't have anything to complain about!
Recipe of the Day or a
Healthy Diet Habit Tip of the Day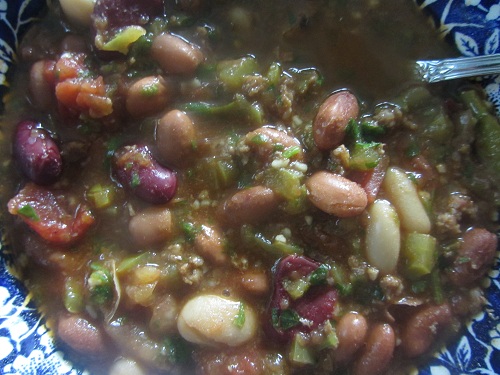 The Holidays and Observances Recipe of the Day for February 4th, is a Healthy Vegetarian Bean Soup from Kerry, at Healthy Diet Habits.  February 4th is Homemade Soup Day, and the month of February is National Fiber Focus Month, so this is a great choice for the day! Soups are also great during the winter months. 
You can also check out all of Kerry's other Healthy Homemade Soup Recipes! She has lots of great choices!

This Day in History

1789 – George Washington is unanimously elected as the first President of the United States by the U.S. Electoral College.
1846 – The first Mormon pioneers make their exodus from Nauvoo, Illinois, westward towards Utah Territory.
1861 – During the American Civil War, in Montgomery, Alabama, delegates from six break-away U.S. states meet and form the Confederate States of America.
1866 - Mary Baker Eddy, Founder of Christian Science, cures her injuries by opening a bible

1936 – Radium becomes the first radioactive element to be made synthetically.
1938 - Hitler seizes control of German army & puts Nazi in key posts
1941 – The United Service Organization (USO) is created to entertain American troops.
1957 - 1st electric portable typewriter is placed on sale in Syracuse, NY
1971 - British car maker Rolls Royce declared itself bankrupt
1974 – The Symbionese Liberation Army kidnaps Patty Hearst in Berkeley, California
1985 - 20 countries (but not US) sign UN treaty outlawing torture
2002 – Cancer Research UK, the world's largest independent cancer research charity, is founded.
2004 – Facebook, a mainstream online social networking site, is founded by Mark Zuckerberg.
This Day in Music

1966 - The Who play their first show as headliners, at the Astoria in Finsbury Park, England

1971 - The Osmonds' One Bad Apple is certified gold
1977 - ABC's American Bandstand rock show celebrates its 25th anniversary on the air with a prime time special
1977 - Fleetwood Mac's, "Rumours" is released
1977 - Wings release "Maybe I'm Amazed"
1978 - The Bee Gees' Stayin' Alive hits #1
2008 - Phil Lesh, Bob Weir and Mickey Hart resurrect Grateful Dead for a benefit concert in support of presidential hopeful Barack Obama in San Francisco.
2012 - Adele becomes the first female British artist to have 3 #1 songs from the same album on the Billboard Hot 100 chart, with Set Fire to the Rain from the album 21.  (Below is her Set Fire to the Rain video)

This Day in Sports

1924 - 1st Winter Olympic games close at Chamonix France
1932 - 3rd Winter Olympic games open in Lake Placid, NY
1976 – The 12th Winter Olympics opens in Innsbruck, Austria.
1983 - US male Figure Skating championship won by Scott Hamilton
1991 - Hall of Fame's board of directors vote 12-0 to bar Pete Rose
Word of the Day from Wiktionary

blemish (noun)
1. A small flaw which spoils the appearance of something, a stain, a spot.
2. A moral defect; a character flaw.


Wishing You a Great Day Today!


Like this Page?
Like this Site?
---