Holidays in New Zealand

Holidays in New Zealand are different than the United States, in that the seasons of the year are reversed! Christmas is in the summer time, instead of the winter, which is hard to get used to if you are used to having a White Christmas with snow on the ground.

I absolutely LOVE New Zealand! I was lucky enough to spend a week touring the South Island while my Dad who was in the U.S. Army was stationed in Canberra, Australia for 4 years.  It was one of the most beautiful places that I've ever been to, and I would love to go back to visit one day.

Map of New Zealand

When we visited New Zealand, we flew into Christchurch, on the South Island and rented a car. From Christchurch, we drove down to Queenstown, then over to Dunedin, and back up to Christchurch.
Holidays and Observances in New Zealand
All the Holidays in New Zealand information below, will give the 2023 Date, Holiday Name, and Holiday Type. Ultimately, we will have a Daily Holidays Page for each of the Days of the Year, and a devoted page for each of the Holidays and Observances.  Pages completed will be linked up below once they are done.
If a Holiday does not have 2023 after it below, that means that it is observed annually on the same day.  Those with 2023 listed after the date, are movable holidays that are observed on different days each year.
January Holidays in New Zealand

February Holidays in New Zealand

March Holidays in New Zealand

April Holidays in New Zealand

May Holidays in New Zealand

June Holidays in New Zealand

June 5, 2022 - King's Birthday - National Holiday, always celebrated on the First Monday in June. 

June 22, 2023 - June Solstice
July Holidays in New Zealand

August Holidays in New Zealand

September Holidays in New Zealand

October Holidays in New Zealand

November Holidays in New Zealand

November 5, 2023 - Guy Fawkes Night

November 17, 2023 - Canterbury Anniversary
November 27, 2023- Chatham Islands Anniversary
December Holidays in New Zealand

---
Overview of New Zealand

New Zealand has pretty much everything that you would want - there are  lots of great beaches, beautiful lakes and rivers, and awe inspiring mountains. It is amazingly green and has everything for the outdoor lover and sports enthusiasts!
Below is an amazing Time Lapse Video of New Zealand, from Taranaki Coast of North Island to almost every part of South Island. Presented in TIMELAPSE, with around 100GB and over 17,000 photos shot during a 15-day trip.
Fun Facts About New Zealand

New Zealand is known for their extreme sports, such as jetboating
A Kiwi in New Zealand is a flightless bird, that is the National Symbol, and Kiwi is also slang for a New Zealander.
New Zealand has two official National Anthems – God Defend New Zealand and God Save the Queen, the English National Anthem.
The largest city in New Zealand is Auckland, on the North Island.
The population is currently only 4.8+ million, so the Country is not very crowded. Three quarters of the population, live on the North Island, and a third of the population lives in Auckland, on the North Island.

Always Drive on the LEFT hand side of the road!
The official languages are English and Maori.
Wellington, the Capital City of New Zealand, located on the south end of the North Island, is the southernmost capital city in the world.
---
Travel Information in New Zealand

Many people travel during the longer holidays for vacations, or to spend time with family living in a different area.  I highly recommend visiting New Zealand, and I am hoping that one day, I am able to go back to visit again.  It is an awesome Country with so many unique, and fun things to do.
To book hotels, I love to use Hotels Combined which is a world leading hotel comparison site.  You can enter the City that you are traveling to below in the Search box, and you can find availability and the best hotel prices by comparing all the major travel sites with just the one search! Find the Hotel and Price that works best for your budget, and book your room!
---
Top Things to Do in New Zealand

I'm a baby, when it comes to being daring, but I think that the jet boating with Shotover Jet, in Queenstown, looks like one of the funnest things ever!

Watch the New Years Eve fireworks shot from the Auckland Sky Tower, the tallest building in the Southern Hemisphere. 
If you are brave, you can Bungee Jump off of the Auckland Sky Tower. Or, you can take the Skywalk at the top, or the Skytower Vertigo Climb

Take a Road Trip - spend a week or two touring each of the islands, and visiting all the big cities and National Parks along the way!
If you like to Hike, visit the town of Hokitita on the South Island, and visit the Hokitita Gorge Track. Further up the Gorge from the swing bridge (shown above), is a popular place for adventure kayakers that is quite challenging.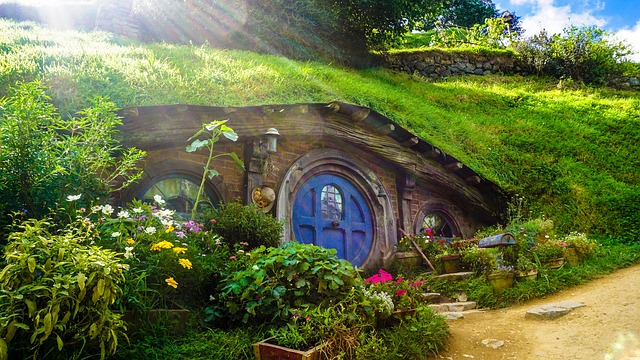 Take a tour of "Hobbiton", the film set used in Peter Jackson's The Hobbit, and the Lord of the Rings trilogy. While you can take a tour of the town by bus, and visit the hobbit homes, a great way to see more of the area is by Helicopter. Glacier Southern Lakes Helicopters in Queenstown has a  Lord of the Rings, Scenic Tour that also includes a Glacier Landing.
---
Music
Please check out our Music Holidays Page!
---
Country Resources

NewZealand.com - Official site of

New Zealand

Tourism, Business, and Investment
Pinterest Board of New Zealand

Please Follow our Holidays and Observances Holidays in New Zealand Holiday Board on Pinterest - below you will see our 30 most recent pins to this photo board!
Click on the SEE ON PINTEREST bar right above, to see all the rest of our photo's on this board, and to Follow the board. New photos will be constantly added!
Like this Page?
Like this Site?
---