January 18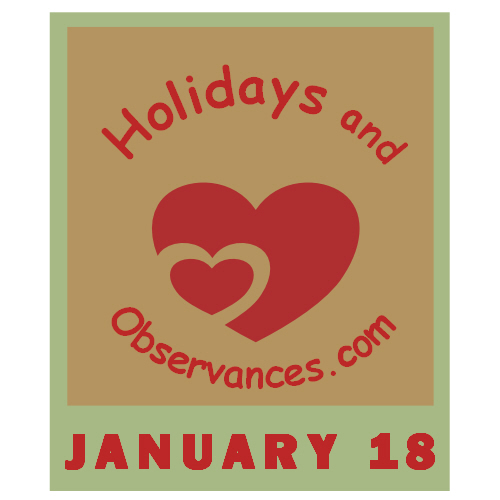 Holidays and Observances
(Alphabetical Order)
2023 Daily Holidays that fall on January 18, include:
Maintenance Day 

Museum Selfie Day - January 18, 2023 (Third Wednesday in January)
National Gourmet Coffee Day 
Peking Duck Day 
Thesaurus Day 
Winnie the Pooh Day 
2023 Weekly Holidays that include January 18, are:
Chinese New Year Festival and Parade - (San Francisco) - January 14 - March 5, 2023, Parade on February 4, 2023
Healthy Weight Week - January 15-21, 2023 (Third Week in January)

Hot Heads Chili Days - January 17-18
Hunt for Happiness Week - January 15-21, 2023 (Third Full Week)
International Week of Prayer for Christian Unity - January 18-25
National Fresh Squeezed Juice Week - January 17-23
Sugar Awareness Week - January 16-20, 2023 (Third Work Week in January)
Take a New Year's Resolution to Stop Smoking Month (TANYRSS) - December 17, 2022 - February 5, 2023; December 17, 2023 - February 5, 2024
Week of Christian Unity - January 18-25
2023 Monthly Holidays that include January 18, are:
There are too many monthly holidays to include here, so please check out my January Holidays page to see all of the holidays that are celebrated the entire month of January.
NOTE:
A page on each holiday will be coming soon and linked above.
If a date is a movable holiday, that is different every year, I'll include the year as well as the date rule above. Otherwise, the holiday falls on the same date each year.
World Festivals and Events
(Date Order)
Harbin Ice and Snow Sculpture Festival - Usually starts annually on January 5, and typically runs for a month or more, in Harbin, China and is the largest ice and snow festival in the world! 2023 dates are December 23, 2022 - February 28, 2023
National Western Stock Show and Rodeo - (Denver, CO) - January 7 - 22, 2023

Southwestern Exposition and Livestock Show - January 13 - February 4, 2023 (Fort Worth, TX)
The American Express Tournament (Formerly: CareerBuilder Challenge and Prior to that Bob Hope Classic) - January 16-22, 2023 in La Quinta, CA
Westminster Dog Show at Madison Square Garden - January 18-22, 2023
Astrological Sign

The Astrological Sign for January 18 is a Capricorn.
Birth Flower of the Month

The Birth Flower(s) for the Month for January are:
Carnation - The Carnation is the Birth Flower for January. The  symbolization of the Carnation means love, pride, beauty, purity, distinction, fascination, and loyal.
Snowdrop is a white flower with three small petals in the middle surrounded by three larger petals on the outside. The symbolization of the snowdrop means love, fascination, and purity.
See our GARDEN HOLIDAYS page for all the special days celebrating things of the garden!
Birthstone
The Birthstone for January is Garnet, which comes in a rainbow of colors. It is considered a great gift to symbolize friendship and trust.
Famous Birthdays

1858 - Daniel Williams, surgeon who performed the 1st open heart operation, (d. 1931)
1882 – A. A. Milne, English author - writer of the amazing Winnie the Pooh books (d. 1956) 
1904 – Cary Grant, English actor (d. 1986)
1933 – Ray Dolby, American inventor (Dolby noise reduction system)
1941 – Bobby Goldsboro, American country/pop singer
1955 – Kevin Costner, American actor
1980 – Jason Segel, American actor
I have to say, that Kevin Costner is one of my favorite actors. I love so many of his movies...Robin Hood: Prince of Thieves is one of my favorites, but it is hard to narrow it down to just one! Dances with Wolves, The Body Guard with Whitney Houston, Bull Durham, Field of Dreams, Message in a Bottle, Dragonfly, Tin Cup were all favorites, and he rocked a Navy Uniform in No Way Out!
Famous Deaths

1862 – John Tyler, 10th President of the United States dies in Richmond Va at 71 (b. 1790)
1967 - Reese "Goose" Tatum, basketball player for the Harlem Globetrotters, dies at 45

201

6 - Glenn Frey, American singer-songwriter and actor (The Eagles) (b. 1948)
Famous Weddings and Divorces

1486 - King Henry VII of England marries Elizabeth, daughter of Edward IV
Quote of the Day

In honor of Winnie the Pooh Day today, the Quote of the Day is from Pooh!  Pooh has some great Words of Wisdom to Live by!!
Recipe of the Day or a
Healthy Diet Habit Tip of the Day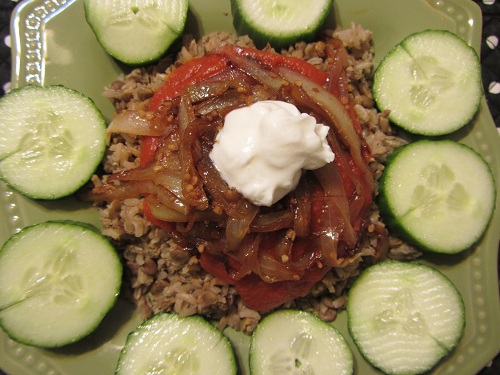 Holidays and Observances Recipe of the Day for January 18 is Egyptian Lentils and Rice (Kusherie), from Kerry, at Healthy Diet Habits.  January is National Fiber Month, and Beans and Rice are great sources of fiber! 
This Day in History

1644 - Perplexed Pilgrims in Boston reported America's 1st UFO sighting
1733 - 1st polar bear exhibited in Boston
1777 - San Jose California is founded
1778 – James Cook is the first known European to discover the Hawaiian Islands, which he names the "Sandwich Islands".
1788 - The First Fleet carrying 736 convicts from England to Australia arrives at Botany Bay to setup a penal colony
1861 - American Civil War - Georgia joins South Carolina, Florida, Mississippi, and Alabama in seceding from the United States.
1911 - 1st shipboard landing of a plane (Tanforan Park to USS Pennsylvania)
1919 – World War I: The Paris Peace Conference opens in Versailles, France.
1919 – Bentley Motors Limited is founded
1933 - White Sands National Monument in New Mexico established
1943 - US rations bread & metal
1944 – Soviet forces liberate Leningrad, effectively ending a three year Nazi siege, known as the Siege of Leningrad.
1951 - 1st use of the lie detector in the Netherlands
1956 - German DR forms own army (National People's Army)
1964 - Plans for World Trade Center announced in New York City

1967 – Albert DeSalvo, the "Boston Strangler", is convicted of numerous crimes and is sentenced to life imprisonment.
1974 - "$6 Million Man" starring Lee Majors premieres on ABC TV
1981 – Phil Smith and Phil Mayfield parachute off a Houston skyscraper, becoming the first two people to BASE jump from objects in all four categories: buildings, antennae, spans (bridges), and earth (cliffs).
1991 - Iraq launches SCUD missiles against Israel
1993 – Martin Luther King, Jr. Day is officially observed for the first time in all 50 states.
2005 – The Airbus A380, the world's largest commercial jet, is unveiled at a ceremony in Toulouse, France
2012 - Stop Online Piracy Act (SOPA) blackout becomes the largest protest in the history of the internet
This Day in Music

1944 - New York City's Metropolitan Opera House holds its first jazz concert, featuring Louis Armstrong, Benny Goodman, Lionel Hampton, Artie Shaw, Roy Eldridge and Jack Teagarden.

1960 - Johnny Preston's Running Bear hits #1
1964 - Beatles 1st appear on Billboard Chart (I Want to Hold Your Hand debuts at #35)
1973 - The Rolling Stones perform a benefit concert for the victims of an earthquake in Nicaragua that raises $400,000
1975 - Barry Manilow's Mandy hits #1
1977 - President Jimmy Carter's Inaugural Concert takes place the night before the swearing-in, featuring performances by Linda Ronstadt and Aretha Franklin, among others.
1978 - Neil Sedaka is awarded a star on the Hollywood Walk of Fame.
1980 - Pink Floyd's "Wall" hits #1
1989 - At just 38 years old, Stevie Wonder became the youngest living person to be inducted into the Rock and Roll Hall of Fame. Below is his Superstition Video

This Day in Sports

1886 – Modern hockey is born with the formation of The Hockey Association in England.
1976 - Superbowl X: Pittsburgh Steelers beat the Dallas Cowboys, 21-17
Word of the Day from Wiktionary

scuttle (verb)

1. (transitive) To deliberately sink a ship or boat by order of the vessel's commander or owner.


Wishing You a Great Day Today!


Like this Page?
Like this Site?
---