January 25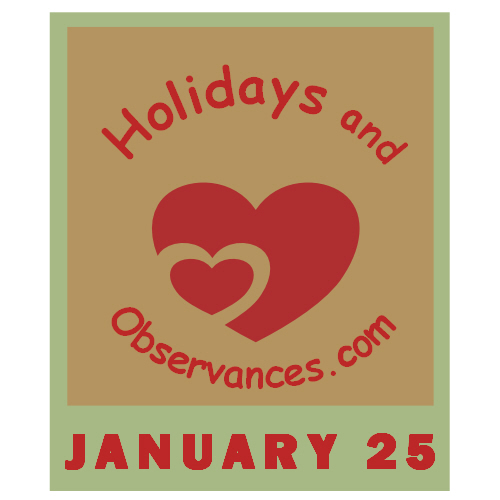 Holidays and Observances

2019 Daily Holidays that fall on January 25, include:
A Room of One's Own Day 
Burns Night 
Macintosh Computer Day 
National Big Wig Day - January 25, 2019 (Last Friday in January)
National Fun at Work Day - January 25, 2019 (Last Friday in January)
National Irish Coffee Day 
National IV Nurse Day
National Preschool Fitness Day - January 25, 2019 (Last Friday in January)
Observe the Weather Day 
Opposite Day

Robert Burns Day 
Thank Your Mentor Day - January 25, 2018 (2019 TBA)
2018 Weekly Holidays that include January 25, are:
Hunt for Happiness Week - January 21-27, 2018 (Third Full Week)
International Hoof Care Week - January 23-26, 2018
International Snowmobile Safety and Awareness Week - January 20-28, 2018
International Week of Prayer for Christian Unity - January 18-25
National Activity Professionals Week - January 21-27, 2018
National Certified Registered Nurse Anesthetists Week - January 21-27, 2018
National Clean Out Your Inbox Week - January 22-26, 2018 (Last Business Week in January)
National Drug & Alcohol Awareness Week - January 22-28, 2018
National Handwriting Analysis Week - January 21-27, 2018 (Week of John Hancock's birthday on January 23)
National Medical Group Practice Week - January 22-26, 2018 (M-F week that starts on Fourth Monday in January )
National School Choice Week - January 21-27, 2018
Week of Christian Unity - January 18-25
2018 Monthly Holidays that include January 25, are:
There are too many monthly holidays to include here, so please check out my January Holidays page to see all of the holidays that are celebrated the entire month of January.
NOTE:
A page on each holiday will be coming soon and linked above.
If a date is a movable holiday, that is different every year, I'll include the year as well as the date rule above. Otherwise, the holiday falls on the same date each year.
World Festivals and Events
Harbin Ice and Snow Sculpture Festival

 - Starts annually on 

January 5

, and typically runs for a month or more, in Harbin, China and is the largest ice and snow festival in the world! 

Southwestern Exposition and Livestock Show

 - January 12 - February 3, 2018 (Fort Worth, TX)

International Circus Festival of Monte Carlo

 - January 18-28, 2018 (Monaco)

Sundance Film Festival - January 18-28, 2018 - An American Film festival held each year in Park City, Utah.
Saint Paul Winter Carnival

 - January 25 - February 10, 2018 (St. Paul, MN)
Astrological Sign

The Astrological Sign for January 25 is an Aquarius.
Birth Flower of the Month

The Birth Flower(s) for the Month for January are:
Carnation - The Carnation is the Birth Flower for January. The  symbolization of the Carnation means love, pride, beauty, purity, distinction, fascination, and loyal.
Snowdrop is a white flower with three small petals in the middle surrounded by three larger petals on the outside. The symbolization of the snowdrop means love, fascination, and purity.
See our GARDEN HOLIDAYS page for all the special days celebrating things of the garden!
Birthstone
The Birthstone for January is Garnet, which comes in a rainbow of colors. It is considered a great gift to symbolize friendship and trust.
Famous Birthdays

1825 – George Pickett, American Confederate general (d. 1875)
1860 – Charles Curtis, 31st Vice President of the United States (d. 1936)
1882 – Virginia Woolf, English writer (d. 1941)
1938 – Etta James, American singer (d. 2012)
1981 – Alicia Keys, American singer
Famous Deaths

1947 – Al Capone, American organized crime figure (b. 1899)
1990 – Ava Gardner, American actress (b. 1922)
2017 - Mary Tyler Moore, American actress and producer (b. 1936)
Famous Weddings and Divorces

1858 – The Wedding March by Felix Mendelssohn becomes a popular wedding recessional after it is played on this day at the marriage of Queen Victoria's daughter, Victoria, and Friedrich of Prussia.
Quote of the Day

Virginia Woolf, was an English writer, regarded as one of the foremost modernist literary figures of the twentieth century.
Recipe of the Day or a
Healthy Diet Habit Tip of the Day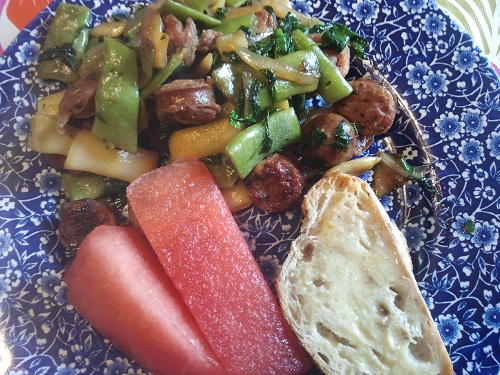 The Recipe of the Day is a Italian Sausage Stir Fry Recipe from Kerry at Healthy Diet Habits. (link opens in her website) Her recipe includes several different variations just using different vegetable combinations.  If you are Vegan or Vegetarian, you can just substitute vegan sausages instead.
This Day in History

1881 – Thomas Edison and Alexander Graham Bell form the Oriental Telephone Company.
1890 – Nellie Bly completes her round-the-world journey in 72 days.
1919 – The League of Nations is founded.
1942 – During World War II, Thailand declares war on the United States and United Kingdom.
1945 – World War II: The Battle of the Bulge ends.
1949 – The first Emmy Awards are presented at the Hollywood Athletic Club
1955 – The Soviet Union ends state of war with Germany.
1961 – In Washington, D.C. John F. Kennedy delivers the first live presidential television news conference.
1971 – Charles Manson and three female "Family" members are found guilty of the 1969 Sharon Tate-LaBianca murders.
1980 – Mother Teresa honored with Indian highest civilian award Bharat Ratna
2004 – Opportunity rover (MER-B) lands on surface of Mars.
This Day in Music

1958 - Elvis Presley gets his first UK #1 when Jailhouse Rock tops the chart.
1962 - Sam Cooke, "Twistin' the Night Away"
1964 - The Beatles score their first #1 single on the U.S. charts (I Want To Hold Your Hand).

1964 - The Beatles' She Loves You enters the pop charts
1975 - The Carpenters' version of The Marveletts 1961 hit, Please Mr. Postman hits #1
1987 - Neil Diamond performs the US National Anthem for Superbowl XXI in Pasadena, CA
Jail House Rock was one of my favorite Elvis Presley songs.
This Day in Sports

1924 – The 1924 Winter Olympics opens in Chamonix, France, inaugurating the Winter Olympic Games.
1939 - Joe Louis KOs John Henry Lewis in 1 round for the Heavyweight boxing title
1974 - Ray Kroc, CEO of McDonald's, buys San Diego Padres for $12 million
1980 - Dutch government demands boycott of Olympics
1981 - Superbowl XV: Oakland Raiders beat Philadelphia Eagles, 27-10 in New Orleans Superbowl.  MVP is Jim Plunkett, Oakland, Quarter Back
1987 - Superbowl XXI: NY Giants beat Denver Broncos, 39-20 in Pasadena Superbowl.  MVP is Phil Simms, NY Giants, Quarter Back
1989 - Michael Jordan scores his 10,000th NBA point in his 5th season
1998 - Spice Girl Victoria Adams (Posh) & soccer David Beckham get engaged
1998 - Superbowl XXXII: Denver Broncos beat Green Bay Packers 31-24
Word of the Day from Wiktionary

ramify (verb)
1.  To divide into branches or subdivisions.
2. (figuratively) To spread or diversify into multiple fields or categories.


Wishing You a Great Day Today!