July 11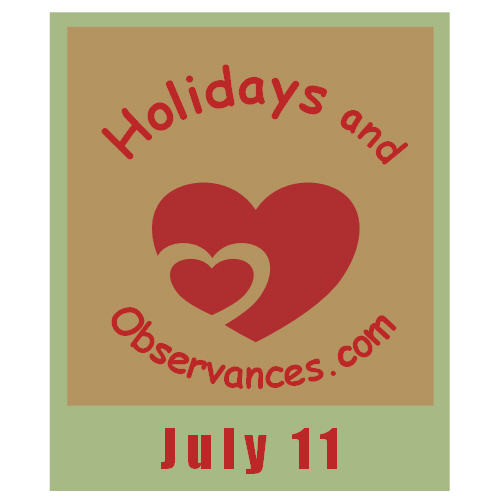 Holidays and Observances
(Alphabetical Order)
2023 Daily Holidays that fall on July 11, include:
All American Pet Photo Day 
Bowdler's Day 
Cheer Up the Lonely Day 
Chick-fil-A's Cow Appreciation Day - July 11, 2023 (Second Tuesday in July)
Cow Appreciation Day - July 11, 2023 (Second Tuesday in July)
Day of the Five Billion 
International Essential Oils Day
International Sister Cities Day - July 11, 2023
Make Your Own Sundae Day 
Major League Baseball All Star Game - July 11, 2023
National Blueberry Muffin Day
National Cheer Up The Lonely Day
National Mojito Day 
National Rainier Cherries Day
National Swimming Pool Day 
Slurpee Day or 7-11's Birthday
World Population Day
2023 Weekly Holidays that include July 11, are:
Air Conditioning Appreciation Days - July 3 - August 15
Creative Maladjustment Week - July 7-14 

Nude Recreation Weekend - July 10-16, 2023

Operation Safe Driver Week - July 9-15, 2023

Sports Cliche Week - July 9-15, 2023 (Week of Major League Baseball All Stars Game)
Therapeutic Recreation Week - July 9-15, 2023 (Second Full Week of July)
2023 Monthly Holidays that include July 11, are:
There are too many monthly holidays to include here, so please check out our July Holidays page to see all of the holidays that are celebrated the entire month of July.
NOTE:
A page on each holiday will be coming soon and linked above.
If a date is a movable holiday, that is different every year, I'll include the year as well as the date rule above. Otherwise, the holiday falls on the same date each year.
World Festivals and Events
(Date Order)
Tour de France - July 1-23, 2023 - this is the world's most high profile bicycle race.
Wimbledon - July 3-16, 2023 held at the All England Lawn Tennis & Croquet Club in Southwest London, England.
Jim Thorpe Native American Games - July 11-19, 2023
Astrological Sign

The Astrological Sign for July 11 is Cancer.

Birth Flower of the Month

The Birth Flower(s) for the Month of July are:

Larkspur - Levity and lightness. Strong bonds of Love are represented by Larkspur.
Waterlily
Delphinium




Waterlilies
Birthstone
The Birthstone(s) for July is:
Rubies

which are said to guarantee health, wisdom, wealth, and success in love
Famous Birthdays

1767 - John Quincy Adams, American lawyer and politician who became the 6th President of the United States (d. 1848)
1959 - Richie Sambora, American singer, songwriter and member of Bon Jovi
Famous Deaths

1806 - James Smith, Irish-American lawyer and politician who was a signer of the U.S. Declaration of Independence as a representative of Pennsylvania (b. 1719)
1989 - Laurence Olivier, English actor, director and producer (Wuthering Heights, Rebecca, Cat on a Hot Tin Roof) (b. 1907)
2007 - Lady Bird Johnson, 43rd First Lady of the United States (b. 1912)
Famous Weddings and Divorces

1877 - Inventor and scientist Alexander Graham Bell marries Mabel Hubbard
1955 - Actor Clark Gable (Gone With the Wind) marries former fashion model and actress Kay Spreckles
1976 - Singer and actor Frank Sinatra marries 4th wife Barbara Marx
2009 - Actor Channing Tatum marries actress Jenna Dewan
2009 - Actor and Director Robert Redford marries artist Sibylee Szaggars
Quote of the Day

July 11th is Cheer Up The Lonely Day!
There are many people in this world that are alone. It's possible to be alone and not feel lonely, while it is also possible to be in a crowd and feel lonely.  

After 15 years of marriage, I divorced and have remained single by choice. I actually don't mind living alone, as I have many hobbies and four websites that I own that need constant updating and new pages.
In December of 2021, I purchased 3.66 acres of raw land that I will be building a small house and planting a huge organic orchard and organic veggie/herb garden with tons of pollinator flowers, among many other things! I keep myself busy! 

I have family and friends that I can visit with if I need to be around others, or break up my day. Social Media has made it easy to reconnect with friends from the past, and make new online friends with similar interests. I've met a bunch of my online friends in person already.

I try to get out every day and walk around the neighborhood, or since I purchased my property, I do a lot of walking around it. I've already met six of my new neighbors. I'm an introvert, but I'm making more of an effort these days to connect with others. Simple things like a smile and saying hello to those you pass along the way can brighten someone's day. I'm always amazed when you get no response back from people...this seems so easy!

Loneliness causes people to feel empty, alone, and unwanted. Everyone can reach out to others - start with your family members! A phone call, a card in the mail, just let them know that you are thinking about them and love them! Brighten someone else's day!
Recipe of the Day or a
Healthy Diet Habit Tip of the Day

July 11th is National Blueberry Muffin Day! 
These healthy blueberry muffins include egg whites, low fat buttermilk, whole wheat pastry flour, flax seeds, blueberries, and nuts. Healthy recipes should include healthy ingredients! Rather than doing without the foods that you love, simply modify them and upgrade the ingredients. This bread recipe is modified to include less fat, less sugar, no egg yolks, and whole wheat pastry flour, rather than white flour! You can eat them without guilt. Pair one with an egg and sliced fruit for a healthy breakfast.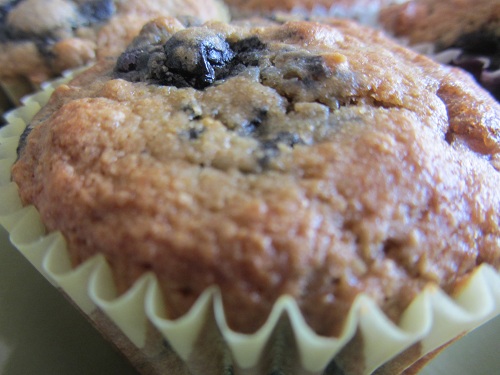 Get the recipe for Healthy Blueberry Muffins from Kerry's Healthy Diet Habits website!
This Day in History

1798 - The U.S. Marine Corps is re-established after they had been disbanded after the American Revolutionary War
1804 - During a duel, the Vice President of the United States Aaron Burr mortally wounds former Secretary of the Treasury Alexander Hamilton
1848 - Waterloo railway station in London opens
1889 - Tijuana, Mexico is founded
1914 - The USS Nevada is launched
1921 - Former President of the United States William Howard Taft is sworn in as the 10th Chief Justice of the U.S. Supreme Court
1922 - The Hollywood Bowl amphitheater opens
1936 - New York City opens the Triborough Bridge to traffic for the first time
1960 - To Kill a Mockingbird by Harper Lee is published in the United States
1962 - First transatlantic satellite television transmission
1973 - The FAA bans smoking in airplane lavatories after Varig Flight 820 crashes near Paris, France killing 123 of the 134 on board
1977 - The Presidential Medal of Freedom is posthumously awarded to Martin Luther King, Jr.
1979 - America's first space station, Skylab is destroyed as it re-enters the Earth's atmosphere over the Indian Ocean
1991 - All 261 passengers and crew on board Nigeria Airways Flight 2120 crashes in Jeddah, Saudi Arabia
2006 - 209 people are killed in a series of bomb attacks in Mumbai, India
2010 - 74 people are killed in twin suicide bombings at two locations in Kampala, Uganda


This Day in Music

1969 - Honky Tonk Women is released by The Rolling Stones
1970 - The cover of Summertime Blues is released by The Who
1970 - The Woodstock soundtrack to the film hits #1
1970 - Mama Told Me Not to Come by Three Dog Night hits #1 (video below)
2009 - I Gotta Feelin by the Black Eyed Peas replaces another of their songs Boom Boom Pow at #1
This Day in Sports

1895 - The first ever automobile race takes place between Paris and Bordeaux in 48 hours, 48 minutes
1914 - Babe Ruth makes his debut in Major League Baseball
1985 - Nolan Ryan of the Astros is the first to strike out 4,000
Word of the Day from Wiktionary

Gaggle (noun)
1.  A group of geese when they are on the ground or on the water.
2.  Any group or gathering of related things; bunch.


Wishing You a Great Day Today!


Like this Page?
Like this Site?
---