June 17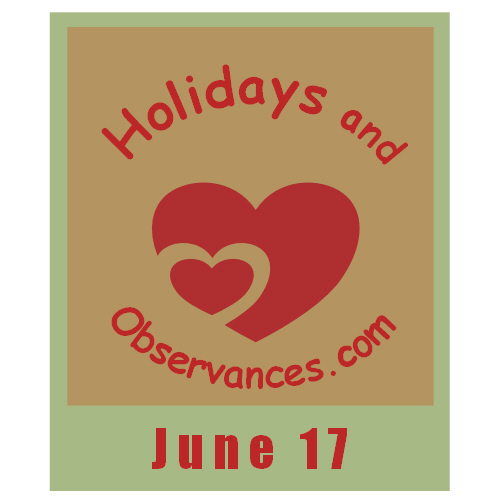 Holidays and Observances

2019 Daily Holidays that fall on June 17, include:
Eat All Your Veggies Day 
National Apple Strudel Day 
Ride to Work Day (Motorcycles) - June 17, 2019 (Third Monday in June)
Ryan Moran Day - June 17, 2019 (First Full Moon in June)
Stewarts Root Beer Day 
Take Your Cat to Work Day - June 17, 2019
World Day to Combat Desertification & Drought 
2019 Weekly Holidays that include June 17, are:
Animal Rights Awareness Week - June 16-22, 2019 (Third Week in June)
National Craft Spirits Week - June 16-22, 2019 (Third Week in June)
National Hermit Week - June 13-20 
National Nursing Assistants Week - June 13-20, 2019
National Pollinator Week - June 17-23, 2019
Old Time Fiddlers Week - June 16-22, 2019 (Third Full Week in June)
Take Your Dog to Work Week - June 17-21, 2019 (The Mon-Fri Week Following Father's Day)
Universal Father's Week - June 16-22, 2019
2019 Monthly Holidays that include June 17, are:
There are too many monthly holidays to include here, so please check out our June Holidays page to see all of the holidays that are celebrated the entire month of June.
NOTE:
A page on each holiday will be coming soon and linked above.
If a date is a movable holiday, that is different every year, I'll include the year as well as the date rule above. Otherwise, the holiday falls on the same date each year.
Astrological Sign

The Astrological Sign for June 17 is Gemini.

Birth Flower of the Month

The Birth Flower(s) for the Month of June are:

The Rose which is the most popular flower in the world, symbolizes love and appreciation!
Honesuckle which signifies a strong symbol for the everlasting bonds of love.
Birthstone
The Birthstone(s) for June is:
Pearls which have been popular in jewelry for centuries because of their natural beauty.
Alexandrite gemstones are extremely rate and change color based on the lighting
Moonstone
Famous Birthdays

1903 - Ruth Graves Wakefield, American chef who created the chocolate chip cookie (d. 1977)
1904 - Ralph Bellamy, American actor and singer (d. 1991)
1943 - Newt Gingrich, American politician and 58th Speaker of the United States House of Representatives
1943 - Barry Manilow, American singer, songwriter, and producer
1963 - Greg Kinnear, American actor and producer (As Good As It Gets, Heaven is For Real)
1965 - Dan Jansen, American speed skater (1994 Winter Olympics Gold Medalist)
1966 - Jason Patric, American actor (Your Friends and Neighbors, Geronimo)
Famous Deaths

1986 - Kate Smith, American singer (Best known for God Bless
America) (b. 1907)
2008 - Cyd Charisse, American actress and dancer (b. 1922)
Famous Weddings and Divorces

1950 - U.S. Attorney General Robert Kennedy marries Ethel Kennedy
1962 - Actor Jack Nicholson marries Sandra Knight
1983 - Singer and Actor Glenn Frey (Eagles) marries Janie Beggs
1997 - Actor Robert De Niro marries Actress Grace Hightower
Quote of the Day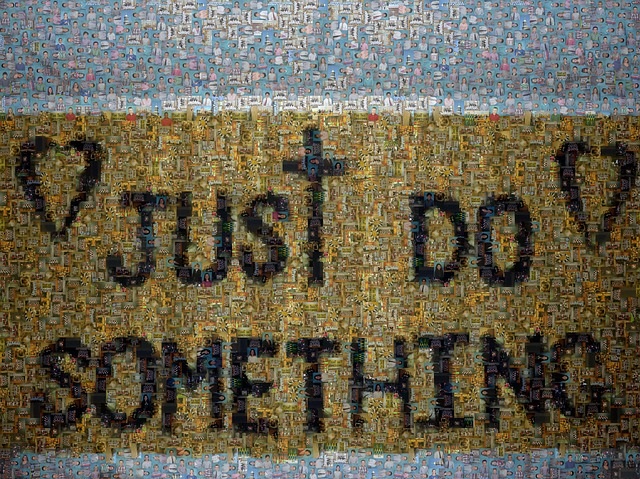 Just Do Something! Wake up each morning with a purpose - move in the direction of your dreams, accomplish a goal, spend time with family, help another in need. Just Do Something to help this world be a better place to live!
Recipe of the Day or a
Healthy Diet Habit Tip of the Day

June 17th is Eat Your Veggies Day! Eating enough produce daily just might be the biggest diet tip ever! Yeah, yeah, yeah! Most of us turn up our noses, and tune out. We know this, but those foods are so boring and life is short! We are too busy to do all the prep work that those fruits and veggies require! It's overwhelming!
It's much easier to just grab processed foods at the market, and at local restaurants we love! Problem is they are high fat and high calorie and our waistline is paying the price! Does that sound like you? Try these tips for home use, or when ordering out!
Find produce info. and tips from Kerry on her Healthy Diet Habits website!
This Day in History

1579 - Sir Francis Drake lands on the coast of California at Drakes Bay, names it "New Albion" and claims it for England
1631 - Mumtaz Mahal dies during childbirth and her husband Mughal emperor Shah Jahan I spends the next 17 years building her tomb, the Taj Mahal
1775 - Colonists lose the Battle of Bunker Hill during the American Revolutionary War
1839 - In Hawaii, Kamehameha III issues the Edict of Toleration which gives Roman Catholics the freedom to worship in the Hawaiian Islands. The Hawaii Catholic Church and the Cathedral of Our Lady of Peace are established after that.
1876 - The Battle of the Rosebud occurs during the American Indian Wars when one thousand five hundred Sioux and Cheyenne Indians let by Crazy Horse beat General George Crook's forces at Rosebud Creek in the Montana Territory.
1885 - The Statue of Liberty arrives in New York Harbor from France
1898 - The United States Navy Hospital Corps is established
1901 - The forerunner to the SAT is introduced when the College Board introduces its first standardized test
1929 - A 7.8 magnitude earthquake hits the town of Murchison, New Zealand killing 17.
1930 - the Smoot-Hawley Tariff Act is signed into law by U.S. President Herbert Hoover
1940 - During World War II, the RMS Lancastria is attacked and sunk by the Luftwaffe near Saint-Nazaire, France with 3,000 killed
1963 - The U.S. Supreme Court rules 8-1 against requiring the reciting of Bible  verses and the Lord's Prayer in public schools
1967 - The People's Republic of China announce a successful test of its first thermonuclear bomb
1971 - U.S. President Richard Nixon declares the U.S. War on Drugs
1972 - During the Watergate scandal, five White House operatives are arrested for burglarizing the Democratic Party Headquarters
1994 - LA cops chase O.J. Simpson in his Ford Bronco for 1 1/2 hours before he gives up and is arrested for the murders of his wife, Nicole Brown Simpson, and her friend Ronald Goldman
2015 - A mass shooting occurs in Charleston, South Carolina at Emanuel African Methodist Episcopal Church where nine people are killed
This Day in Music

1967 - Carrie Anne is released by The Hollies
1977 - Steve Winwood releases his debut solo album, named Steve Winwood
1978 - Shadow Dancing by Andy Gibb hits #1
1997 - The Legend of Chin, the debut album by Switchfoot is released
1997 - Floored by Sugar Ray is released and includes their hit Fly

(video below)

2008 - Rise and Fall, Rage and Grace by The Offspring is released
2016 - The Getaway by the Red Hot Chili Peppers is released
This Day in Sports

1960 - Ted Williams his his 500th HR
1962 - Jack Nicklaus shoots a 283 during the 62nd US Golf Open
Word of the Day from Wiktionary

Postilion (noun)
1. A rider mounted on the near, leading horse pulling a carriage who guides the team.


Wishing You a Great Day Today!