June 8

 Holidays and Observances
(Alphabetical Order)
2023 Daily Holidays that fall on June 8, include:
Best Friends Day
Betty Picnic Day 
Corpus Christi - June 8, 2023
International Day of Action for Elephants in Zoos 
Jelly-Filled Doughnut Day 
Name Your Poison Day 
National Caribbean American HIV/AIDS Awareness Day 
Upsy Daisy Day 
World Brain Tumor Day 
World Oceans Day 
2023 Weekly Holidays that include June 8, are:
America The Beautiful Week - June 4-10, 2023 (First Full Week of June)
Bedbug Awareness Week - June 4-10, 2023
Black Single Parents Week - June 4-10, 2023 (First Full Week in June)
Canadian Environment Week - June 4-10, 2023 (First Full Week in June)
End Mountain Top Removal Week - June 4-10, 2023 (First Full Week of June)

Healthcare Executives Appreciation Week - June 4-10, 2023 (First Full Week of June)

International Clothesline Week - June 3-10, 2023 (starts on the first Saturday in June)
National Business Etiquette Week - June 4-10, 2023 (First Full Week of June)

National Commuter Challenge - June 4-10, 2023 (Week Long event during the Canadian Environment Week)
National Fishing & Boating Week - June 3-11, 2023 (Starting the first Saturday in June and running for 9 days)

National Garden Week - June 4-10, 2023 (First Full Week of June)
National Headache Awareness Week - June 4-10, 2023 (First Full Week of June)
Pet Appreciation Week - June 4-10, 2023 (First Week in June)
National Lemonade Days - June 3-11, 2023
Prepare Tomorrow's Parents Month - May 14 - June 18, 2023 (Mother's Day to Father's Day)

Shampoo Week - June 7-13
Teacher Thank You Week - June 4-10, 2023 (First Full Week of June)

2023 Monthly Holidays that include June 8, are:
There are too many monthly holidays to include here, so please check out our June Holidays page to see all of the holidays that are celebrated the entire month of June.
NOTE:
A page on each holiday will be coming soon and linked above.
If a date is a movable holiday, that is different every year, I'll include the year as well as the date rule above. Otherwise, the holiday falls on the same date each year.
World Festivals and Events
(Date Order)
Vivid Sydney - May 26 - June 17, 2023 located in Sydney, Australia is where art, technology, and commerce intersect, and is an event of light, music, and ideas. Featuring outdoor lighting sculptures, cutting edge contemporary music, and the illumination of the Sydney Opera House. Check out our Holidays in Australia page!
Astrological Sign

The Astrological Sign for June 8 is Gemini.

Birth Flower of the Month

The Birth Flower(s) for the Month of June are:

The Rose which is the most popular flower in the world, symbolizes love and appreciation!
Honesuckle which signifies a strong symbol for the everlasting bonds of love.
Birthstone
The Birthstone(s) for June is:
Pearls which have been popular in jewelry for centuries because of their natural beauty.
Alexandrite gemstones are extremely rate and change color based on the lighting
Moonstone
Famous Birthdays

1847 - Ida Saxton McKinley, wife of William McKinley and the 25th First Lady of the United States from 1897-1901 (d. 1907)
1867 - Frank Lloyd Wright, American architect (d. 1959)
1925 - Barbara Bush, wife of George H.W. Bush and the 41st First Lady of the United States from 1989-1993
1940 - Nancy Sinatra, American singer and actress, and daughter of Frank Sinatra
1944 - Boz Scaggs, American singer, songwriter and guitarist (Steve Miller Band)
1951 - Bonnie Tyler, Welsh singer and songwriter (Total Eclipse of the Heart)
1966 - Julianna Margulies, American actress and producer (ER, The Good Wife)
1978 - Maria Menounos, American journalist and actress
Famous Deaths

1376 - Edward, the Black Prince, son of King Edward III of England (b. 1330)
1809 - Thomas Paine, English-American writer (b. 1737)
1845 - Andrew Jackson, American general, judge, politician, and the 7th President of the United States from 1828-37 (b. 1767)
1874 - Cochise, Apache chief (b. 1805)
Famous Weddings and Divorces

1961 - English Prince Edward, Duke of Kent marries Katharine Worsley
2002 - Swedish tennis champion Bjorn Borg marries real estate broker Patricia Ostfeldt
2013 - Princess Madeleine of Sweden weds Christopher O'Neill in Stockholm, Sweden
Quote of the Day

Today, June 8th is BEST FRIENDS DAY!!
Recipe of the Day or a
Healthy Diet Habit Tip of the Day

The bell pepper is one of the most versatile vegetables known! They can be added to almost any dish for added flavor, nutrients, and fiber.  They fill you up without filling you out! Find out tips about bell peppers from Kerry's Healthy Diet Habits website!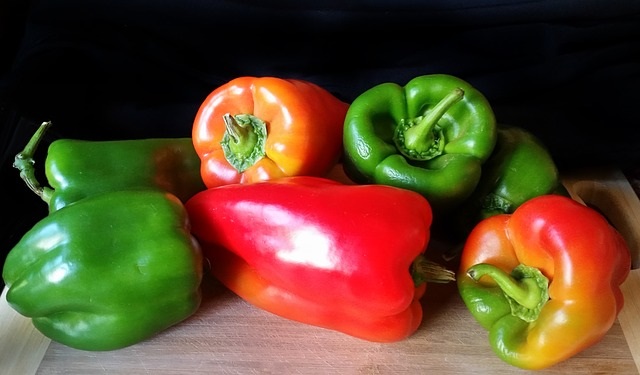 National Garden Week is June 4-10, 2023
This Day in History

1042 - Edward the Confessor becomes King of England
1783 - Laki, a volcano in Iceland starts an eight month eruption that kills over 9,000 people and starts a seven year famine
1786 - Ice Cream is advertised for the 1st time in Mr. Hall, New York City
1789 - James Madison introduces a proposed Bill of Rights in the U.S. House of Representatives, and another proposed amendment to the U.S. Constitution becomes the 27th Amendment
1824 - The washing machine is patented by Noah Cushing of Quebec
1861 - The U.S. State of Tennessee votes to secede from the Union
1906 - U.S. President Theodore Roosevelt signs the Antiquities Act into law, authorizing the President to restrict certain parcels of public land that have historical or conservation value
1936 - The first parking meters are invented
1953 - 116 are killed, 844 injured, and 340 homes destroyed after an F5 tornado touches down in Beecher, Michigan
1953 - 113 are killed in Flint Michigan after 6 tornadoes touch down
1968 - Assassinated U.S. Senator, Robert F. Kennedy's funeral takes place at the St. Patrick's Cathedral in New York City and his body is laid to rest at Arlington National Cemetery
1992 - The first World Ocean Day is celebrated 
1995 - The downed U.A. Air Force pilot Captain Scott O'Grady is rescued by U.S. Marines in Bosnia
This Day in Music

1966 - Strangers in the Night by Frank Sinatra hits #1 on the UK singles chart
1974 - Band On The Run by Paul McCartney & Wings hits #1
1985 - Everybody Wants to Rule The World by Tears For Fears hits #1 in the U.S.
1991 - Spellbound, Paula Abdul's second album hits #1 on the album charts in the U.S.
1996 - Killing Me Softly by The Fugees featuring Lauryn Hill goes to #1 in the UK
Above is, Rush, Rush by Paula Abdul featuring the actor Keanu Reeves in the video!
This Day in Sports

1927 - Tony Lazzeri hits 3 HRs and his team, the New York Yanks beat the White Sox 12-11
1933 - Oakland A's Jimmie Foxx hits HRs his 1st 3 at bats for 4 consecutive HRs
1962 - Jim Beatty runs a world record 2 mile in 8:29.8
1977 - Nolan Ryan gets his 4th career 19-strikeout game
Word of the Day from Wiktionary

Tenebrous (adjective)
1.  Dark and gloomy.


Wishing You a Great Day Today!


Like this Page?
Like this Site?
---