March 1

 Holidays and Observances

2018 Daily Holidays that fall on March 1, include:
Asiatic Fleet Memorial Day 
Beer Day (in Iceland) 
Endometriosis Awareness Day 
International Women of Color Day 
National Black Women in Jazz and the Arts Day 
National Fruit Compote Day 
National Horse Protection Day 

National Peanut Butter Lover's Day 
National Pig Day 
Nuclear Free and Independent Pacific Day (Bikini Day) 
Plan a Solo Vacation Day 
Refired, Not Retired Day 
Self Injury Awareness Day 
Share a Smile Day 

St. David's Day 
World Book Day - March 1, 2018  - First Thursday in March (Primarily in United Kingdom and Ireland - most other Countries  observe this day on April 23rd)
World Civil Defence Day 
World Compliment Day
Zero Discrimination Day 
2018 Weekly Holidays that include March 1, are:
Lent - Begins on Ash Wednesday - February 14, 2018 - March 29, 2018
Make Mine Chocolate - (Campaign kicks off annually on Feb 15, and ends on Easter

 which is April 1, 2018)

National Aplastic Anemia & MDS Awareness Week - March 1-6
National Cheerleading Week - March 1-7
National Eating Disorders Awareness Week - February 26 - March 4, 2018
National Ghostwriters Week - March 1-7
National Invasive Species Awareness Week - February 26, 2018 - March 2, 2018
National Justice for Animals Week - February 25 - March 3, 2018
National Pet Sitters Week - March 1-7
National Write a Letter of Appreciation Week - March 1-7
Orthodox Lent - February 19 - April 7, 2018
Purim - Evening of February 28, 2018 to the Evening of March 1, 2018
Read Across America Week - February 26 - March 2, 2018 (M-F week of Dr. Seuss Birthday on March 2)
Telecommuter Appreciation Week - February 25 - March 3, 2018
Universal Human Beings Week - March 1-7
Will Eisner Week - March 1-7
2018 Monthly Holidays that include March 1, are:
There are too many monthly holidays to include here, so please check out our March Holidays page to see all of the holidays that are celebrated the entire month of March.
NOTE:
A page on each holiday will be coming soon and linked above.
If a date is a movable holiday, that is different every year, I'll include the year as well as the date rule above. Otherwise, the holiday falls on the same date each year.
World Festivals and Events
Chinese New Year Festival and Parade

 - February 10, 2018 - March 4, 2018 (San Francisco, CA)

Hong Kong Arts Festival - February 23, 2018 - March 24, 2018 features Art, Theatre, Dance, Opera, and Music events.
Houston Livestock Show and Rodeo - February 27 - March 18, 2018 (Houston, TX)
Astrological Sign

The Astrological Sign for March 1 is Pisces.

Birth Flower of the Month

The Birth Flower(s) for the Month for March are:
Birthstone
The Birthstone(s) for March is the aquamarine and the bloodstone.
Famous Birthdays

1904 – Glenn Miller, American bandleader (d. 1944)
1910 – David Niven, English actor (d. 1983)
1935 – Robert Conrad, American actor (Wild Wild West, Baa Baa Black Sheep)
1945 – Dirk Benedict, American actor (A-Team, Battlestar Galactica)
1947 – Alan Thicke, Canadian actor and songwriter
1954 – Catherine Bach, American actress (Dukes of Hazzard)
1954 – Ron Howard, American actor and director (Happy Days)
1956 – Tim Daly, American actor (Wings, Private Practice)
1967 – George Eads, American actor (CSI Crime Scene)
1969 – Javier Bardem, Spanish actor (Skyfall)
Famous Deaths

1984 - Jackie Coogan, actor (Uncle Fester on the Addams Family)
1988 - Joe Besser, comedian (3's Stooges, Abbott & Costello)
2006 – Johnny Jackson, American musician (The Jackson 5) (b. 1951)
2013 - Bonnie Franklin, American Actress (One Day at a Time) (b. 1944)
Famous Weddings and Divorces

1968 : Johnny Cash marries June Carter of the gospel stars The Carter Family
1989 - Julianne Philips & Bruce Springsteen divorce
Quote of the Day

To this day, I still remember the "I Dare You to Knock It Off" line from the Eveready Battery Commercial that Robert Conrad, who was born on this day in 1935, did. Loved all of his shows!

Recipe of the Day or a
Healthy Diet Habit Tip of the Day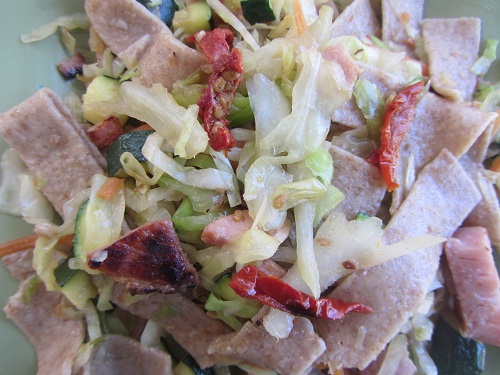 The Holidays and Observances Recipe of the Day for March 1 is a Simple Ham and Cabbage Pasta Recipe from Kerry, of Healthy Diet Habits.
This Day in History

1565 – The city of Rio de Janeiro in Brazil is founded.
1692 - Salem Witch Trials Start in Salem Village, Massachusetts
1781 – The Continental Congress adopts the Articles of Confederation
1790 – The first United States census is authorized
1803 – Ohio is admitted as the 17th U.S. State
1845 – U.S. President John Tyler signs a bill authorizing the United States to annex the Republic of Texas
1867 – Nebraska becomes the 37th U.S. State
1867 - Lancaster, Nebraska is renamed Lincoln and becomes the State Capital
1872 – Yellowstone National Park is established as the world's first National park
1901 – The Australian Army was formed.
1932 – The son of Charles Lindbergh, Charles Augustus Lindbergh III, is kidnapped.
1936 – The Hoover Dam is completed on the Colorado River between Arizona and Nevada
1953 – Joseph Stalin (leader of the Soviet Union) suffers a stroke and collapses and dies four days later
1961 – President of the United States John F. Kennedy establishes the Peace Corps
1974 – Seven are indicted for their role in the Watergate break in and charged with conspiracy to obstruct justice
1978 - Charlie Chaplin's coffin was stolen from a Swiss cemetery
1995 – Yahoo is incorporated
1998 –

The Movie

Titanic became the first film to gross over $1 billion worldwide.
This Day in Music

1958 - Johnny Mathis, Album Johnny's Greatest Hits is released

1965 - Petula Clark's Downtown is certified gold
1975 - The Eagles' Best Of My Love hits #1
1975 - Olivia Newton-John won Record Of The Year for 'I Honestly Love You' at the Grammy Awards

1975 - Bob Dylan's Album  Blood On The Tracks hits #1
1977 - Manfred Mann's Earth Band's Blinded By The Light is certified gold
1986 - The Rolling Stones,

Album

Dirty Work

is released

1994 - Nirvana played their last concert in Munich, Germany

This Day in Sports

1973 - Robyn Smith becomes 1st female jockey to win a major race
1983 - Tamara McKinney becomes 1st US woman skier to win the World Cup
1988 - Wayne Gretzky passes Gordie Howe with his record 1,050th NHL assist
1993 - New expansion NHL team, owned by Disney, is named the Mighty Ducks
Word of the Day from Wiktionary

fons honorum (noun)
1. A person who, by virtue of sovereignty, holds the exclusive right to create and confer legitimate titles of nobility and orders of chivalry.


Wishing You a Great Day Today!