March 2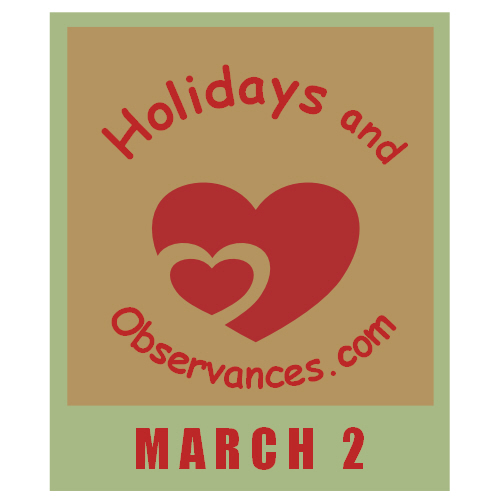 Holidays and Observances
(Alphabetical Order)
2021 Daily Holidays that fall on March 2, include:
Dr. Seuss Day 
Free Dentistry Day - March 2, 2021
International Rescue Cat Day 
National Banana Cream Pie Day 
National Old Stuff Day 
National Sportsmanship Day - March 2, 2021 (First Tuesday in March)
Peace Corps Day - March 2, 2021 (First Tuesday in March)
Read Across America Day - March 2, 2021 (Falls during the week of Dr. Seuss's birthday on March 2nd)
Texas Independence Day 
Town Meeting Day Vermont - March 2, 2021 (First Tuesday of March)
World Teen Mental Wellness Day 
2021 Weekly Holidays that include March 2, are:
British Pie Week - March 1-7 (Observed for 7 days starting on March 1st)
Fairtrade Fortnight - February 22 - March 7, 2021
Hearing Awareness Week - March 1-7
Lent - February 17 - March 29, 2021
Make Mine Chocolate - (Campaign kicks off annually on Feb 15, and ends on Easter which is April 4, 2021)
National Aplastic Anemia & MDS Awareness Week - March 1-6
National Cheerleading Week - March 1-7
National Ghostwriters Week - March 1-7
National Green Week - February 7 - April 30, 2021
National Pasty Week - February 28 - March 6, 2021
National Pet Sitters Week - March 1-7
National Write a Letter of Appreciation Week - March 1-7
Newspaper in Education Week - March 1-5, 2021 (First Full School Week in March)
Read Across America Week - March 1-5, 2021 (M-F week of Dr. Seuss Birthday on March 2)
Telecommuter Appreciation Week - March 1-7, 2021 (Week that includes Alexander Graham Bell's Birthday of 3/2)
Universal Human Beings Week - March 1-7
Will Eisner Week - March 1-7
2021 Monthly Holidays that include March 2, are:
There are too many monthly holidays to include here, so please check out our March Holidays page to see all of the holidays that are celebrated the entire month of March.
NOTE:
A page on each holiday will be coming soon and linked above.
If a date is a movable holiday, that is different every year, I'll include the year as well as the date rule above. Otherwise, the holiday falls on the same date each year.
World Festivals and Events
(Date Order)
North Dakota Winter Show - February 28 - March 6, 2021 (Valley City, ND)
Houston Livestock Show and Rodeo - March 2-21, 2021 (Houston, TX)
Astrological Sign

The Astrological Sign for March 2 is Pisces.

Birth Flower of the Month

The Birth Flower(s) for the Month for March are:
Birthstone
The Birthstone(s) for March is the aquamarine and the bloodstone.
Famous Birthdays

1793 – Sam Houston, American politician who had a leading role in bringing Texas into the United States (d. 1863)
1904 – Dr. Seuss (Theodor Seuss Geisel), American author (d. 1991)
1917 – Desi Arnaz, Cuban-born actor and bandleader (I Love Lucy Show) (d. 1986)
1931 – Mikhail Gorbachev, President of the Soviet Union and Nobel laureate
1950 – Karen Carpenter, American singer and drummer (The Carpenters) (d. 1983)
1952 – Laraine Newman, American comedienne, actress, and writer who was part of the original Saturday Night Live Cast.
1955 – Jay Osmond, American drummer and singer (The Osmonds)
1962 – Jon Bon Jovi, American musician (Bon Jovi)
1968 – Daniel Craig, English actor (James Bond Movies)
1977 – Chris Martin, English musician (Coldplay)
Famous Deaths

1791 – John Wesley, English founder of Methodism (b. 1703)
1930 – D. H. Lawrence, English writer (b. 1885)
1987 – Randolph Scott, American actor and director (b. 1898)
Quote of the Day

As a child, the Dr. Seuss books were some of my favorites and had a big impact on my love for reading. When you like to read, you never know the meaning of the word, "BORED"!
Recipe of the Day or a
Healthy Diet Habit Tip of the Day

The Holidays and Observances Recipe of the Day for March 2 is a Potato Pancakes Recipe, from Kerry, of Healthy Diet Habits.
This Day in History

1797 – The Bank of England issues the first one-pound and two-pound banknotes
1807 – The U.S. Congress passes the Act Prohibiting Importation of Slaves
1819 - US passed its 1st immigration law
1836 – Declaration of independence of the Republic of Texas from Mexico
1861 - US creates Dakota & Nevada Territories out of the Nebraska & Utah territory
1867 - US Congress created the Department of Education
1899 - Pres McKinley signs bill creating Mt Rainier National Park (5th in US)
1903 – The Martha Washington Hotel, catering to women only, opens in New York City
1925 - Nationwide road numbering system & US shield marker adopted
1933 – The film King Kong opens at New York's Radio City Music Hall.
1943 – Battle of the Bismarck Sea – United States and Australian forces sink Japanese convoy ships
1946 - Ho Chi Minh elected president of North Vietnam
1949 – The first automatic street light is installed in New Milford, Connecticut
1958 - The 1st surface crossing of the Antarctic continent is completed in 99 days
1958 - Yemen announces it would join the United Arab Republic
1965 - The Sound Of Music opens
1968 - US Air Force displays Lockheed C-5A Galaxy, the biggest plane in the world
1970 - American Airlines' 1st flight of a Boeing 747
1974 - Grand jury concludes US President Richard Nixon is involved in the Watergate cover-up
1976 - Walt Disney World welcomes its 50 millionth guest
1977 - Bette Davis is 1st woman to receive Life Achievement Award
1977 - Future Tonight Show host Jay Leno debuts with host Johnny Carson
1990 – Nelson Mandela is elected deputy President of the African National Congress
This Day in Music

1974 -

Gladys Knight & the Pips,

Neither One of Us

wins a Grammy for Best Pop Vocal Performance By A Duo, Group, or Chorus

1974

- Gladys Knight & The Pips,

Midnight Train to Georgia wins a Grammy for Best R&B Vocal Performance by a Group

1983 -

The first CD players were released in America

1988 - U2's The Joshua Tree wins the Grammy for Album of the Year and Best Performance by Rock Duo or Group with Vocal

1991 - Chris Isaak's, Wicked Game hits #6 on the US chart. An instrumental version of the song was featured in the 1990 David Lynch film, Wild at Heart
1994 - Miami begins a Latin Walk of Fame, with the 1st star going to Gloria Estefan
I love the song Wicked Game (above) by Chris Isaak, it's in my top 10 list of all time favorite songs! I'm shocked it didn't make it all the way to #1.
This Day in Sports

1874 - Baseball batter's box is officially adopted
1927 - Babe Ruth becomes highest paid baseball player ($70,000 per year)
1962 – Wilt Chamberlain sets the single-game scoring record in the National Basketball Association by scoring 100 points for the Philadelphia Warriors in a 169–147 win over the New York Knicks
1968 - Worlds Ladies Figure Skating Champ in Geneva won by Peggy Fleming of the US
Word of the Day from Wiktionary

party favor (noun)

1. A small gift given to a guest at a party, as a souvenir.


Wishing You a Great Day Today!


Like this Page?
Like this Site?
---