March 21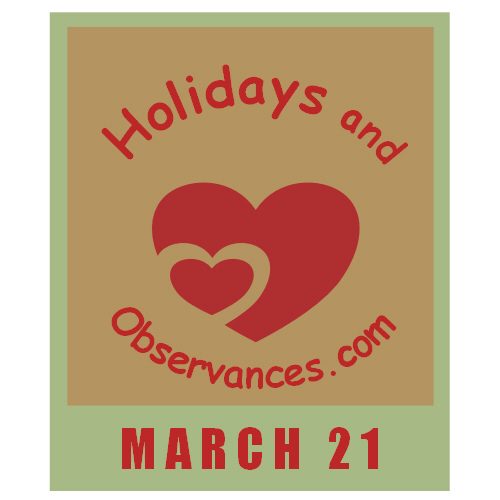 Holidays and Observances

2019 Daily Holidays that fall on March 21, include:
Big Bang Day 
California Strawberry Day 
Companies that Care Day - March 21, 2019 (Third Thursday)
Education Freedom Day 
Incredible Kid Day - March 21, 2019 (Third Thursday in March)
International Colour Day
International Day for the Elimination of Racial Discrimination 
International Day of Forests and the Tree 

International Day of Nowruz 
National Common Courtesy Day
National Day of Action on Syringe Exchange 
National Farm Rescuer Day - March 21, 2019 (Third Thursday in March)
National Flower Day 
National Fragrance Day 
National French Bread Day 
National Rosie The Riveter Day - March 21, 2019
Nowruz - March 21, 2019
Single Parents Day 
Spring Fairy Fun Day

WE Day - March 21, 2019
World Down Syndrome Day 
World Poetry Day 
World Puppetry Day 
2019 Weekly Holidays that include March 21, are:
Act Happy Week - March 18-24, 2019 (Starts on Third Monday)
American Chocolate Week - March 17-23, 2019 (Third Full Week of March)
Health Information Professionals Week - March 17-23, 2019
Holi - Evening of March 20 - Evening of March 21, 2019 (Hindu)
International Teach Music Week - March 18-24, 2019
International Week of Solidarity with People's Struggling Against Racism & Discrimination - March 21-27, 2019
Lent - Begins on Ash Wednesday - March 6, 2019 through April 18, 2019
Make Mine Chocolate - (Campaign kicks off annually on Feb 15, and ends on Easter which is April 21, 2019)
National Animal Poison Prevention Week - March 17-23, 2019 (Third Full Week of March)
National Button Week - March 17-23, 2019 (Third Full Week in March)
National Cherry Blossom Festival - March 20 - April 14, 2019
National Fix a Leak Week - March 18-24, 2019
National Fragrance Week - March 18-24, 2019
National Inhalants and Poisons Awareness Week - March 17-23, 2019 (Third Week of March)
National Introverts Week - March 18-24, 2019 (Third Full Week of March)
National Poison Prevention Week - March 17-23, 2019 (Third Full Week of March)
Orthodox Lent - March 11 - April 27, 2019
Purim - Evening of March 20, 2019 to the Evening of March 21, 2019
Shakespeare Week - March 18-24, 2019
Special Olympics 2019 - March 14-21, 2019
Week of Solidarity with the Peoples Struggling Against Racism and Racial Discrimination - March 21-27
Wellderly Week - March 18-24, 2019 (Third Mon-Sun Week)
World Folktales & Fables Week - March 17-23, 2019
2019 Monthly Holidays that include March 21, are:
There are too many monthly holidays to include here, so please check out our March Holidays page to see all of the holidays that are celebrated the entire month of March.
NOTE:
A page on each holiday will be coming soon and linked above.
If a date is a movable holiday, that is different every year, I'll include the year as well as the date rule above. Otherwise, the holiday falls on the same date each year.
World Festivals and Events
Hong Kong Arts Festival - February 21, 2019 - March 23, 2019 features Art, Theatre, Dance, Opera, and Music events.
Paralympic Winter Games - March 14-21, 2019
Astrological Sign

The Astrological Sign for March 21 is Aries.

Birth Flower of the Month

The Birth Flower(s) for the Month for March are:
See our new GARDEN HOLIDAYS page for all the special days celebrating things of the garden!
Birthstone
The Birthstone(s) for March is the aquamarine and the bloodstone.
Famous Birthdays

1685 -Johann Sebastian Bach
1713 – Francis Lewis, American signer of the Declaration of Independence (d. 1803)
1906 – John D. Rockefeller III, American philanthropist (d. 1978)
1910 – Julio Gallo, American vintner (d. 1993)
1946 – Timothy Dalton, British actor (Scarlett, James Bond Movies - The Living Daylights and License to Kill)

1949 – Eddie Money, American singer-songwriter
1962 – Matthew Broderick, American actor (Ferris Bueller's Day Off) (Check out my Super Bowl page, for the hilarious extended commercial that Matthew did for Honda CRV, called Matthew's Day Off.)

1962 – Rosie O'Donnell, American comedian and actress
Famous Deaths

1943 – Cornelia Fort, First American Female Pilot to die for the U.S. Military (b. 1919)
1987 – Dean Paul Martin, American tennis player, singer, actor, and military pilot died in a plane crash while serving in the Air National Guard (b. 1951)
1994 - Dack Rambo, actor (Dallas) (b. 1941)

2005 – Barney Martin, American actor (Seinfeld) (b. 1923)
Famous Weddings and Divorces

1891 - A Hatfield marries a McCoy, and ends the 20 year long feud in West Virginia that started with an accusation of pig stealing 
2009 - Actor Bruce Willis weds model and actress Emma Heming 
2009 - British singer Natasha Bedingfield weds California businessman Matthew Robinson
Quote of the Day

Worry weighs a person down; an encouraging word cheers a person up. ~Proverbs 12:25
Recipe of the Day or a
Healthy Diet Habit Tip of the Day

The Holidays and Observances Recipe of the Day for March 21, is a Spicy Orange Lentil Soup Recipe from Kerry, of Healthy Diet Habits.
Adding a pot of soup to your meal each week is a healthy diet habit and a great lifestyle solution to adopt. Soups that are not cream based are usually calorie friendly and very filling. Add a chopped salad and a chunk of artisan bread for a delicious meat free, vegetarian, or vegan meal.
See our FOOD HOLIDAYS page for all the special days celebrating food!
See our Holiday Food page for tips on healthy holiday food traditions in general, and for some sample meal plan ideas for some of the most popular holidays.
This Day in History

1788 – A fire in New Orleans leaves most of the town in ruins
1851 - Yosemite Valley discovered in California
1857 – An earthquake in Tokyo, Japan kills over 100,000
1928 – Charles Lindbergh is presented with the Medal of Honor for the first solo trans-Atlantic flight
1935 - Persia officially renamed Iran
1943 - Assassination attempt on Hitler fails
1951 - 2,900,000 US soldiers in Korea
1963 – Alcatraz, a federal penitentiary on an island in San Francisco Bay, closes
1965 - Martin Luther King Jr begins march from Selma to Montgomery, Alabama
1970 - The first Earth Day proclamation is issued by San Francisco Mayor Joseph Alioto
1980 - On TV show Dallas, J.R. is shot (this was a big cliff hanger as to who did it)

1984 - Soviet sub crashes into USS aircraft carrier Kitty Hawk off Japan
1999 – Bertrand Piccard and Brian Jones become the first to circumnavigate the Earth in a hot air balloon
This Day in Music

1964 - The Beatles', She Loves You, hits #1

1975 - Frankie Valli's My Eyes Adored You, hits #1
1984 - John Lennon's widow, Yoko Ono, dedicates a section of New York City's Central Park as a place of meditation called Strawberry Fields
1989 - Dick Clark announces the end of his 33 years as host of American Bandstand
1994 - Bruce Springsteen wins an Oscar for the song Streets of Philadelphia from the Tom Hanks movie Philadelphia
Eddie Money was born on this day in 1949.  Above, is one of his favorites of mine, Take Me Home Tonight featuring Ronnie Spector.
This Day in Sports

1964 - UCLA completes undefeated NCAA basketball season (30-0)
1970 - Vinko Bogataj crashes during a ski-jumping championship in Germany; his image becomes that of the "agony of defeat guy" in the opening credits of ABC's Wide World of Sports
1980 – US President Jimmy Carter announces a US boycott of the 1980 Summer Olympics in Moscow to protest the Soviet Invasion of Afghanistan
1994 - Wayne Gretzky ties Gordie Howe's NHL record of 801 goals
Word of the Day from Wiktionary

itchy trigger finger (noun)
1. (idiomatic) A tendency to act in haste or without consideration


Wishing You a Great Day Today!