March 26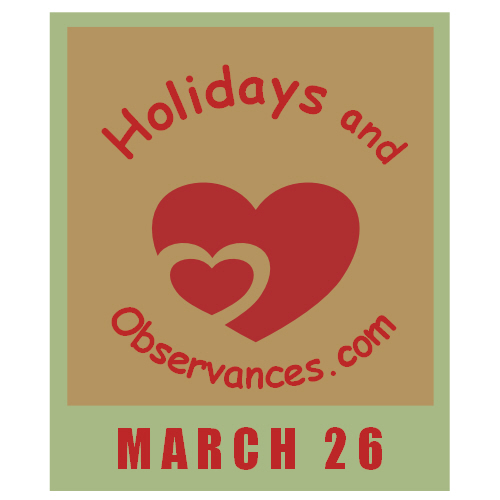 Holidays and Observances
(Alphabetical Order)
2023 Daily Holidays that fall on March 26, include:
Black Marriage Day - March 26, 2023 (Fourth Sunday in March)
Legal Assistants Day 
Live Long and Prosper Day 
Make Up Your Own Holiday Day 
National Nougat Day 
Orthodox Forgiveness Sunday - March 26, 2023
Passion Sunday - March 26, 2023 (5th Sunday of Lent)
Prince Jonah Kuhio Kalanianaole Day 
Purple Day - (Supporting Epilepsy Around the World) 

Solitude Day 
Spinach Day 
2023 Weekly Holidays that include March 26, are:
Act Happy Week - March 20-26, 2023 (Starts on Third Monday of March)
Consider Christianity Week - March 26 - April 1, 2023 (Begins 2nd Sunday Before Easter)
Global Money Week - March 20-26, 2023

International Teach Music Week - March 20-26, 2023 (7 days starting from Third Monday in March)

Lent - February 22 - April 8, 2023 (Begins on Ash Wednesday to Holy Saturday)

Make Mine Chocolate - (Campaign kicks off annually on Feb 15, and ends on Easter which is April 9, 2023)

NanoDays - March 25 - April 2, 2023
National Cleaning Week - March 26 - April 1, 2023 (Last Week of March)
National Drug & Alcohol Facts Week - March 20-26, 2023
National Green Week - February 5 - April 30, 2023 (Start First Full Week in February to April 30)

National Physicians Week - March 25-31

National Protocol Officer's Week - March 26 - April 1, 2023 (Last Week of March)
National Second-Hand Shopping Week - March 26 - April 1, 2023 (Fourth Full Week of March)
Orthodox Lent - February 22 - April 8, 2023 (Begins on Ash Wednesday to Holy Saturday)

Passion Week - March 26 - April 1, 2023 (Week Before Holy Week)
Passiontide - March 26 - April 8, 2023 (Passion Week + Holy Week)
Ramadan - Evening of March 22, 2023 - Evening of April 20, 2023

Shakespeare Week - March 20-26, 2023
2023 Monthly Holidays that include March 26, are:

There are too many monthly holidays to include here, so please check out our March Holidays page to see all of the holidays that are celebrated the entire month of March.
NOTE:
A page on each holiday will be coming soon and linked above.
If a date is a movable holiday, that is different every year, I'll include the year as well as the date rule above. Otherwise, the holiday falls on the same date each year.
World Festivals and Events
(Date Order)
National Cherry Blossom Festival - March 20 - April 16, 2023 (Washington D.C.)
Ultra Music Festival - March 24-26, 2023 - World's Premier Electronic Music Festival held in Miami, Florida.
Astrological Sign

The Astrological Sign for March 26 is Aries.

Birth Flower of the Month

The Birth Flower(s) for the Month for March are:
Birthstone
The Birthstone(s) for March is the aquamarine and the bloodstone.
Famous Birthdays

1871 – Prince Jonah Kūhiō Kalaniana'ole of the Kingdom of Hawaii (d. 1922)
1874 – Robert Frost, American poet (d. 1963)
1911 – Tennessee Williams, American playwright (d. 1983)
1930 – Sandra Day O'Connor, retired US Supreme Court justice (first woman appointed)
1931 – Leonard Nimoy, American actor and director (Spock on Star Trek)
1940 – James Caan, American actor
1943 – Bob Woodward, American journalist who investigated the Watergate scandal in Washington D.C.
1944 – Diana Ross, American singer (The Supremes)
1948 – Steven Tyler, American singer (Aerosmith)
1949 – Vicki Lawrence, American actress and singer (The Carol Burnett Show)
1950 – Teddy Pendergrass, American singer (Harold Melvin & The Blue Notes) (d. 2010)
1950 – Martin Short, Canadian comedian
1960 – Marcus Allen, American football player
1960 – Jennifer Grey, American actress (

Ferris Bueller's Day Off

and

Dirty Dancing

)

1968 – Kenny Chesney, American singer
1985 – Keira Knightley, English actress (

Pirates of the Caribbean

,

Pride & Prejudice)
Famous Deaths

1827 – Ludwig van Beethoven, German composer (b. 1770)
1892 – Walt Whitman, American poet (Leaves of Grass) (b. 1819)
2004 - Jan Berry, American musician (Jan and Dean) (b. 1941)
2009 – Shane McConkey, Canadian skier and BASE jumper (b. 1969)
2011 – Geraldine Ferraro, American congresswoman and first female Vice-President nominee in 1984 alongside Walter Mondale (b. 1935)
Famous Weddings and Divorces

1994 - Talk show hostess Ricki Lake weds Rob Sussman
2011 - Oscar winning actress Reese Witherspoon weds talent agent Jim Toth
Quote of the Day

I think that Spock from the original Star Trek series, played by Leonard Nimoy, who was born on this day in 1931 was one of the most interesting T.V. characters ever.  "Fascinating", was one of his favorite words to use!
Recipe of the Day or a
Healthy Diet Habit Tip of the Day

The Holidays and Observances Recipe of the Day for March 26, is a Spinach Salad in honor of Spinach Day on March 26!
Spinach is great for you! I'm chemical sensitive, so I pretty much live on mainly Organic Products.  Often I will just add a handful of spinach in with other types of lettuce for salads, but I have several types of Spinach Salads that I love.
In the picture above, I added Spinach leaves, sliced tomatoes, sliced & cubed avocado, some edamame and a small handful of almonds for some protein, since I don't eat meat/chicken.  My salad dressing of choice these days is to make my own balsamic vinegar dressing by combining balsamic vinegar with a bit of extra virgin olive oil, which is a healthy fat.
In the Spinach Salad above, I used spinach leaves, sliced up tomatoes, mandarin orange slices, and a handful of sunflower seeds and pumpkin seeds, and my home made balsamic vinegar dressing.  I would have added avocado also, if I had some at the time!
The third Spinach Salad that I make, that is probably my favorite, is spinach leaves, sliced tomatoes and avocado, with some Light Jarlsberg Cheese cut up, and some chopped up pecans (which can be toasted), with a home made balsamic vinegar dressing. Mandarin Oranges and/or some Pomegranate seeds work well too!

This Day in History

1790 - Congress passes Naturalization Act, requires 2-year residency
1830 – The Book of Mormon is published in Palmyra, New York
1859 - 1st sighting of Vulcan, a planet thought to orbit inside Mercury
1872 - Thomas J Martin patents fire extinguisher
1878 - Sabi Game Reserve, in South Africa opens, and is the world's 1st official designated game reserve
1885 - Eastman Film Co manufactures 1st commercial motion picture film
1926 - The 1st lip-reading tournament held in America
1931 – SwissAir is founded as the national airline of Switzerland
1945 - Japanese resistance ends on Iwo Jima
1951 - United States Air Force (USAF) flag approved
1953 - Dr Jonas Salk announces vaccine to prevent polio
1956 - Medic Alert Foundation forms
1958 - US Army launches 3rd successful US satellite, the Explorer III
1970 - Golden Gate Park Conservatory made city landmark
1977 - Focus on the Family is founded by Dr. James Dobson
1982 – A groundbreaking ceremony for the Vietnam Veterans Memorial is held in Washington, D.C.
1996 - The International Monetary Fund approves a $10.2 billion loan for Russia.
1997 – Thirty-nine bodies are found in the Heaven's Gate cult suicides - they were an American UFO religion doomsday cult based in San Diego, California
1999 – The "Melissa worm" infects Microsoft word processing and e-mail systems around the world
1999 - A jury in Michigan finds Dr. Jack Kevorkian guilty of second-degree murder for administering a lethal injection to a terminally ill man
This Day in Music

1969 - Marvin Gaye's I Heard It Through The Grapevine hits #1 in the UK
1976 - Wings release their album, Wings at the Speed of Sound

1980 - Pink Floyd's The Wall breaks the record for longest charting pop album (formerly held by Carol Kings Tapestry album)
1982 - Paul McCartney & Stevie Wonder release Ebony & Ivory in the UK
1983 - Duran Duran's Is There Something I Should Know hits #1 in the UK
1988 - Michael Jackson's Man In The Mirror hits #1
2000 - Phil Collins won an Oscar at the Academy Awards for Best Original Song with You'll Be In My Heart from the Disney animated feature Tarzan
2006 - Jimmy Page's guitar solo in Led Zeppelin's Stairway To Heaven is voted as the greatest guitar solo of all time by readers of Total Guitar magazine

Above, is Phil Collins song, I'll Be in Your Heart which was featured in the Disney animated feature Tarzan, and won him an Oscar for Best Original song at the Academy Awards on this day in 2000.
This Day in Sports

1974 - George Foreman TKOs Ken Norton in 2 for heavyweight boxing title
1994 - Bonnie Blair skates world record 500 m ladies (38.99 sec)
1994 - Yuka Sato of Japan wins world figure skating championship in Tokyo
Word of the Day from Wiktionary

Eyrie (noun)
1. A Bird of prey's nest.
2. Any high and remote but commanding place.


Wishing You a Great Day Today!


Like this Page?
Like this Site?
---