March 6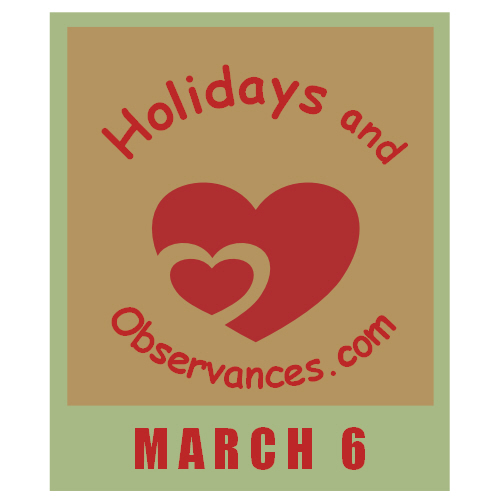 Holidays and Observances
(Alphabetical Order)
2021 Daily Holidays that fall on March 6, include:
Alamo Day
Day of the Dude 
Dentist Day 
International Open Data Day - March 6, 2021 (First Saturday in March)
National Day of Unplugging 
National Dress Day 
National Frozen Food Day - March 6, 2021 (First Saturday in March)
National Oreo Cookie Day 
National Play Outside Day - March 6, 2021 (First Saturday of Every Month)
Sock Monkey Day - March 6, 2021 (First Saturday in March)
National White Chocolate Cheesecake Day 
2021 Weekly Holidays that include March 6, are:
British Pie Week - March 1-7 (Observed for 7 days starting on March 1st)
Endometriosis Awareness Week - March 3-9, 2021
Fairtrade Fortnight - February 22 - March 7, 2021
Festival of Owls Week - March 5-7, 2021 (First Full Weekend in March)
Hearing Awareness Week - March 1-7
International Festival of Owls March 5-7, 2021
Lent - February 17 - March 29, 2021
Make Mine Chocolate - (Campaign kicks off annually on Feb 15, and ends on Easter which is April 4, 2021)
National Aplastic Anemia & MDS Awareness Week - March 1-6
National Cheerleading Week - March 1-7
National Day of Unplugging - Sundown of March 5 to Sundown of March 6, 2021 (First Friday/Saturday of March)
National Ghostwriters Week - March 1-7
National Green Week - February 7 - April 30, 2021
National Pasty Week - February 28 - March 6, 2021
National Pet Sitters Week - March 1-7
National Write a Letter of Appreciation Week - March 1-7
Telecommuter Appreciation Week - March 1-7, 2021 (Week that includes Alexander Graham Bell's Birthday of 3/2)
Universal Human Beings Week - March 1-7
Will Eisner Week - March 1-7
World Orphan Week - March 4-11
2021 Monthly Holidays that include March 6, are:
There are too many monthly holidays to include here, so please check out our March Holidays page to see all of the holidays that are celebrated the entire month of March.
NOTE:
A page on each holiday will be coming soon and linked above.
If a date is a movable holiday, that is different every year, I'll include the year as well as the date rule above. Otherwise, the holiday falls on the same date each year.
World Festivals and Events
(Date Order)
North Dakota Winter Show - February 28 - March 6, 2021 (Valley City, ND)
Houston Livestock Show and Rodeo - March 2-21, 2021 (Houston, TX)
International Festival of Owls - March 5-7, 2021 in Houston, Minnesota
Iditarod Race - March 6-21, 2021  - A Dogsled Race on the Iditarod Trail in Alaska running 1,000 miles from Anchorage to Nome.
Astrological Sign

The Astrological Sign for March 6 is Pisces.

Birth Flower of the Month

The Birth Flower(s) for the Month for March are:
Birthstone
The Birthstone(s) for March is the aquamarine and the bloodstone.
Famous Birthdays

1475 – Michelangelo, Italian artist and sculptor (d. 1564)
1619 – Cyrano de Bergerac, French soldier, poet (d. 1655)
1906 – Lou Costello, American actor and comedian (d. 1959)
1923 – Ed McMahon, American television personality (Star Search, The Johnny Carson Show) (d. 2009)
1924 – William H. Webster, American lawyer, former FBI and CIA director
1926 – Alan Greenspan, American economist who served as Chairman of the Federal Reserve of the US from 1987 to 2006
1944 – Mary Wilson, American singer (The Supremes)
1947 – Kiki Dee, British singer (I loved the Duet she did in 1976 with Elton John, Don't Go Breaking My Heart - it went to #1 in both the US and the UK)
1947 – Rob Reiner, American actor, comedian, and film producer
1963 – Suzanne Crough, American actress (Partridge Family)
1972 – Shaquille O'Neal, American basketball player
Famous Deaths

1836 - Davy Crockett, American frontiersman who died at the Battle of the Alamo (b. 1786)
1888 – Louisa May Alcott, American novelist of Little Women, Little Men, and Jo's Boys  (I LOVED her books!!) (b. 1832)
1932 - John Philip Sousa, US composer (Stars & Stripes Forever)
2006 – Dana Reeve, American actress and activist for disability causes, widow of Christopher Reeve (Superman) (b. 1961)
2007 – Ernest Gallo, American winemaker who with his brother Julio, founded the E.& J. Gallo Winery in 1933 (b. 1909)
2016 - Nancy Reagan, American actress and wife of the 42nd President of the United States, Ronald Reagan from 1981-1989
Famous Weddings and Divorces

1964 - Eddie Fisher and Elizabeth Taylor divorce (Her 4th divorce)

Quote of the Day

Will Social Security Benefits be available to you when you retire?  That is a big question! Per an article written in 2010 by Steven C. Goss, Chief Actuary of the US Social Security Administration. "As a result of changes to Social Security enacted in 1983, benefits are now expected to be payable in full on a timely basis until 2037, when the trust fund reserves are projected to become exhausted.  At the point where the reserves are used up, continuing taxes are expected to be enough to pay 76 percent of scheduled benefits. Thus, the Congress will need to make changes to the scheduled benefits and revenue sources for the program in the future."  You can read the entire article for more information.
Recipe of the Day or a
Healthy Diet Habit Tip of the Day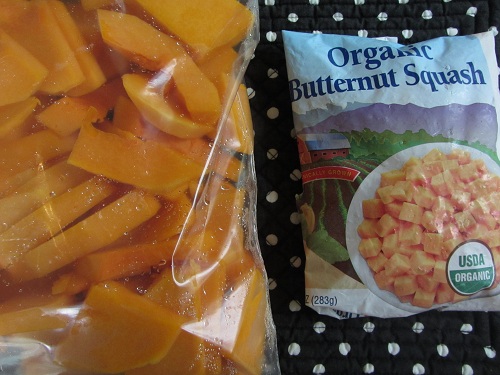 On March 6, instead of a Recipe of the Day, we are having a Food Tip of the Day!  Today is National Frozen Food Day, and Kerry, from Healthy Diet Habits has lots of tips on Frozen Vegetables and Tips to Shop for them, or make your own.
This Day in History

1521 - Magellan discovers Guam
1788 – The First Fleet (11 ships leaving Britain for Australia), arrives at Norfolk Island in order to found a convict settlement
1808 - 1st college orchestra in the US is founded at Harvard
1836 - 3,000 Mexicans beat 182 Texans (including Davy Crockett)  at the Alamo, after a 13 day fight
1857 – The Supreme Court of the United States rules in the

Dred Scott v. Sandford

case that slaves cannot be citizens
1886 - 1st US nurses' magazine, The Nightingale, debuts in New York City

1899 – Bayer registers "Aspirin" as a trademark
1912 – The Oreo cookie is introduced by Nabisco
1918 - US naval boat, Cyclops, disappears in the Bermuda Triangle
1944 - The US Air Force begins daylight bombing of Berlin
1950 - Silly Putty invented
1967 – Joseph Stalin's daughter Svetlana Alliluyeva defects to the United States from Russia
1981 – Walter Cronkite signs off for the last time on the CBS Evening News after 19 years
1992 – The Michelangelo computer virus begins to affect computers.
This Day in Music

1975 - Led Zeppelin's Physical Graffiti is certified gold
1975 - Average White Band's Pick Up The Pieces is certified gold
1993 - Peabo Bryson and Regina Belle went to #1 with A Whole New World, the theme song of Disney's Aladdin
2000 - Eric Clapton is inducted into the Rock & Roll Hall of Fame, making him the first person inducted three times. He was inducted in as a member of the groups, The Yardbirds and Cream.
Above is Peabo Bryson and Regina Belle singing their duet, A Whole New World, the theme song of Disney's Aladdin that went to #1 on this day in 1993.
Below is Jessica Simpson and Nick Lachey, singing the same song together.  I think they did a great job with the song! 
This Day in Sports

1922 - Babe Ruth signs a contract with the New York Yankees for  $52,000 a year, for 3 years
1972 - Jack Nicklaus, passes Arnold Palmer as golf's all time highest money maker
1976 - Worlds Ladies Figure Skating Champ in Gothenburg won by Dorothy Hamill
1983 – The first United States Football League game is played
1985 - Mike Tyson KOs Hector Mercedes in 1 round in his 1st pro fight
Word of the Day from Wiktionary

begorra int
1. (Ireland) A mild minced oath; a euphemism for "by God".


Wishing You a Great Day Today!


Like this Page?
Like this Site?
---