May 1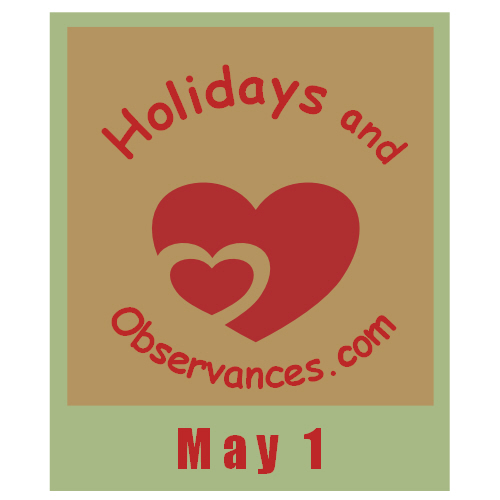 Holidays and Observances
(Alphabetical Order)
2023 Daily Holidays that fall on May 1, include:
Batman Day 
Beltane 
Couple Appreciation Day
CSS Reboot Day 
Executive Coaching Day
Frequent Flyer Day
Global Love Day 
International Sunflower Guerilla Gardening Day 
International Worker's Day
Keep Kids Alive Drive 25 Day 
Law Day
Lei Day - (U.S. State of Hawaii)
Loyalty Day 
May Day 
Melanoma Monday - May 1, 2023 (First Monday in May)
Mother Goose Day 
National Chocolate Parfait Day 
National Purebred Dog Day 
New Homeowners Day 
Phone in Sick Day 
Save the Rhino Day 
School Principals' Day 
Silver Star Service Banner Day 
Therapeutic Massage Awareness Day
Worthy Wage Day 
2023 Weekly Holidays that include May 1, are:
Air Quality Awareness Week - May 1-5, 2023
Choose Privacy Week - May 1-7
Go Diaper Free Week - April 30 - May 6, 2023 (7 Days Starting the Last Sunday in April)
National Auctioneers Week - May 1-6, 2023 (Observed the week ending with National Auctioneers Day)
National Children's Book Week - May 1-7, 2023, and also November 6-12, 2023
National Physical Education and Sports Week - May 1-7 (First Week in May)
National Safety Stand Down Week - May 1-5, 2023
National Small Business Week - April 30 - May 6, 2023 (First Week of May)
National Sun Safety Week - May 1-7, 2023
Preservation Week - April 30 - May 6, 2023
Screen-Free Week (Digital Detox Week - Formerly TV Turnoff Week) - May 1-7, 2023
Stewardship Week - April 30 - May 7, 2023 (Last Sunday in April to First Sunday in May)
2023 Monthly Holidays that include May 1, are:
There are too many monthly holidays to include here, so please check out our May Holidays page to see all of the holidays that are celebrated the entire month of May.
NOTE:
A page on each holiday will be coming soon and linked above.
If a date is a movable holiday, that is different every year, I'll include the year as well as the date rule above. Otherwise, the holiday falls on the same date each year.
World Festivals and Events
(Date Order)
Festival of Ridvan - April 20 - May 2, 2023
Astrological Sign

The Astrological Sign for May 1 is Taurus.

Birth Flower of the Month

The Birth Flower(s) for the Month for May are:
The Lily of the Valley - Humility, Chastity and Sweetness - signifies a return to happiness
Hawthorn
Birthstone
The Birthstone(s) for May is the Emerald which is a symbol of rebirth and is believed to grant the owner foresight, good fortune, and youth.
Famous Birthdays

1864 - Anna Jarvis, American founder of Mother's Day (d. 1948)
1907 - Kate Smith, American singer (d. 1986)
1916 - Glen Ford, Canadian-American actor (d. 2006)
1923 - Joseph Heller, American author and playwright (Catch 22) (d. 1999)
1924 - Art Fleming, American actor and game show host (Jeopardy) (d. 1995)
1945 - Rita Coolidge, American country singer
1967 - Tim McGraw, American country singer, songwriter, and actor
1987 - Emilia Clarke, English actress (Games of Thrones)
Famous Deaths

1731 - Johann Ludwig Bach, German composer and violinist (b. 1677)
1965 - Spike Jones, American singer and bandleader (b. 1911)
Famous Weddings and Divorces

1967 - Elvis Presley marries actress Priscilla Beaulieu in Las Vegas, Nevada
1991 - Robert Duvall, American actor marries Sharon Brophy
1978 - Bianca Jagger files for divorce from Mick Jagger of the Rolling Stones
1999 - Emily Erwin, singer of the Dixie Chicks marries Charlie Robinson, singer and songwriter
2009 - Amanda Beard, Olympic swimmer gold medalist, marries photographer Sacha Brown
Quote of the Day

May 1st is GLOBAL LOVE DAY! I have their Logo above, so this seemed like an appropriate quote to go along with the day.
This is a quote from the Global Love Day website: 
"We hope that by practicing love in all areas of your life, you will find it easy to love unconditionally all year long. Our main theme explains it best..."Love Begins With Me"
Be a part of it. Spread the word. Share your love."
Recipe of the Day or a
Healthy Diet Habit Tip of the Day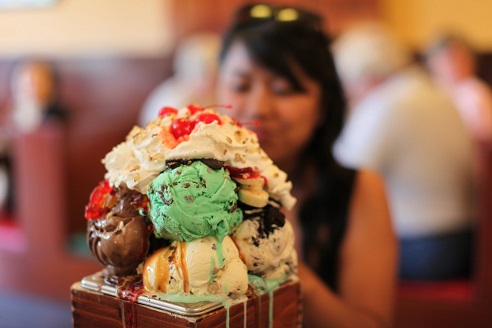 Until you learn the Lifestyle Solution of estimating portions, rather than counting calories, weight control will be difficult. 
For the Holidays and Observances Healthy Diet Habit Tip of the Day for May 1, here are some Portion Shockers statistics from Kerry of Healthy Diet Habits.
This Day in History

1776 - The Illuminati, a secret society is founded in Ingolstadt (Upper Bavaria) by Adam Weishaupt
1840 - The first official adhesive postage stamp, the Penny Black is issued in the United Kingdom
1884 - A Proclamation of the demand for an eight hour workday in the United States
1886 - Rallies are held throughout the U.S. demanding an eight hour work day
1898 - The U.S. Navy destroys the Spanish Pacific fleet in the first battle of the Spanish-American War
1915 - The RMS Lusitania is torpedoed off the coast of Ireland and 1,198 lives are lost. This was to be her final crossing of the North Atlantic
1925 - The All-China Federation of Trade Unions is founded
1930 - The planet "Pluto" is named
1931 - The Empire State Building is dedicated in New York City
1950 - Guam is organized as a U.S. Commonwealth
1956 - Jonas Salk's polio vaccine is made available to the public
1961 - Fidel Castro, the Prime Minister of Cuba, proclaims Cuba a socialist nation and abolishes elections
1971 - Amtrak takes over operation of passenger rail service in the U.S.
1989 - The Disney-MGM Studios opens at Walt Disney World near Orlando, Florida
This Day in Music

1786 - Mozart's opera The Marriage of Figaro, is performed for the first time in Vienna, Austria
1956 - Heartbreak Hotel by Elvis Presley hits #1
1965 - Mrs. Brown You've Got a Lovely Daughter by Herman's Hermits' hits #1
1970 - Diana Ross leaves The Supremes to launch her solo career
1976 - Let Your Love Flow from The Bellamy Brothers hits #1
1976 - Led Zeppelin's Album Present hits #1 on the album charts
1991 - LL Cool J becomes the 1st rapper to appear on MTV Unplugged
2001 - Huey Lewis and the News release their Plan B album
Above is the Bellamy Brother's song, Let Your Love Flow which hit #1 on March 12, 1976
This Day in Sports

1940 - The 1940 Summer Olympics are cancelled due to war.
1991 - Rickey Henderson of the Oakland Athletics steals his 939th base, making him the all time leader of stolen bases.
1978 - Naomi Uemura, of Japan becomes the first person to reach the North Pol alone travelling by dog sled
1999 - 75 years after his disappearance in 1924, the body of British climber George Mallory is discovered on Mount Everest
Word of the Day from Wiktionary

May-Day Sweep (noun)
1. One of the brightly clad chimney sweeps, carrying garlands and a blackened broom, who participated in May Day parades. 


Wishing You a Great Day Today!


Like this Page?
Like this Site?
---