May 13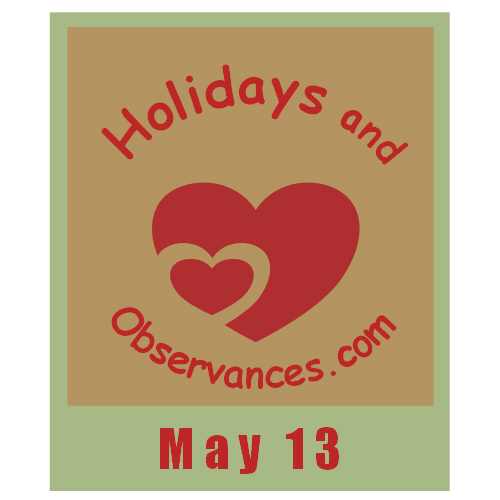 Holidays and Observances

2018 Daily Holidays that fall on May 13, include:
Armed Forces Day Military-Amateur Crossband Communications Day - May 13, 2018 
Children of Fallen Patriots Day 
Frog Jumping Day 
IEEE Global Engineering the Future Day 
International Hummus Day 
Mother's At the Wall Day - May 13, 2018 (Always Mother's Day)
Mother's Day - May 13, 2018 (Second Sunday in May)
National Apple Pie Day 
National Fruit Cocktail Day 
World Cocktail Day 
2018 Weekly Holidays that include May 13, are:
Armed Forces Week - May 12-20, 2018 (Second Saturday through Third Sunday in May)
Food Allergy Awareness Week - May 13-19, 2018
International Coaching Week - May 7-13, 2018
Medical Transcriptionist Week - May 13-19, 2018 (Third Week in May)
National Nursing Home Week - May 13-20, 2018 (Starts on Mother's Day to Following Saturday)
National Police Week - May 13-19, 2018 (Second Full Week in May)
National Return to Work Week - May 13-19, 2018
National Safety Stand Down Week - May 7-13, 2018
National Transportation Week - May 13-19, 2018 (Always has Third Friday in May)
National Women's Health Week - May 13-19, 2018
Puppy Mill Action Week - May 7-13, 2018 (Begins the Monday before Mother's Day)
Reading is Fun Week - May 13-19, 2018 (Second Full Week in May)
Salute to Moms 35+ Week - May 13-19, 2018 (Starts on Mother's Day)
Salvation Army Week - May 13-19, 2018 (Second Week in May)
Universal Family Week - May 10-16
Work at Home Mom's Week - May 13-19, 2018
World Cocktail Week - May 6-13
World Migratory Bird Day - May 12-13, 2018 (Second Weekend in May)
2018 Monthly Holidays that include May 13, are:
There are too many monthly holidays to include here, so please check out our May Holidays page to see all of the holidays that are celebrated the entire month of May.
NOTE:
A page on each holiday will be coming soon and linked above.
If a date is a movable holiday, that is different every year, I'll include the year as well as the date rule above. Otherwise, the holiday falls on the same date each year.
World Festivals and Events
Cannes International Film Festival - May 9-20, 2018 in Cannes, France is the most prestigious and most publicized film festival in the World.
Astrological Sign

The Astrological Sign for May 13 is Taurus.

Birth Flower of the Month

The Birth Flower(s) for the Month for May are:
The Lily of the Valley - Humility, Chastity and Sweetness - signifies a return to happiness
Hawthorn
Birthstone
The Birthstone(s) for May is the Emerald which is a symbol of rebirth and is believed to grant the owner foresight, good fortune, and youth.
Famous Birthdays

1868 - Sumner Paine, American target shooter who competed at the 1896 Summer Olympics in Athens, Greece (d. 1904)
1907 - Daphne du Maurier, English writer (Rebecca)
1914 - Joe Louis, American boxer, heavyweight boxing champion from 1937-49
1922 - Beatrice (Bea) Arthur, American actress and singer, (Maude, Golden Girls) (d. 2009)
1931 - Jim Jones, American cult leader who founded the Peoples Temple (Jonestown Massacre) (d. 1978)
1950 - Stevie Wonder, American singer, songwriter, pianist, and producer (You are the Sunshine of My Life)
1978 - Mike Bibby - American basketball player
1986 - Robert Pattinson, English actor and singer (Harry Potter, Twilight series)
Famous Deaths

1961 - Gary Cooper, American actor and singer (High Noon) (b. 1901)
1972 - Dan Blocker, American actor (Bonanza) (b. 1928)
1977 - Mickey Spillane, American mobster (b. 1934)
2013 - Joyce Brothers, American psychologist, columnist, and actress (b. 1927)
Famous Weddings and Divorces

1922 - Silent actor Rudolph Valentino weds film costume and set designer Natacha Rambova
Quote of the Day

Joyce Brothers, was an American psychologist who wrote a daily advice column from 1960 to 2013 - she died on May 13, 2013
This quote of hers is so true, once someone has broken your trust, it is very hard to trust them again.  Honesty is so important in a relationship.
Recipe of the Day or a
Healthy Diet Habit Tip of the Day

Info. to come!
This Day in History

1568 - Mary, Queen of Scots is defeated by the English at the Battle of Bangside
1787 - Captain Arthur Phillip sets sail from England with 11 ships full of convicts to establish a colony in Botany Bay, Australia
1846 - The U.S. declares war on Mexico, 2 months after fighting begins
1912 - The Royal Flying Corps is formed in the United Kingdom
1918 - The 1st U.S. airmail stamp is issued for 24 cents
1930 - A farmer is killed by hail in Lubbock, Texas
1958 - Rioters attack U.S. VP Richard Nixon in Venezuela
1989 - 2,000 students start a hunger strike in Tiananmen Square, China
1996 - Severe thunderstorms and a tornado in Bangladesh kill 600 people
This Day in Music

1966 - Paint it Black by the Rolling Stones is released
1967 - Somethin' Stupid by Frank and Nancy Sinatra hits #1
1970 - The Beatles movie, 'Let It Be' premieres
1971 - Bridge Over Troubled Water by Aretha Franklin is certified gold
2008 - Frank Sinatra get a 42 cent stamp
Above, is Paint it Black by the Rolling Stones
This Day in Sports

1911 - Fred Merkle of the New York Giants is the 1st to get 6 RBI's in an inning
1942 - Pitcher Jim Tobin hits 3 home runs in a game
1953 - Willie Mays and Darryl Spenser of the New York Giants each hit 2 home runs and a triple
1955 - Mickey Mantle hits 3 consecutive home runs
1967 - Mickey Mantle of the New York Yankees hits home run #500
1982 - Chicago Cubs wins their 8,000 game
1983 - Reggie Jackson is the 1st major league player to strike out 2,000 times
1995 - New Zealand wins the America's Cup
Word of the Day from Wiktionary

Mama Bear (noun)
1. (slang) A woman, especially a mother, who is extremely protective of a child, or children.


Wishing You a Great Day Today!