May 3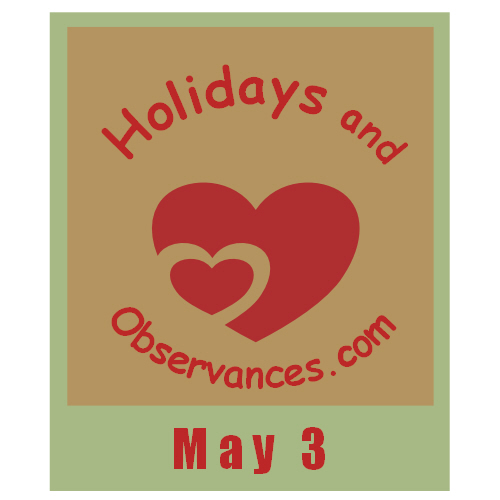 Holidays and Observances
(Alphabetical Order)
2023 Daily Holidays that fall on May 3, include:
Garden Meditation Day 

Great American Grump Out - May 3, 2023 (First Wednesday of May)
National Anxiety Disorders Screening Day - May 3, 2023 (First Wednesday in May)
National Chocolate Custard Day 
National Day to Prevent Teen and Unplanned Pregnancy - May 3, 2023 (First Wednesday in May)
National (Deaf) Interpreter Day - May 3, 2023 (First Wednesday in May)
National Lumpy Rug Day 
National Public Radio Day 
National Raspberry Popover Day
National SAN Architect Day 
National Skilled Trades Day - May 3, 2023 (First Wednesday in May)
National Specially-abled Pets Day 
National Textile Day 
National Two Different Colored Shoes Day 
Paranormal Day 

Project Aces Day - May 3, 2023 (First Wednesday in May) (Aces = All Children Exercise Simultaneously)
Sun Day 

Wordsmith Day 
World Press Freedom Day 
2023 Weekly Holidays that include May 3, are:
Air Quality Awareness Week - May 1-5, 2023
Choose Privacy Week - May 1-7
Go Diaper Free Week - April 30 - May 6, 2023 (7 Days Starting the Last Sunday in April)
National Auctioneers Week - May 1-6, 2023 (Observed the week ending with National Auctioneers Day)
National Children's Book Week - May 1-7, 2023, and also November 6-12, 2023
National Physical Education and Sports Week - May 1-7 (First Week in May)
National Safety Stand Down Week - May 1-5, 2023
National Small Business Week - April 30 - May 6, 2023 (First Week of May)
National Sun Safety Week - May 1-7, 2023
Preservation Week - April 30 - May 6, 2023
Screen-Free Week (Digital Detox Week - Formerly TV Turnoff Week) - May 1-7, 2023
Stewardship Week - April 30 - May 7, 2023 (Last Sunday in April to First Sunday in May)
World Dystonia Awareness Week - May 3-11
2023 Monthly Holidays that include May 3, are:
There are too many monthly holidays to include here, so please check out our May Holidays page to see all of the holidays that are celebrated the entire month of May.
NOTE:
A page on each holiday will be coming soon and linked above.
If a date is a movable holiday, that is different every year, I'll include the year as well as the date rule above. Otherwise, the holiday falls on the same date each year.
Astrological Sign

The Astrological Sign for May 3 is Taurus.

Birth Flower of the Month

The Birth Flower(s) for the Month for May are:
The Lily of the Valley - Humility, Chastity and Sweetness - signifies a return to happiness
Hawthorn
Birthstone
The Birthstone(s) for May is the Emerald which is a symbol of rebirth and is believed to grant the owner foresight, good fortune, and youth.
Famous Birthdays

1469 - Niccolo Machiavelli,

 Italian politician, writer, historian and philosopher (d. 1527)

1879 - Fergus McMaster, Australian businessman who co-founded Quantas Airlines (d. 1950)
1903 - Bing Crosby, American singer (White Christmas), and actor (Going My Way)
1921 - Sugar Ray Robinson, American boxer (middle/welterweight) (d. 1989)
1933 - James Brown, American soul singer who was known as the Godfather of Soul, songwriter, producer, actor (I Got You I Feel Good and I Got the Feeling) (d. 2006)
1934 - Frankie Valli, American singer (The Four Seasons)
1946 - Greg Gumbel, American sportscaster (CBS TV)
1951 - Christopher Cross, American singer, songwriter (Sailing)
1975 - Christina Hendricks, American actress (Mad Men)
Famous Deaths

1940 - Henry Ossian Flipper, American soldier, former slave, and first African/American to graduate from the U.S. Military Academy at West Point
1992 - George Murphy - American actor and politician (b. 1902)
2011 - Jackie Cooper, American actor, director, and producer (b. 1922)
Famous Weddings and Divorces

1986 - Annette Funicello, actress and singer, weds horse breeder and trainer Glen Holt
1991 - Andy Williams, singer weds Debbie Hass
2003 - Matt LeBlanc, actor (Friends), weds Melissa McKnight, model
Quote of the Day

World Press Freedom Day was proclaimed by the UN General Assembly in December 1993, following the recommendation of UNESCO's General Conference. Since then, 3 May, the anniversary of the Declaration of Windhoek is celebrated worldwide as World Press Freedom Day. It is an opportunity to:
Info above from the United Nations website.
Recipe of the Day or a
Healthy Diet Habit Tip of the Day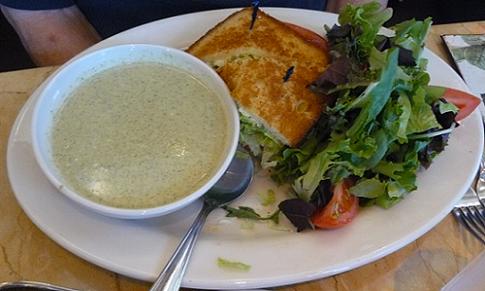 There are lots of Healthy Lunch Ideas available to us if we take the time to look. The typical lunch ideas of a huge sandwich, chips, cookies, and a fruit is outdated, as well as not being the healthiest choice! Too many processed carbs, fat, and additives.
Find some great Healthy Lunch Ideas and tips from Kerry at Healthy Diet Habits!
This Day in History

1481 - The largest of three earthquakes strikes the island of Rhodes (in Greece in the Aegean Sea), and causes an estimated 30,000 casualties. 
1494 - Jamaica was discovered by Christopher Columbus and named St Iago

1802 - Washington, D.C. is incorporated as a city
1851 - Most of the city of San Francisco, CA is destroyed by fire, and 30 die
1901 - The Great Fire of 1901 occurs in Jacksonville, Florida and destroys 1,700 buildings
1921 - West Virginia imposes the 1st State Sales Tax
1937 - Margaret Mitchell's novel, Gone with the Wind wins the Pulitzer Prize for Fiction
1951 - The Festival of Britain opens
1952 - The 1st landing of an airplane at the North Pole
1960 - The Anne Frank House museum opens in Amsterdam, Netherlands
1971 - The Nixon administration arrests 13,000 anti-war protesters during a 3 day period
1973 - Chicago's Sears Tower, at 1,451 feet and 108 stories, becomes the world's tallest building
1982 - President Ronald Reagan begins a 5 minute weekly radio broadcast
1991 - The Declaration of Windhoek, a statement of Press Freedom principles is signed
1999 - During the 1999 Oklahoma tornado outbreak, Oklahoma City is devastated by a F5 tornado, killing 45 people, injuring 665, and causing $1 billion in damage
2001 - The U.S. loses its seat on the United National Human Rights Commission for the first time since the commission was formed in 1947
2003 - Old Man of the Mountain, in New Hampshire collapses
2016 - A wildfire destroyed approx. 2,400 homes and buildings in Fort McMurray, Alberta, Canada where 88,000 people were evacuated from their homes
This Day in Music

1975 - He Don't Love You by Tony Orland and Dawn hits #1
1975 - Chicago's Album, Chicago VIII hits #1
1976 - Paul McCartney and his new band, Wings, open their first tour as the Wings Over America Tour 
1980 - Against the Wind, by Bob Seger & The Silver Bullet Band, top the US album chart and stay on top for six weeks
1986 - Addicted to Love, by Robert Palmer hits #1 on the US singles chart
2000 - The Offspring's album Smash from 1994 is certified platinum for the sixth time
2010 - I Gotta Feelin, by the Black-Eyed Peas becomes the best-selling digital song of all time.
Above, is Robert Palmer's, 'Addicted to Love' single which went to No. 1 on the U.S. album chart today, on May 3rd, 1986.
This Day in Sports

1936 - New York Yankee, Joe DiMaggio makes his major league debut and gets 3 hits in his first game
1951 - Gil McDougald ties the major league record with 6 RBI's in 1 inning
1952 - The Kentucky Derby is televised nationally for the first time
1979 - Bobby Bonds hits his 300th Home Run
1980 - Willie McCovey, Giants 1st baseman hits his 521st and final Home Run
1986 - New York Yankee Don Mattingly hits 3 sacrifice flies in a game (6th to do this)
2000 - The sport of geocaching begins! The first cashe is placed and the corrdinates from a GPS posted on Usenet.
Word of the Day from Wiktionary

Treeness (noun)
1. The essence of what it means to be a tree; the qualities that make a tree what it is.
2. (genetics) The suitability of an evolutionary tree for representing the structure of a population; the degree to which a population structure can be accurately described as a tree of descent, with diffrent branches evolving independently after they split.
3. (graph theory) The condition of being a tree; acyclicity and connectedness.


Wishing You a Great Day Today!


Like this Page?
Like this Site?
---