May 30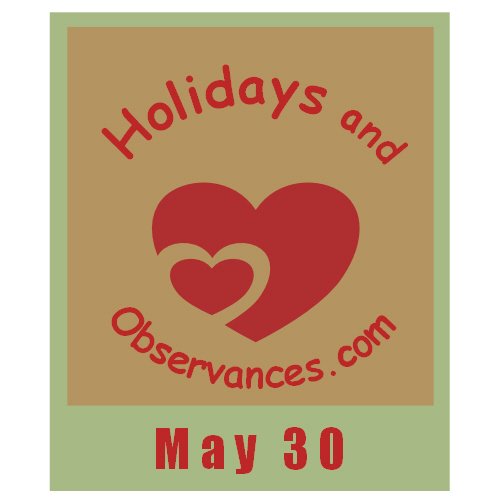 Holidays and Observances
(Alphabetical Order)
2023 Daily Holidays that fall on May 30, include:
International Hug Your Cat Day 
Loomis Day 
My Bucket's Got a Hole In It Day 
National Creativity Day 
National Mint Julep Day 
Water a Flower Day 

World MS Day (Multiple Sclerosis) 
2023 Weekly Holidays that include May 30, are:
Black Single Parents Week - May 28 - June 3

Click It or Ticket Mobilization (Cover Memorial Day Weekend) - May 15 - June 4, 2023

National African Violet Week - May 29 - June 4, 2023

Prepare Tomorrow's Parents Month - May 14 - June 18, 2023 (Mother's Day to Father's Day)

Scripps National Spelling Bee - May 30 - June 1, 2023
Week of Solidarity with the Peoples of Non-Self-Governing Territories - May 25-31
2023 Monthly Holidays that include May 30, are:
There are too many monthly holidays to include here, so please check out our May Holidays page to see all of the holidays that are celebrated the entire month of May.
NOTE:
A page on each holiday will be coming soon and linked above.
If a date is a movable holiday, that is different every year, I'll include the year as well as the date rule above. Otherwise, the holiday falls on the same date each year.
World Festivals and Events
(Date Order)
Vivid Sydney - May 26 - June 17, 2023 located in Sydney, Australia is where art, technology, and commerce intersect, and is an event of light, music, and ideas. Featuring outdoor lighting sculptures, cutting edge contemporary music, and the illumination of the Sydney Opera House. Check out our Holidays in Australia page!
Astrological Sign

The Astrological Sign for May 30 is Gemini.

Birth Flower of the Month

The Birth Flower(s) for the Month for May are:
The Lily of the Valley - Humility, Chastity and Sweetness - signifies a return to happiness
Hawthorn
Birthstone
The Birthstone(s) for May is the Emerald which is a symbol of rebirth and is believed to grant the owner foresight, good fortune, and youth.
Famous Birthdays

1908 - Mel Blanc, American voice actor (The Bugs Bunny Show, Barney Rubble & Dino on The Flintstones)
1909 - Benny Goodman - American jazz and swing musician, clarinet player, and bandleader known as the "King of Swing"
1962 - Kevin Eastman, American author and illustrator who co-created the Teenage Mutant Ninja Turtles
1964 - Wynonna Judd, American singer, songwriter and actress (The Judds)
Famous Deaths

1431 - Joan of Arc, French martyr and saint (b. 1412)
1778 - Voltaire, French author and philosopher (b. 1694)
1911 - Milton Bradley, American  businessman who founded the Milton Bradley Company (b. 1836)
1912 - Wilbur Wright, American pilot and businessman, who co-founded the Wright Company (b. 1867)
1947 - Georg von Trapp, Austrian Captain (The Sound of Music movie was based on his life story) (b. 1880)
Famous Weddings and Divorces

1966 - Country singer Dolly Parton marries Carl Dean
1992 - Singer Paul Simon marries singer Edie Brickell
Quote of the Day

Recipe of the Day or a
Healthy Diet Habit Tip of the Day

Info. to come shortly!
This Day in History

AD 70 - Titus and his Roman soldiers breach the Second Wall of Jerusalem forcing the Jewish defenders to retreat to the First Wall.

1431 - 19 year old Joan of Arch is burned at the stake in Rouen, France
1631 - The first French newspaper Gazette de France is published
1806 - Prior to becoming US President in 1829, Andrew Jackson kills Charles Dickinson in a duel
1854 - The US territories of kansas and Nebraska are established with the Kansas-Nebraska Act
1868 - Decoration Day is observed in the U.S. for the first time by a proclamation on May 5.  This was a predecessor the our current Memorial Day
1922 - The Lincoln Memorial is dedicated in Washington D.C.
1948 - A dike on the Columbia River breaks and floods Vanport, Oregon within minutes, killing fifteen people and leaving tens of thousands homeless
1958 - The Tomb of the Unknown Soldier is established in Arlington National Cemetery when the the remains of two American serviceman killed in action in World War II and the Korean War are buried
1959 - The Auckland Harbour Bridge in Auckland, New Zealand, is officially opened
1974 - The Airbus A300 aircraft enters service
This Day in Music

1964 - Love Me Do from The Beatles hits #1
1968 - The Beatles start recording their White Album
1970 - Everything is Beautiful by Ray Stevens hits #1
2000 - The Marshall Mathers LP, Eminem's second major-label album sells 1.76 million copies in its debut week, become the fastest-selling rap album ever
Paul Simon married on this day in 1992.  This song of his "You Can Call Me Al", always cracked me up because of Chevy Chase in the video!
This Day in Sports

1894 - First person to hit 4 HRs in a baseball game is Bobby Lowe
1896 - The first car accident occurs in NYC when Henry Wells hits a cyclist
1911 - Ray Harroun becomes the first winner of the Indianapolis 500
1935 - The final game of Babe Ruth's career goes hitless for the Braves against Phillies
Word of the Day from Wiktionary

Have Van Gogh's ear for music (verb)
1.  (humorous) To be tone-deaf.


Wishing You a Great Day Today!


Like this Page?
Like this Site?
---