May 31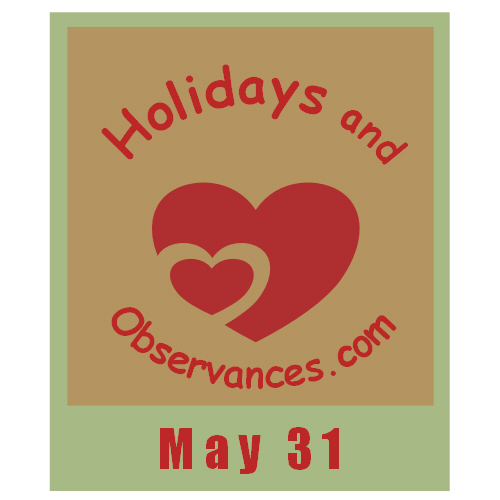 Holidays and Observances
(Alphabetical Order)
2023 Daily Holidays that fall on May 31, include:
National Autonomous Vehicle Day 
National Macaroon Day

National Meditation Day 
National Save Your Hearing Day 
National Senior Health & Fitness Day - May 31, 2023 (Last Wednesday in May)
National Smile Day 
National Speak in Complete Sentences Day 
Necrotizing Fasciitis Awareness Day 
What You Think Upon Grows Day
World No-Tobacco Day 
World Otter Day - May 31, 2023 (Last Wednesday in May)
World Parrot Day 
2023 Weekly Holidays that include May 31, are:
Black Single Parents Week - May 28 - June 3

Click It or Ticket Mobilization (Cover Memorial Day Weekend) - May 15 - June 4, 2023

National African Violet Week - May 29 - June 4, 2023

Prepare Tomorrow's Parents Month - May 14 - June 18, 2023 (Mother's Day to Father's Day)

Scripps National Spelling Bee - May 30 - June 1, 2023
Week of Solidarity with the Peoples of Non-Self-Governing Territories - May 25-31
2023 Monthly Holidays that include May 31, are:
There are too many monthly holidays to include here, so please check out our May Holidays page to see all of the holidays that are celebrated the entire month of May.
NOTE:
A page on each holiday will be coming soon and linked above.
If a date is a movable holiday, that is different every year, I'll include the year as well as the date rule above. Otherwise, the holiday falls on the same date each year.
World Festivals and Events
(Date Order)
Vivid Sydney - May 26 - June 17, 2023 located in Sydney, Australia is where art, technology, and commerce intersect, and is an event of light, music, and ideas. Featuring outdoor lighting sculptures, cutting edge contemporary music, and the illumination of the Sydney Opera House. Check out our Holidays in Australia page!
Astrological Sign

The Astrological Sign for May 31 is Gemini.

Birth Flower of the Month

The Birth Flower(s) for the Month for May are:
The Lily of the Valley - Humility, Chastity and Sweetness - signifies a return to happiness
Hawthorn
Birthstone
The Birthstone(s) for May is the Emerald which is a symbol of rebirth and is believed to grant the owner foresight, good fortune, and youth.
Famous Birthdays

1819 - Walt Whitman, American poet called the Father of Free Verse (Leaves of Grass) (d. 1892)
1866 - John Ringling, one of the seven Ringling Brothers who founded the Ringling Brothers Circus (d. 1936)
1898 - Norman Vincent Peale, American minister and author who wrote The Power of Positive Thinking (d. 1993)
1923 - Rainier III, Prince of Monaco (d. 2005)
1930 - Clint Eastwood, American actor, director and producer (Rawhide, Dirty Harry)
1943 - Sharon Gless, American actress (Cagney & Lacey, Burn Notice)
1943 - Joe Namath, American football quarterback, sportscaster, and actor
1949 - Tom Berenger, American actor and producer (Platoon)
1965 - Brooke Shields, American model, actress, and producer (Pretty Baby, Blue Lagoon)
1976 - Colin Farrell - Irish actor (The Recruit, S.W.A.T)
Famous Deaths

2013 - Jean Stapleton, Amercan actress (Edith Bunker on All in the Family) (b. 1923)
Famous Weddings and Divorces

1919 - The first wedding ever held in an aircraft happens over Houston, Texas
1949 Actress Doris Day divorces musician George Weidler after 3 years
1991 - Minnie Munro at 102 marries Dudley Reid, 83, in Australia. She is the oldest bride on record
2014 - Singer Melissa Etheridge marries actress Linda Wallem
Quote of the Day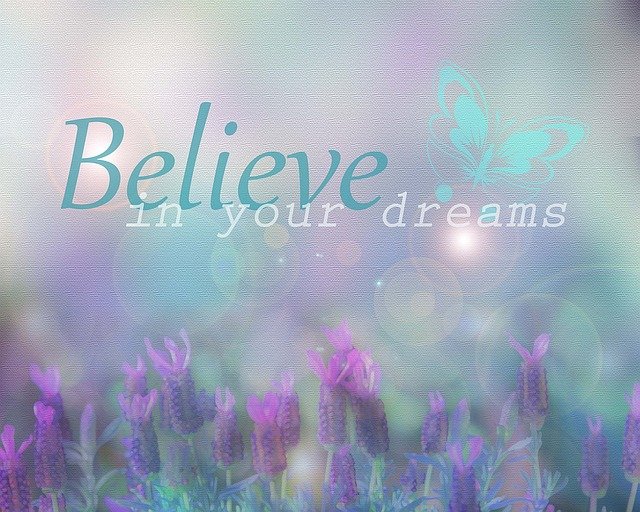 Believe in Your Dreams!
Recipe of the Day or a
Healthy Diet Habit Tip of the Day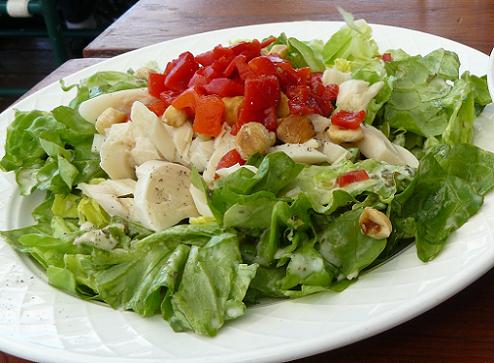 The month of May is National Salad Month!
Preparing great salad recipes on a daily basis, is one of the best lifestyle solutions for weight control! Salads are such a simple way to practice healthy eating by increasing your vegetables, yet few of you eat the recommended daily allowances!
Check out Kerry's Healthy Salad Recipes page on her Healthy Diet Habits website! She shares the health benefits of salads, some guidelines to keep your salad calories low, and shares her favorite salad recipes! 
This Day in History

1578 - King Henry III lays the first stone of the oldest bridge of Paris, France
1790 - The U.S. enacts the Copyright Act of 1790
1879 - William Henry Vanderbilt renames Gilmores Garden in NYC to Madison Square Garden and opens it to the public
1889 - The town of Johnstown, Pennsylvania is flooded with a 60-foot wall of water after a dam fails. Over 2,200 people die.
1927 - After 15,007,003 vehicles, production ends for the Ford Model T
1970 - A 7.9 earthquake shakes Peru and a landslide buries the town of Yungay, Peru. Close to 70,000 people killed and 50,000 injured.
1971 - Observation of Memorial Day occurs on the last Monday in May for the first time, due to the Uniform Monday Holiday Act passed by the U.S. Congress in 1968
1977 - The Trans-Alaska Pipeline is completed
1985 - Forty-one tornadoes hit Ohio, Pennsylvania, New York and Ontario, Canada, killing 76
2013 - There are eight fatalities and over 150 injuries in El Reno, Oklahoma after a record 2.6 mile wide tornado strikes
This Day in Music

1956 - Buddy Holly writes That'll be the Day after seeing the John Wayne film The Searchers
1961 - Jimi Hendrix enlists in the Army for 3 year as a member of the Screaming Eagles fighting squad. Over a year later he breaks his ankle during a parachute jump and is honorably discharged
1971 - Day After Day is recorded by Badfinger (video below)
1974 - Gordon Lightfoot's Sundown album is certified Gold
1975 - One of These Nights is released by The Eagles
1998 - Geri Halliwell announces that she has left the Spice Girls
2016 - Alicia Keys announces that she will stop wearing makeup
Above is Day After Day, by Badfinger
This Day in Sports

1967 - A.J. Foyt wins the Indianapolis 500
2015 - At age 92, Harriette Thomson becomes the oldest woman to complete a marathon
Word of the Day from Wiktionary

Omnishambles (noun)
1.  (UK, chiefly politics)  A situation that is bad or mismanaged in every way.


Wishing You a Great Day Today!


Like this Page?
Like this Site?
---