November 1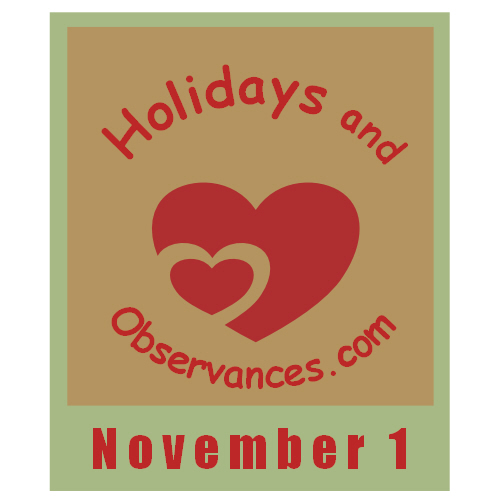 Holidays and Observances
(Alphabetical Order)
2023 Daily Holidays that fall on November 1, include:
All Saint's Day 
Autistic Speaking Day 
Calzone Day 
Dia de Los Muertos 
Extra Mile Day 
Give Up Your Shoulds Day
Hockey Mask Day 
International Men's Makeup Day 
International Scented Candle 
International Stress Awareness Day - November 1, 2023 (First Wednesday in November)
National Authors' Day 
National Block It Out Day - November 1, 2023 (First Wednesday in November)
National Brush Day 
National Cinnamon Day 
National Cook for Your Pets Day

National Deep Fried Clams Day 
National Eating Healthy Day - November 1, 2023 (First Wednesday in November)
National Family Caregiver Day 
National Family Literacy Day
National Sports Fan Day 
National Vinegar Day 
Prime Meridian Day 
World Vegan Day 
2023 Weekly Holidays that include November 1, are:
Medical-Surgical Nurses Week - November 1-7
National Fig Week - November 1-7
Urology Nurses and Associates Week - November 1-7

World Communication Week - November 1-7
World Origami Days - October 24 - November 11
2023 Monthly Holidays that include November 1, are:
There are too many monthly holidays to include here, so please check out our November Holidays page to see all of the holidays that are celebrated the entire month of November.
NOTE: A page on each holiday will be coming soon and linked above.
World Festivals and Events
(Date Order)
Cricket World Cup - October 5 - November 19, 2023
Astrological Sign

The Astrological Sign for November 1 is Scorpio.

Birth Flower of the Month

The Birth Flower(s) for the Month for November are:
Chrysanthemum - abundance, cheerfulness, compassion, friendship, secret love
Birthstone
The Birthstone(s) for November is Topaz and Citrine.
Famous Birthdays

1957

 – 

Lyle Lovett

, American singer-songwriter

, producer, and actor
1962 - Anthony Kiedis, singer for the Red Hot Chili Peppers
1972 – 

Jenny McCarthy

, American model, actress, and author

1972 -

Toni Collette, Australian actress
Famous Deaths

1947

 -

Man o' War, U.S. thoroughbred racehorse born in 1917

1979 – Mamie Eisenhower, Wife of Dwight D. Eisenhower and the 36th First Lady of the United States (b. 1896)
2008 - Jacques Piccard, Ocean Explorer from Switzerland (b. 1922)
Famous Weddings and Divorces

1954 - Actor John Wayne, marries actress Pilar Pallete
Quote of the Day

Go Vegan!
Recipe of the Day or a
Healthy Diet Habit Tip of the Day

November 1st is World Vegan Day!
To be vegan is to be a strict vegetarian; they eat no meat or meat products! Nothing that has an ingredient from an animal will touch their lips! No products with eggs, no products with fish, no products with dairy, or any ingredient made with anything meat related, including clothing like leather, fur, wool, or any product that has been tested on an animal! It is all about a total plant-based diet!
There are many reasons for this diet, but the main ones are: healthy eating, prevention of cruelty to animals, and protection of the environment, all great causes!

Many people think this is a salad diet and poke fun, but that idea is far from true, and this diet can be a healthy choice and a good lifestyle solution, if you know what you are doing first!

Find out specifics on what this diet includes and the difficulties of this diet from Kerry's Vegan Diet information on her Healthy Diet Habits website.
This Day in History

1179 - Philip II is crowned as the King of France
1512 - The Sistine Chapel ceiling that was painted by Michelangelo is shown to the public for the first time
1520 - On his first recorded circumnavigation, Ferdinand Magellan discovered the Strait of Magellan, the passage south of mainland South America that connects the Pacific and Atlantic Oceans
1604 - Othello, by William Shakespeare is performed for the first time in London at the Whitehall Palace
1611 - The play The Tempest by Shakespeare is performed for the first time in London at the Whitehall Palace
1683 - The British Crown colony of New York is subdivided into 12 counties
1755 - Lisbon, Portugal is devastated by an earthquake and tsunami which kills between 60,000 and 90,000 people
1765 - The Stamp Act is enacted on the Thirteen Colonies by the British Parliament to help pay for the British military operations in North America
1800 - John Adams becomes the first U.S. President to live in the Executive Mansion that was later renamed the White House
1848 - The first medical school for women, Boston Female Medical School opens in Boston, Massachusetts. 
1870 - The Weather Bureau makes its first official meteorological forecast in the United States. It was later renamed as the National Weather Service
1897 - The first Library of Congress building opens
1918 - Western Ukraine separates from Austria-Hungary
1948 - A Chinese merchant ship explodes and sinks off southern Manchuria, killing six thousand people
1950 - An attempted assassination against U.S. President Harry S. Truman occurs at the Blair House 
1955 - The Vietnam War begins
1957 - The Mackinac Bridge connecting Michigan's upper and lower peninsulas opens to traffic
1981 - Antigua and Barbuda gain their independence from the United Kingdom
2000 - The Republic of Serbia and Montenegro join the United Nations
This Day in Music

1968 - Wonderwall Music is released by George Harrison. He is the first of The Beatles to release a solo album.
1969 - Suspicious Minds by Elvis hits #1 in America
1994 - Nirvana's MTV Unplugged in New York album is released a year after the performance and tops the charts in the US, UK, Australia, and other countries
1994 - Merry Christmas is an album released by Mariah Carey that goes on to sell 3 million copies in America by the end of the year
2005 - Black Sabbath is inducted into the UK Music Hall of Fame
Above: The Man Who Sold the World by Nirvana on MTV Unplugged
This Day in Sports

1938 - In a match called "The Match of the Century" in horse racing, Seabiscuit defeats War Admiral
1966 - Sandy Koufax, the LA Dodgers pitcher becomes the first 3-time winner of the Cy Young Award
1994 - Michael Jordan's jersey #23 is retired by the Chicago Bulls
2017 - The Houston Astros win their first ever World Series when they defeat the LA Dodgers 5-1 in Game 7
Word of the Day from Wiktionary

Auton (noun)
1. (science fiction) A machine or robot, usually in the form of a living being, designed to follow a precise sequence of instructions.


Wishing You a Great Day Today!


Like this Page?
Like this Site?
---