August 11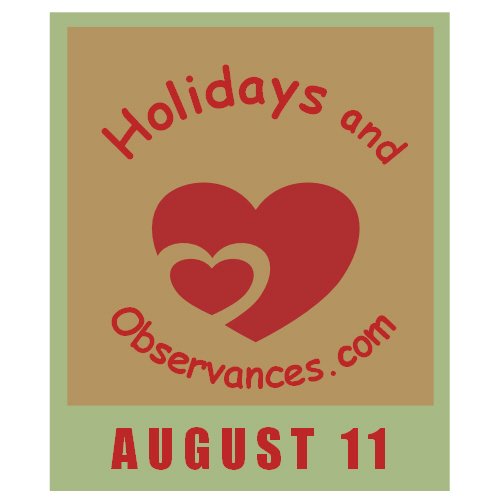 Holidays and Observances
(Alphabetical Order)
2022 Daily Holidays that fall on August 11, include:
Annual Medical Checkup Day 
Ingersoll Day 
National Hip Hop Day 
National Raspberry Bombe Day 
National Raspberry Tart Day 
Play in the Sand Day 
Presidential Joke Day 
Raksha Bandhan - August 11, 2022 (Hindu Holiday)
Son and Daughter Day 
2022 Weekly Holidays that include August 11, are:
Air Conditioning Appreciation Days - July 3 - August 15
Elvis Week - August 9-17, 2022
Exercise With Your Child Week - August 7-13, 2022 (First Full Week of August)

International Assistance Dog Week - August 7-13, 2022 (Starts on First Sunday in August)

Knights of Columbus Family Week - August 7-13, 2022 (First Full Week in August)

National Farmers Market Week - August 7-13, 2022 (First Week of August)

National Fraud Awareness Week - August 7-13, 2022 (First Full Week in August)
National Health Center Week - August 7-13, 2022 (First Full Week in August)
National Hobo Week - August 11-14, 2022
National Motorcycle Week - August 7-13, 2022 (Second Week in August)

National Stop on Red Week - August 7-13, 2022
Perseid Meteor Showers - July 17 - August 24, 2022

Tu B'av - Evening of August 11, 2022 to Evening of August 12, 2022 (15th of Av in Hebrew Calendar)
Weird Contest Week - August 7-13, 2022 (Second Week in August)
2022 Monthly Holidays that include August 11, are:
There are too many monthly holidays to include here, so please check out our August Holidays page to see all of the holidays that are celebrated the entire month of August.
NOTE:
A page on each holiday will be coming soon and linked above.
If a date is a movable holiday, that is different every year, I'll include the year as well as the date rule above. Otherwise, the holiday falls on the same date each year.
World Festivals and Events
(Date Order)
Sturgis Motorcycle Rally - August 5-14, 2022 (Begins 1st Friday in August for 10 Days)
Astrological Sign

The Astrological Sign for August 11 is Leo.

Birth Flower of the Month

The Birth Flower(s) for the Month of August are:
Gladiolus - Strength, moral integrity, remembrance, infatuation. It blooms in a variety of colors like red, pink, white, yellow and orange.  It stands for sincerity and symbolizes strength of character.
Birthstone
The Birthstone(s) for August is:
Peridot which is known for its shimmering yellow-green color and the peace and good luck it brings to its wearer.
Famous Birthdays

1933 - Jerry Falwell, American Minister and TV Host (d. 2007)
1944 - Frederick W. Smith, American businessman who founded Fed Ex
1950 - Steve Wozniak, American computer scientist who co-founded Apple, Inc.
1953 - Hulk Hogan, American wrestler
1965 - Viola Davis, American actress (How to Get Away With Murder)
1983 - Chris Hemsworth, Australian actor (Star Trek, Thor, The Avengers)
Famous Deaths

1919

- Andrew Carnegie, Scottish-American businessman who founded the Carnegie Steel Company and Carnegie Hall (b. 1835)

1921

- Mary Sumner, English philanthropist who founded the Mothers' Union (b. 1828)

2009

- Eunice Kennedy Shriver, American activist who founded the Special Olympics (b. 1921)

2014 - Robin Williams, American comedian and actor (brief tribute to him below)
Famous Weddings and Divorces

1886 - Educator and author Booker T. Washington marries Olivia Davidson
1993 - Director Oliver Stone files for divorce from Elizabeth Stone
Quote of the Day

Great Advice to Live By!
Recipe of the Day or a
Healthy Diet Habit Tip of the Day

Clean eating, what does it really mean? It's a simple term that is being used to describe making healthy eating lifestyle changes and it's not a new diet. It's about taking your existing diet and cleaning it up and getting rid of the unhealthy food habits that you have been practicing. Pair it with changing your specific unhealthy diet habits and you have got a great start to lifestyle solutions that can lead to health and weight control.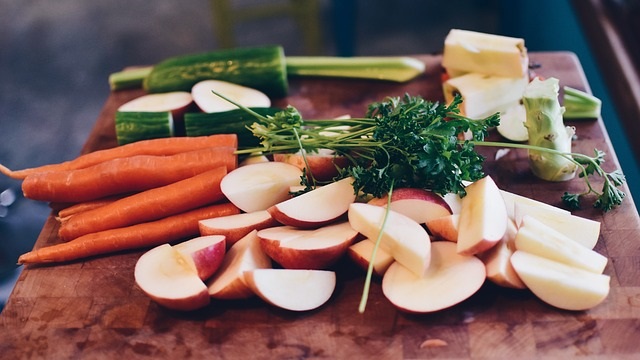 Find out more about clean eating from Kerry's Healthy Diet Habits website!
This Day in History

1786 - The British colony of Penang in Malaysia is established by Captain Francis Light
1934 - The Federal prison on Alcatraz Island in San Francisco welcomes its first prisoners
1960 - Chad declares its independence
1965 - The Watts Race riots begin in Los Angelese, CA
1969 - The Apollo 11 astronauts are released from a three week quarantine after their liftoff from the moon
1972 - The last U.S. ground combat unit leaves South Vietnam
1982 - Pan Am Flight 830 flying from Tokyo, Japan to Honolulu, Hawaii has a bomb explode which kills one passenger and injures 15 others
2006 - The Philippines worst oil spill happens after the oil tanker M/T Solar 1 sinks off the coast of Guimaras and Negros Islands
2012 - Two earthquakes near Tabriz, Iran kill 306 people and injure 3,000 others
2017 - Two passenger trains collide in Alexandria, Egypt resulting in 41 killed and 179 injured
This Day in Music

1964 - The Beatles first movie, A Hard Day's Night premieres in America
1969 - I Want You (She's So Heavy), Oh! Darling, and Here Comes the Sun is recorded by The Beatles
1980 - Johnny Cash and Miss Piggy sing a duet of Jackson on The Muppet Show
1986 - During a reunion tour, The Monkees have six albums on the Billboard 200 charts
1987 - The Beatles' Sgt. Pepper's Lonely Hearts Club Band album is named the best album of the last 20 years by Rolling Stones Magazine
1992 - Ray Charles sings America The Beautiful at the Mall of America opening in Bloomington, Minnesota
1999 - Kiss are awarded a star on the Hollywood Walk of Fame
2011 - The Go-Go's are awarded a star on the Hollywood Walk of Fame
This Day in Sports

1858 - Charles Barrington, Christian Almer, and Peter Bohren are the first to ascend the 13,015 foot Eiger in the Bernese Alps
1923 - Following the death of U.S. President Warren G. Harding, baseball games are cancelled
1956 - American sprinter Willie Williams sets the 100m world record at 10.1 in Berlin Germany
2001 - The 8th Athletics World Championships start in Edmonton, Canada
Word of the Day from Wiktionary

Bevy (noun)
1. A Group of animals, in particular quail.
2. A large group or collection.


Wishing You a Great Day Today!


Like this Page?
Like this Site?
---