August 20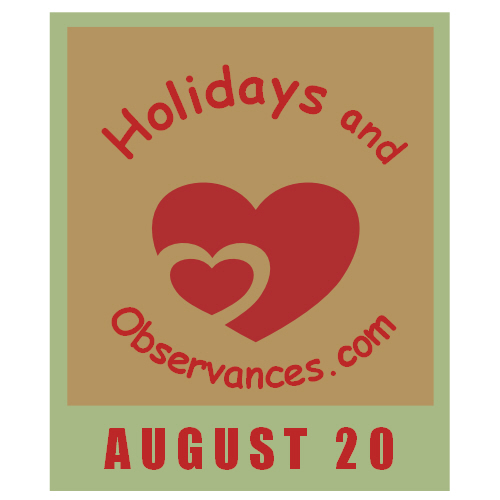 Holidays and Observances
(Alphabetical Order)
2023 Daily Holidays that fall on August 20, include:
God's Preeminence Day - August 20, 2023 (Third Sunday in August)
International Day of Medical Transporters 
Lemonade Day 
National Bacon Lover's Day 
National Chocolate Pecan Pie Day 
National Radio Day 
Virtual Worlds Day 
World Mosquito Day
2023 Weekly Holidays that include August 20, are:
Brake Safety Week - August 20-26, 2023
Drive Sober or Get Pulled Over - Labor Day: August 17 - September 5, 2023
Minority Enterprise Development Week - August 18-24

National Aviation Week - August 15-21 (Always during the week of Orville Wright's Birthday on August 19)
National Chef's Appreciation Week - August 20-26, 2023 (Third Week in August)
Perseid Meteor Showers - July 17 - August 24, 2023, will peak on the nights between August 12-13, 2023)

U.S. Amateur Golf Week - August 14-20, 2023
World Water Week - August 20-24, 2023
2023 Monthly Holidays that include August 20, are:
There are too many monthly holidays to include here, so please check out our August Holidays page to see all of the holidays that are celebrated the entire month of August.
NOTE:
A page on each holiday will be coming soon and linked above.
If a date is a movable holiday, that is different every year, I'll include the year as well as the date rule above. Otherwise, the holiday falls on the same date each year.
World Festivals and Events
(Date Order)
Little League World Series - August 16-27, 2023 (Held in South Williamsport, Pennsylvania)
Astrological Sign

The Astrological Sign for August 20 is Leo.

Birth Flower of the Month

The Birth Flower(s) for the Month of August are:
Gladiolus - Strength, moral integrity, remembrance, infatuation. It blooms in a variety of colors like red, pink, white, yellow and orange.  It stands for sincerity and symbolizes strength of character.
Birthstone
The Birthstone(s) for August is:
Peridot which is known for its shimmering yellow-green color and the peace and good luck it brings to its wearer.
Famous Birthdays

1833 - Benjamin Harrison, American general, lawyer and politician who was the 23rd President of the United States from 1889-1893 (d. 1901)
1918 - Jacqueline Susann, American author (Valley of the Dolls) (d. 1974)
1946 - Connie Chung, American journalist and TV news anchor (CBS, NBC)
1948 - Robert Plant, English singer and songwriter (Led Zeppelin)
1956 - Joan Allen, American actress (Peggy Sue Got Married
1970 - Fred Durst, American singer and songwriter (Limp Bizkit)
Famous Deaths

1912 - William Booth, English minister who co-founded The Salvation Army (b. 1829)
2012 - Phyllis Diller, American actress (b. 1917)
2017 - Jerry Lewis - American comedian, actor and singer (Martin and Lewis) (b. 1926)
Famous Weddings and Divorces

1939 - Actress Joan Fontaine (Rebecca) marries actor Brian Aherne
1992 - Musician Sting marries Trudie Styler in Wiltshire, England
Quote of the Day

Recipe of the Day or a
Healthy Diet Habit Tip of the Day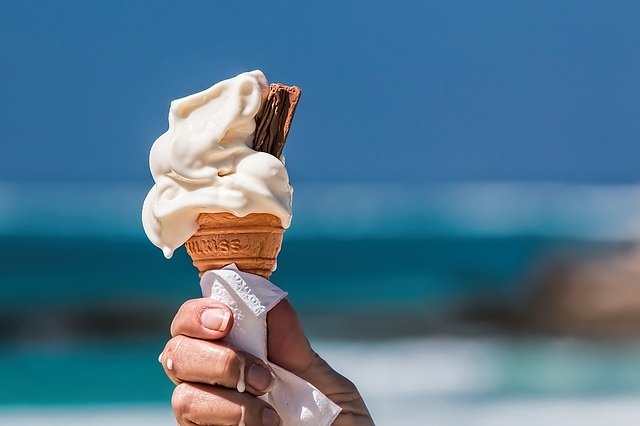 Have you ever wondered why it is so easy to gain weight? Here are some of the top excuses that Kerry hears from people on why they have gained weight. 
Weight Gain (link goes to Kerry's Healthy Diet Habits website)
This Day in History

1000 - Hungary is established as a Christian kingdom by Stephen I of Hungary.
1855 - The American Civil War is formally declared over by U.S. President Andrew Johnson
1910 - The Great Fire of 1910 burns approximately 3 million acres in Northeast Washington, Northern Idaho and Western Montana
1975 - NASA launches Viking 1 to orbit around Mars
1988 - Black Saturday of the Yellowstone fire in Yellowstone National Park
1988 - A ceasefire is agreed to during the Iran/Iraq War after eight years of war.
This Day in Music

1882 - 1812 Overture by Tchaikovsky debuts in Moscow, Russia
1973 - Angie is released by The Rolling Stones
1977 - Best of My Love by the Emotions hits #1
1987 - Lindsey Buckingham of Fleetwood Mac leaves the group
2006 - The Back to Basics album by Christina Aguilera goes to #1 on the UK album chart
Above, is Angie by the Rolling Stones, released on August 20, 1973!
Please check out our Music Holidays page!
This Day in Sports

1900 - Great Britain wins over France in cricket in the Olympic Games
1938 - Lou Gehrig hits his record and final career grand slam
1945 - Tommy Brown of the Dodgers at 17, is the youngest player to hit a HR
1974 - Nolan Ryan pitches a record 100.4mph pitch
Word of the Day from Wiktionary

Disembogue (verb)
1. To come out into the open sea from a river etc.
2. (of a river or waters) To pour out, to debouch; to flow out through a narrow opening into a larger space.


Wishing You a Great Day Today!


Like this Page?
Like this Site?
---