August 21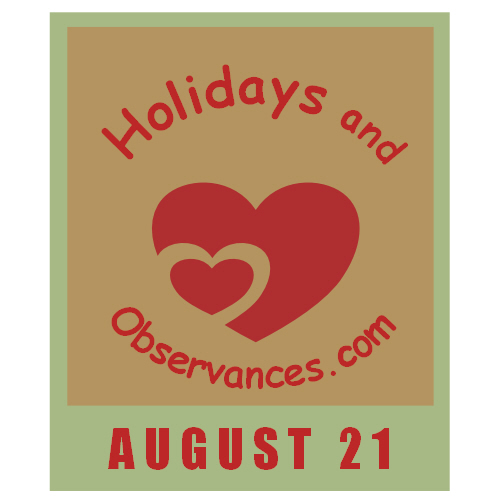 Holidays and Observances
(Alphabetical Order)
2023 Daily Holidays that fall on August 21, include:
Brazilian Blowout Day 
Cupcake Day (For the RSPCA) - August 21, 2023 (Third Monday in August)
International Day of Remembrance and Tribute to the Victims of Terrorism 
Internet Self Care Day 
National Spumoni Day 
Poet's Day 
Senior Citizen's Day 
Stay Home with Your Kid's Day - August 21, 2023 (Third Monday in August)
2023 Weekly Holidays that include August 21, are:
Brake Safety Week - August 20-26, 2023
Drive Sober or Get Pulled Over - Labor Day: August 17 - September 5, 2023
Minority Enterprise Development Week - August 18-24

National Aviation Week - August 15-21 (Always during the week of Orville Wright's Birthday on August 19)
National Chef's Appreciation Week - August 20-26, 2023 (Third Week in August)
National Composites Week - August 21-25, 2023
National Safe at Home Week - August 21-25, 2023 (Last Mon-Fri Week in August)
Perseid Meteor Showers - July 17 - August 24, 2023, will peak on the nights between August 12-13, 2023)

World Water Week - August 20-24, 2023

2023 Monthly Holidays that include August 21, are:
There are too many monthly holidays to include here, so please check out our August Holidays page to see all of the holidays that are celebrated the entire month of August.
NOTE:
A page on each holiday will be coming soon and linked above.
If a date is a movable holiday, that is different every year, I'll include the year as well as the date rule above. Otherwise, the holiday falls on the same date each year.
World Festivals and Events
(Date Order)
Little League World Series - August 16-27, 2023 (Held in South Williamsport, Pennsylvania)
Astrological Sign

The Astrological Sign for August 21 is Leo.

Birth Flower of the Month

The Birth Flower(s) for the Month of August are:
Gladiolus - Strength, moral integrity, remembrance, infatuation. It blooms in a variety of colors like red, pink, white, yellow and orange.  It stands for sincerity and symbolizes strength of character.
Birthstone
The Birthstone(s) for August is:
Peridot which is known for its shimmering yellow-green color and the peace and good luck it brings to its wearer.
Famous Birthdays

1754 - William Murdoch, Scottish engineer and inventor who created gas lighting (d. 1839)
1930 - Princess Margaret, countess of Snowdon and Sister of Queen Elizabeth II (d. 2002)
1938 - Kenny Rogers, American country singer, songwriter, actor
1956 - Kim Cattrall, English-American actress (Sex and the City)
1989 - Hayden Panettiere, American actress and singer (Heroes, Nashville)
Famous Deaths

1796 - John McKinly, American physician and politician who was the 1st Governor of Deleware (b. 1721)
2005 - Robert Moog, American businessman who was the pioneer of electronic music and founder of Moog Music (b. 1934)
Famous Weddings and Divorces

1745 - Peter III, (Future Russian Czar) marries Ekaterina Alexeivna who is later known as Catherine the Great
1982 - Singer Bono (Lead singer of U2) marries businesswoman and activist Alison "Ali" Stewart
2010 - Actor and director Stephen Moyer marries actress Anna Paquin (both stars of True Blood)
Quote of the Day

Recipe of the Day or a
Healthy Diet Habit Tip of the Day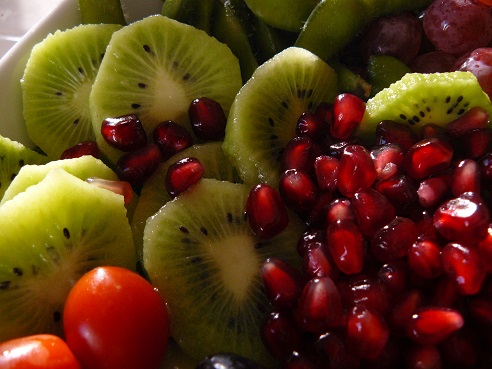 Planning allows you to take a poor habit, and develop a plan to change that habit, and then develop a healthy diet habit that works for you.
We have all heard the saying "If you fail to plan, you plan to fail". What that means is that success belongs to those who plan. If you cruise along with no plans, you will likely fail. You will have no measurable goal to shoot for. Everyone needs goals related to weight control, and these goals should be planned.
Find out more tips on Planning to Change a Habit from Kerry at Healthy Diet Habits.  (link goes to her website)
This Day in History

1770 - James Cook formally claims eastern Australia for Great Britain, and names it New South Wales (See our Holidays in Australia page)
1831 - Nat Turn leads black slaves and free blacks in a rebellion in Southampton Country in Virginia that kills 55
1883 - The Mayo Clinic is started when an F5 tornado strikes Rochester, Minnesota
1888 - The adding machine is patented in the United States by William Seward Burroughs
1897 - Oldsmobile begins production as a General Motors Corp. division in America
1911 - The Mona Lisa is stolen by a Louvre employee
1942 - During World War II a Nazi flag is installed atop the Mount Elbrus, the highest peak of the Caucasus mountain range
1944 - The Dumbarton Oaks Conference which is the prelude to the United Nations, begins
1959 - United States President Dwight D. Eisenhower signs an executive order proclaiming Hawaii as the 50th state of the union.
1972 - The 1st hot air balloon flight over the Alps
1979 - Russian dancer Alexander Godunov defects to the United States
1986 - A volcanic eruption in Lake Nyos in Cameroon releases poison gas that kills over 1,800 people
1987 - The movie Dirty Dancing starring Patrick Swayze and Jennifer Grey premieres
2013 - In the Ghouta region of Syria, hundreds of people are killed by chemical attacks
2017 - An eclipse travels across the continental United States.
This Day in Music

1961 - Please Mr. Postman by the Marvelettes is released by Motown and would become their #1 hit
1961 - Crazy by Patsy Cline is recorded
1961 - The album Something For Everybody by Elvis Presley hits #1
1965 - The album Out of Our Heads by the Rolling Stones hits #1
1965 - Do You Believe in Magic? by the Lovin' Spoonful is released
1968 - Sexy Sadie by The Beatles is recorded
1976 - Elvis Presley records pass the 400 million mark in worldwide sales
1980 - Pirates of Penzance staring Linda Rondstadt opens on Broadway
1991 - Pearl Jam releases their debut album named Ten
2012 - We Are Never Ever Getting Back Together by Taylor Swift becomes the single with the biggest digital sales record (623,000 copies) for a female recording artist.
The Lovin' Spoonful released Do You Believe in Magic? on August 21, 1965. It was just one of those feel good songs with catchy words.
Please check out our Music Holidays page!
This Day in Sports

1931 - Babe Ruth hits his 600th HR
1932 - Wes Ferrell is the 1st to win 20 games in each of his 1st 4 seasons
1966 - Mickey Wright wins the LPGA Women's Western Golf Open
1977 - Donna Patterson Brice sets the high speed water skiing record at 111.11 mph
1985 - Mary Decker Slaney set a new world record for a mile run at 4:16.71
1986 - Spike Owens of the Red Sox scores 6 runs in a 24-5 game with the Cleveland Indians
1986 - With 2 outs in the 6th inning, the Red Sox score 11 runs
1987 - A new harness racing mile was set by Mack Lobell at 1:52
Word of the Day from Wiktionary

 Eunoia (noun)
1. (rhetoric) Goodwill towards an audience, either perceived or real; the perception that the speaker has the audience's interest at heart.
2. (medicine, psychology) A state of normal adult mental health.


Wishing You a Great Day Today!


Like this Page?
Like this Site?
---