August 22

 Holidays and Observances
(Alphabetical Order)
2023 Daily Holidays that fall on August 22, include:
Be an Angel Day 

Eat a Peach Day  

National Bad Day 
National Bao Day 
National Pecan Torte Day 
National Take Your Cat to the Vet Day 
National Tooth Fairy Day - (Also on February 28)
Never Been Better Day 
Southern Hemisphere Hoodie Hoo Day
World Plant Milk Day 
2023 Weekly Holidays that include August 22, are:
Brake Safety Week - August 20-26, 2023
Drive Sober or Get Pulled Over - Labor Day: August 17 - September 5, 2023
Minority Enterprise Development Week - August 18-24

National Chef's Appreciation Week - August 20-26, 2023 (Third Week in August)

National Composites Week - August 21-25, 2023
National Safe at Home Week - August 21-25, 2023 (Last Mon-Fri Week in August)
Perseid Meteor Showers - July 17 - August 24, 2023, will peak on the nights between August 12-13, 2023)

World Water Week - August 20-24, 2023
2023 Monthly Holidays that include August 22, are:
There are too many monthly holidays to include here, so please check out our August Holidays page to see all of the holidays that are celebrated the entire month of August.
NOTE:
A page on each holiday will be coming soon and linked above.
If a date is a movable holiday, that is different every year, I'll include the year as well as the date rule above. Otherwise, the holiday falls on the same date each year.
World Festivals and Events
(Date Order)
Little League World Series - August 16-27, 2023 (Held in South Williamsport, Pennsylvania)
Astrological Sign

The Astrological Sign for August 22 is Leo.

Birth Flower of the Month

The Birth Flower(s) for the Month of August are:
Gladiolus - Strength, moral integrity, remembrance, infatuation. It blooms in a variety of colors like red, pink, white, yellow and orange.  It stands for sincerity and symbolizes strength of character.
Birthstone
The Birthstone(s) for August is:
Peridot which is known for its shimmering yellow-green color and the peace and good luck it brings to its wearer.
Famous Birthdays

1914 - Connie B. Gay, American businessman who co-founded the Country Music Hall of Fame and Museum and was the founding President of the Country Music Association (d. 1989)
1934 - Norman Schwarzkopf, Jr., US Army 4-star general (d. 2012)
1939 - Valerie Harper, American actress and singer (The Mary Tyler Moore Show)
1940 - Bill McCartney, American football player and coach and founder of the Promise Keepers men's ministry.
1947 - Cindy Williams, American actress and singer (Laverne & Shirley)
1963 - Tori Amos, American singer, songwriter and pianist 
1973 - Kristen Wiig, American comedian, actress, producer, and screenwriter (Saturday Night Live, Bridesmaids)
Famous Deaths

1647 - Denis Papin, French physicist and mathematician who developed pressure cooking (d. 1712)
1848 - Melville Elijah Stone, American publisher who founded the Chicago Daily News (d. 1929)
1915 - James Hillier, Canadian-American scientist who co-designed the electron microscope (d. 2007)
Famous Weddings and Divorces

1848 - Soldier and future U.S. President Ulysses Grant marries Julia Dent
1998 - Journalist Douglas Kennedy (Robert F. Kennedy's youngest son) marries Molly Stark
2011 - Actress Melissa Gilbert (Little House on the Prairie) divorces actor Bruce Boxleitner after 16 years of marriage
Quote of the Day

Valerie Harper was born on this day, August 22, 1939! The older generation (me) will remember her fondly from The Mary Tyler Moore Show, and her spinoff Rhoda, and later on her show titled Valerie! 
Recipe of the Day or a
Healthy Diet Habit Tip of the Day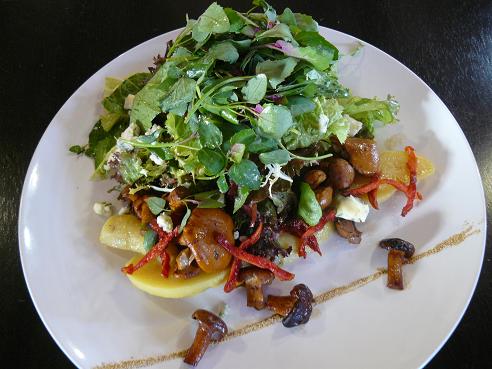 Summer weight loss tips are by far the easiest! Fresh fruit and veggies abound, and the weather beckons you outside to activity! Eating nutrient dense foods that are not calorie laden and adding more movement is a recipe for success.
Find out more summer weight loss tips from Kerry of Healthy Diet Habits (Link goes to her website)
This Day in History

565 - St. Columba reports seeing a monster in Loch Ness, Scotland
1642 - The English Civil War begins after Charles I calls the English Parliament traitors.
1654 - Jacob Barsimson arrives in New Amsterdam (current day Manhattan) as the first Jewish immigrant to America
1848 - The United States annexes New Mexico
1849 - Austria launches pilotless balloons against the Italian City of Venice (1st air raid in history)
1864 - The first Geneva Convention is signed by twelve nations
1902 - US President Theodore Roosevelt becomes the first President of the United States to ride in an automobile
1942 - During World War II, Brazil declares war on Germany and Italy.
1944 - During World War II, Romania is captured by the Soviet Union
1966 - Bill Clinton signs welfare reform into law
2007 - The Storm botnet, created by the Storm Worm, sends out a record 57 million e-mails in one day
This Day in Music

1964 - Where Did Our Love Go by the Supreme's hits #1
1964 - Alvin and the Chipmunk's cover album of Beatles songs sells 25,000 copies a day!
1966 - The album Revolver by the Beatles is certified gold.
1969 - The Beatles record a video for Long & Winding Road
1970 - Make It With You by Bread hits #1
1987 - Who's That Girl by Madonna hits #1
2004 - These Words by Natasha Bedingfield hits #1 in the UK (video below)
This Day in Sports

1851 - The Yacht America wins the first America's Cup
1934 - The Red Sox pitcher Wes Ferrell hits 2 HRs which allows the team to beat the White Sox 2-3 in 12 innings
1950 - Abdel Rehim swims the English Channel in 10:50
1951 - The Harlem Globetrotters play in Olympic Statidum, Berlin 
1959 - Cincinnati Red's Frank Robinson hits 3 consecutive HRs
1989 - Nolan Ryan strikes out Rickey Henderson and bomes the first Major League Baseball pitcher to record 5,000 strikeouts
Word of the Day from Wiktionary

Eat One's Wheaties (verb)
1. (US and Canada, idiomatic) To prepare or fortify oneself for an activity requiring exertion.


Wishing You a Great Day Today!


Like this Page?
Like this Site?
---