August 23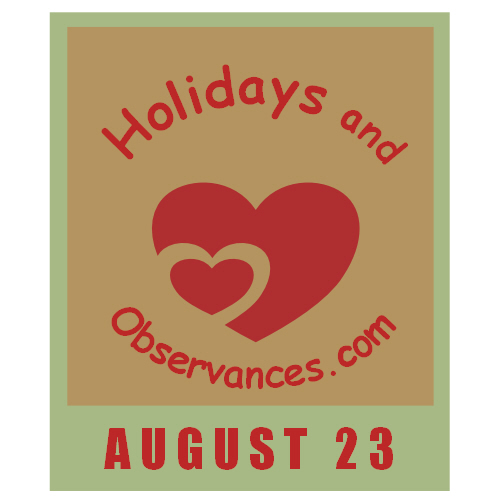 Holidays and Observances
(Alphabetical Order)
2023 Daily Holidays that fall on August 23, include:
Buttered Corn Day 
Cuban Sandwich Day 
European Day of Remembrance for Victims of Stalinism and Nazism 
Hug Your Sweetheart Day 
International Day for the Remembrance of the Slave Trade & it's Abolition 
Internaut Day 
National Cheap Flight Day 
National Ride the Wind Day 
National Sponge Cake Day 
Valentino Day 
2023 Weekly Holidays that include August 23, are:
Brake Safety Week - August 20-26, 2023
Drive Sober or Get Pulled Over - Labor Day: August 17 - September 5, 2023
Health Unit Coordinators Week - August 23-29
Minority Enterprise Development Week - August 18-24

National Chef's Appreciation Week - August 20-26, 2023 (Third Week in August)

National Composites Week - August 21-25, 2023
National Safe at Home Week - August 21-25, 2023 (Last Mon-Fri Week in August)
Perseid Meteor Showers - July 17 - August 24, 2023, will peak on the nights between August 12-13, 2023)

World Water Week - August 20-24, 2023
2023 Monthly Holidays that include August 23, are:
There are too many monthly holidays to include here, so please check out our August Holidays page to see all of the holidays that are celebrated the entire month of August.
NOTE:
A page on each holiday will be coming soon and linked above.
If a date is a movable holiday, that is different every year, I'll include the year as well as the date rule above. Otherwise, the holiday falls on the same date each year.
World Festivals and Events
(Date Order)
Little League World Series - August 16-27, 2023 (Held in South Williamsport, Pennsylvania)
Astrological Sign

The Astrological Sign for August 23 is Leo.

Birth Flower of the Month

The Birth Flower(s) for the Month of August are:
Gladiolus - Strength, moral integrity, remembrance, infatuation. It blooms in a variety of colors like red, pink, white, yellow and orange.  It stands for sincerity and symbolizes strength of character.
Birthstone
The Birthstone(s) for August is:
Peridot which is known for its shimmering yellow-green color and the peace and good luck it brings to its wearer.
Famous Birthdays

1783 - William Tierney Clark, English civil engineer who designed the Hammersmith Bridge in London, England (d. 1852)
1883 - Jonathan M. Wainwright IV, American general and Melad of Honor recipient (d. 1953)
1912 - Gene Kelly, American actor, singer, and dancer (Singing in the Rain) (d. 1996)
1917 - Tex Williams, American singer, and songwriter (d. 1985)
1929 - Vera Miles, American actress (Psycho)
1931 - Barbara Eden, American actress and singer (I Dream of Jeannie)
1946 - Keith Moon, English drummer and songwriter (The Who) (d. 1978)
1949 - Shelley Long, American actress (Cheers)
1949 - Rick Springfield, Australian singer, songwriter, and actor (General Hospital, #1 hit Jessie's Girl in Australia and US)
1970 - River Phoenix, American actor and singer (Stand By Me) (d. 1993)
1970 - Jay Mohr, American actor and comedian (Jerry Macguire)
1976 - Scott Caan, American actor, director, and screenwriter (Hawaii Five-O)
Famous Deaths

1305 - William Wallace, Scottish commander (b. 1272)
1926 - Rudolph Valentino, Italian-American silent movie actor (b. 1895)
2003 - Bobby Bonds, American baseball player and manager (b. 1946)
Famous Weddings and Divorces

1876 - Sharp Shooter Annie Oakley marries traveling show marksman Frank E. Butler
1962 - John Lennon of the Beatles marries Cynthia Powell
1989 - Musician Ric Ocasek (The Cars) marries model Paulina Porizkova
2010 - Spanish singer Julio Iglesias marries Dutch model Miranda Rijnsburger
Quote of the Day

Recipe of the Day or a
Healthy Diet Habit Tip of the Day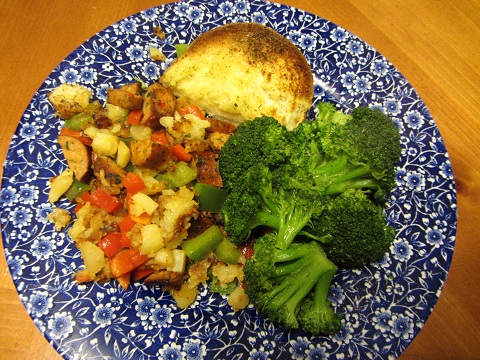 Learning tips to eat less can help you win at the weight loss game! Most of you are in the diet game of your life.  The score goes up and then down, yet the game never seems to end.
Learning a few simple healthy diet habits to eat less can help those pounds slowly come off and stay off.  Try these 5 tips to eat less from Kerry at Healthy Diet Habits. (link opens in her website)
This Day in History

1305 - Sir William Wallace is executed for high treason by Edward I of England
1873 - The Albert Bridge crossing the Thames opens in Chelsea, London
1904 - The automobile tire chain is patented
1914 - Japan declares war on Germany in World War I
1923 - The first mid-air refueling is performed by Captain Lowell Smith and Lt. John P. Richter on De Havilland DG-4B who set an endurance flight record of 37 hours
1939 - USSR & Germany sign a non-aggression treaty
1948 - The World Council of Churches is formed by 147 churches from 44 countries
1966 - Lunar Orbiter 1 takes the first photograph of Earth from the Moon
1977 - The 1st man-powered flight by Bryan Allen in a Gossamer Condor
1990 - Armenia declares it independence from the Soviet Union
1990 - West and East Germany announce that they will reunite on October 3
2011 - A 5.8 magnitude earthquake occurs in Virginia  with over $200 million of damages to monuments and structures in Washington D.C. 
2011 - Libyan leader Muammar Gaddafi is overthrown
This Day in Music

1965 - The album Help! by The Beatles is certified gold
1965 - The Beatles' second film, Help! premieres in New York City
1968 - Back in the U.S.S.R. by The Beatles is recorded
1969 - Honky Tonk Women by The Rolling Stones' hits #1
1975 - Fallin' in Love by Hamilton, Joe Frank and Reynolds' hits #1
1978 - King Tut by Steve Martin is certified gold
1980 - The album Ashes to Ashes by David Bowie hits #1 on the UK charts
2000 - Kenny Loggins is awarded a star on the Hollywood Walk of Fame
On this day, August 23, 1978, Steve Martin's King Tut is certified gold! I just always found him incredibly hilarious to watch! 
Please check out our Music Holidays page!
This Day in Sports

1933 - 1st TV boxing match between Archie Sexton & Laurie Raiteri is shown in London, England
1936 - In Bob Feller's 1st game at age 17, he strikes out 15 St. Louis Browns
1953 - Phil Grate sets a record for throwing a baseball the farthest at 443' 3"
1968 - The Yanks & Tigers end with a 3-3 tie in 19 innings due to a 1 AM curfew
Word of the Day from Wiktionary

Malleate (verb)
1. To beat into shape with a hammer.


Wishing You a Great Day Today!


Like this Page?
Like this Site?
---