August 24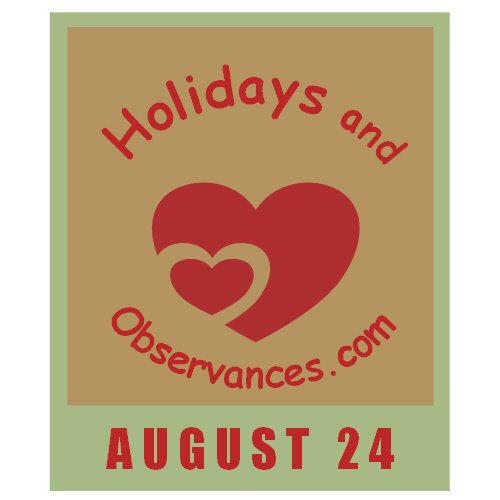 Holidays and Observances
(Alphabetical Order)
2023 Daily Holidays that fall on August 24, include:
Can Opener Day 
International Day Against Intolerance, Discrimination and Violence based on Musical Preferences, Lifestyle, and Dress Code 
International Strange Music Day 
Knife Day
National Peach Pie Day 
National Waffle Day 
National Waffle Iron Day 
Pluto Demoted Day
Shooting Star Day 
Vesuvius Day 
Wayzgoose Day 
Weather Complaint Day 
William Wilberforce Day 
2023 Weekly Holidays that include August 24, are:
Brake Safety Week - August 20-26, 2023
Drive Sober or Get Pulled Over - Labor Day: August 17 - September 5, 2023
Health Unit Coordinators Week - August 23-29
Minority Enterprise Development Week - August 18-24

National Chef's Appreciation Week - August 20-26, 2023 (Third Week in August)

National Composites Week - August 21-25, 2023
National Safe at Home Week - August 21-25, 2023 (Last Mon-Fri Week in August)
Perseid Meteor Showers - July 17 - August 24, 2023, will peak on the nights between August 12-13, 2023)

World Water Week - August 20-24, 2023
2023 Monthly Holidays that include August 24, are:
There are too many monthly holidays to include here, so please check out our August Holidays page to see all of the holidays that are celebrated the entire month of August.
NOTE:
A page on each holiday will be coming soon and linked above.
If a date is a movable holiday, that is different every year, I'll include the year as well as the date rule above. Otherwise, the holiday falls on the same date each year.
World Festivals and Events
(Date Order)
Little League World Series - August 16-27, 2023 (Held in South Williamsport, Pennsylvania)
Astrological Sign

The Astrological Sign for August 24 is Virgo.

Birth Flower of the Month

The Birth Flower(s) for the Month of August are:
Gladiolus - Strength, moral integrity, remembrance, infatuation. It blooms in a variety of colors like red, pink, white, yellow and orange.  It stands for sincerity and symbolizes strength of character.
Birthstone
The Birthstone(s) for August is:
Peridot which is known for its shimmering yellow-green color and the peace and good luck it brings to its wearer.
Famous Birthdays

1759 - William Wilberforce, English politician, philanthropist and leader of the movement to abolish the slave trade (d. 1833)
1947 - Anne Archer, American actress and producer (Patriot Games)
1955 - Mike Huckabee, American minister and politician, 44th Governor of Arkansas
1960 - Cal Ripken, Jr. American baseball player, coach and Baseball Hall of Fame inductee (Baltimore Orioles)
1965 - Marlee Matlin, American actress (Children of a Lesser God)
1973 - Dave Chappelle, American actor, comedian, producer and screenwriter
1976 - Alex O'Loughlin, Australian actor (Hawaii Five-O)
1981 - Chad Michael Murray, American model and actor (staring in the upcoming film - Left Behind: The End Begins, out October 3)
Famous Deaths

1967 - Henry J. Kaiser, American businessman who founded Kaiser Shipyards and Kaiser Aluminum (b. 1882)
Famous Weddings and Divorces

1200 - King John of England (signer of the first Magna Carta) marries Isabella of Angouleme
1561 - Willem of Orange marries duchess Anna of Saxony
1970 - Actor Peter Sellers (The Pink Panther series) marries model Miranda Quarry
Quote of the Day

August 24th is William Wilberforce Day, in honor of his birthday!
Recipe of the Day or a
Healthy Diet Habit Tip of the Day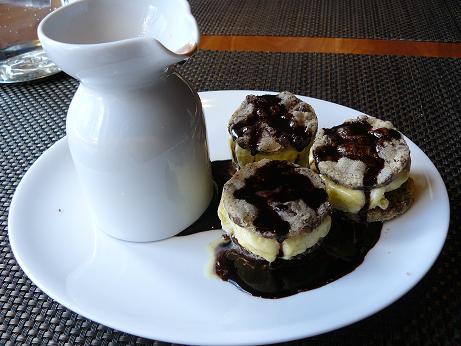 Empty calories, better known as junk food, are not a healthy diet habit. They are usually loaded with lots of sugar or lots of fats! They taste great and lure us in. Empty calories should be limited by everyone concerned with weight control.
A great lifestyle solution is to allow a small treat daily and limit it to around 200 calories. Choose a food that you love, like a few chips or cookies for lunch. This will help end feelings of deprivation. Otherwise eat for health and avoid junky calories!
Find out more about empty calories from Kerry at Healthy Diet Habits! (link goes to her website)
This Day in History

1682 - Duke James of York gives the area that is now the state of Delaware to William Penn
1814 - British forces invade Washington, D.C. and burned down many landmarks. The White House, the Capitol and many other buildings are set on fire.
1857 - The Panic of 1857 begins and starts one of the most severe economic crises in United States history
1869 - The waffle iron is patented by Cornelius Swarthout
1891 - Thomas Edison patents the motion picture camera.
1909 - Workers start pouring concrete for the Panama Canal.
1931 - The Soviet Union and France sign a neutrality and no attack treaty with each other.
1932 - Amelia Earhart becomes the first woman to fly non-stop across the United States from Los Angeles to Newark, New Jersey.
1936 - The Australia Antarctic Territory is created.
1941 - Adolf Hitler orders the end of Nazi Germany's systematic T4 euthanasia program of the mentally ill and the handicapped due to protests, but killings still happen for the rest of the war.
1949 - The North Atlantic Treaty Organization (NATO) goes into effect
1954 - US President Eisenhower signs the Communist Control Act which outlaws the American Communist Party
1991 - Mikhail Gorbachev resigns as the head of the USSR Communist Party
1991 - Ukraine declares independence from the Soviet Union
1992 - Hurricane Andrew, a Category 5 hurricane makes landfall just south of Miami, Florida and 35 die
1998 - The first radio-frequency identification (RFID) human implantation is tested in the United Kingdom
2006 - The term "planet" is redefined by the International Astronomical Union (IAU) and as a result, Pluto is now considered a Dwarf Planet
This Day in Music

1943 - In the Blue of the Evening by Frank Sinatra hits #1
1956 - Love Me Tender and We're Gonna Move are recorded by Elvis Presley
1963 - The album Little Stevie Wonder / The 12 Year Old Genius by Stevie Wonder hits #1
1964 - The album Something New by The Beatles is certified gold
1974 - You're Having My Baby by Paul Anka hits #1
1981 - John Lennon's killer Mark David Chapman is given a sentence of 20 years to life in prison
2008 - Leona Lewis and Jimmy Page performed the Led Zeppelin hit Whole Lotta Love during the closing ceremony for the 2008 Beijing Olympic Games at the National Stadium
2010 - Teenage Dream, Katy Perry's second major-label album is released.
This Day in Sports

1875 - Captain Matthew Webb becomes the first person to swim the English Channel
1989 - Pet Rose is suspended from baseball for life for gambling
2006 - Jerry Rice signs a one-day contract with the San Francisco 49ers, and then officially retires from the NFL
Word of the Day from Wiktionary

Provident (adjective)
1. With care and consideration for the future; foresightly.


Wishing You a Great Day Today!


Like this Page?
Like this Site?
---