August 26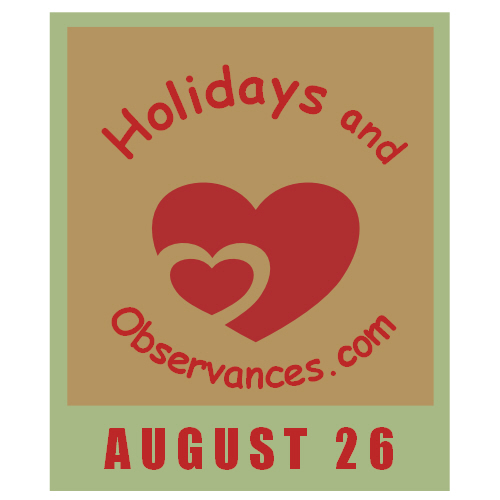 Holidays and Observances
(Alphabetical Order)
2023 Daily Holidays that fall on August 26, include:
Congressional Startup Day 
Make Your Own Luck Day 
Musical Yoga Day 
National Cherry Popsicle Day 
National Dog Day 

National Toilet Paper Day 
National Webmistress Day 
Speak Kind Words Saturday - August 26, 2023 (Last Saturday in August)
Women's Equality Day 
2023 Weekly Holidays that include August 26, are:
Be Kind to Humankind Week - August 25-31
Brake Safety Week - August 20-26, 2023
Drive Sober or Get Pulled Over - Labor Day: August 17 - September 5, 2023
Health Unit Coordinators Week - August 23-29
International Bat Night(s) - August 25-27, 2023 (Last Full Weekend in August)
National Chef's Appreciation Week - August 20-26, 2023 (Third Week in August)
2023 Monthly Holidays that include August 26, are:
There are too many monthly holidays to include here, so please check out our August Holidays page to see all of the holidays that are celebrated the entire month of August.
NOTE:
A page on each holiday will be coming soon and linked above.
If a date is a movable holiday, that is different every year, I'll include the year as well as the date rule above. Otherwise, the holiday falls on the same date each year.
World Festivals and Events
(Date Order)
Little League World Series - August 16-27, 2023 (Held in South Williamsport, Pennsylvania)
National Championship Chuckwagon Races - August 26 - September 3, 2023 (Held in Clinton, Arkansas)
Astrological Sign

The Astrological Sign for August 26 is Virgo.

Birth Flower of the Month

The Birth Flower(s) for the Month of August are:
Gladiolus - Strength, moral integrity, remembrance, infatuation. It blooms in a variety of colors like red, pink, white, yellow and orange.  It stands for sincerity and symbolizes strength of character.
Birthstone
The Birthstone(s) for August is:
Peridot which is known for its shimmering yellow-green color and the peace and good luck it brings to its wearer.
Famous Birthdays

1740 - Joseph-Michel Montgolfier, French aeronaut who invented the hot air balloon (d. 1810)
1906 - Albert B. Savin, Polish-American medical researcher who developed the oral polio vaccine (d. 1993)
1910 - Mother Teresa - Macedonian-Indian missionary, nun and Founder of Missionaries of Charity. She won the Nobel Peach Prize in 1979 (d. 1997)
1946 - Valerie Simpson, American singer and songwriter (Ashford & Simpson)
1970 - Melissa McCarthy, American actress, screenwriter, and producer (Gilmore Girls, Mike & Molly, Bridesmaids)
1966 - Shirley Manson, Scottish singer, songwriter and actress (Garbage)
1980 - Macaulay Culkin, American actor (Home Alone movies, My Girl)
1980 - Chris Pine, American actor (Star Trek)
Famous Deaths

1974 - Charles Lindbergh, American aviator (b. 1902)
1977 - H.A. Rey, German-American author and illustrator, who created the book Curious George (b. 1898)
1989 - Irving Stone, American author (b. 1903)
2004 - Laura Branigan, American singer, songwriter, and actress (Gloria) (b. 1957)
Famous Weddings and Divorces

1927 - Architect Frank Lloyd Wright divorces artist Maude Noel after 4 years of marriage
Quote of the Day

Mother Teresa was born on this day, August 26 in 1910.  What an amazing woman!  She had so many great quotes to choose from, it was difficult to choose just one! 
Recipe of the Day or a
Healthy Diet Habit Tip of the Day

Mindful Eating is about being conscious of why you are eating, and what is going on inside of you.  It is the whole picture of how and why you eat, and less about what you actually eat.
Find out more about Mindful Eating from Kerry of Healthy Diet Habits! (Link goes to her website)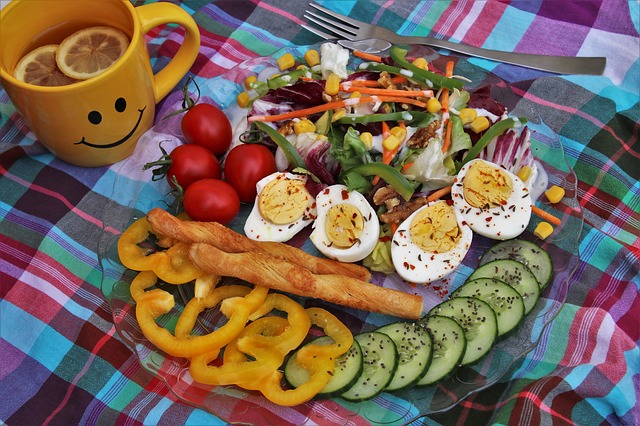 This Day in History

1498 - Michelangelo is commissioned to carve the Pieta, housed in St. Peter's Basilica in Vatican City
1768 - Captain James Cook sets sail from england on board the HMS Endeavour
1791 - John Fitch obtains a US patent for his working steamboat
1920 - The 19th amendment to the United States Constitution gives women the right to vote
1970 - The feminist movement led by Betty Friedan, leads a nation-wide Women's Strike for Equality
1980 - John Birges plants a bomb at the Harvey's Resort Hotel in Stateline, Nevada
This Day in Music

1967 - Ode to Billy Joe by Bobbie Gentry hits #1
1967 - Jimi Hendrix releases Purple Haze
1968 - Harper Valley P.T.A. by Jeannie C. Riley is certified gold.
1968 - Hey Jude is released by The Beatles with Revolution on the B-side
1969 - Suspicious Minds by Elvis Presley is released
1972 - Brandy (You're a Find Girl) by Looking Glass hits #1
1973 - Bobby Darin plays his final concert at the Hilton in Las Vegas
1978 - Grease by Frankie Valli hits #1
2007 - The High School Musical 2 soundtrack album hits #1 on the U.S. album chart 
Today, August 26 is the birthday of  Shirley Manson, who is a singer and songwriter from Scotland, and is the lead singer of the band Garbage.  I first heard of Garbage while watching the show La Femme Nikita, which played their song, Number One Crush. Above is the song, with clips from La Femme Nikita. (Love this song!)
This Day in Sports

1778 - Triglav, the highest mountain in Slovenia is climbed for the first time
1903 - The Phillies walk 17 Dodgers in a game
1961 - The official International Hockey Hall of Fame opens in Toronto, Canada
1990 - Bo Jackson hits his 4th of 4 consecutive HRs
Word of the Day from Wiktionary

 Paradigm Shift (noun)
1. A radical change in thinking from an accepted point of view to a new one, necessitated when new scientific discoveries produce anomalies in the current paradigm.


Wishing You a Great Day Today!


Like this Page?
Like this Site?
---