August 7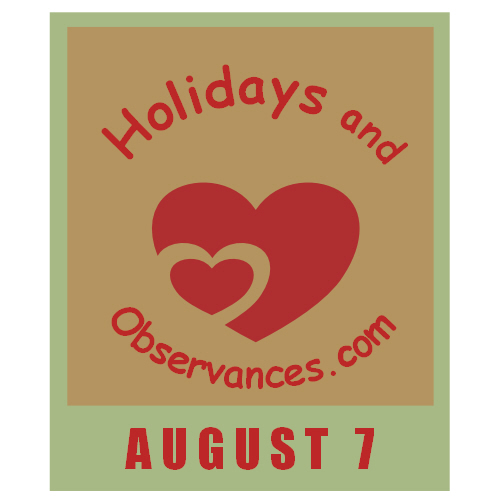 Holidays and Observances
(Alphabetical Order)
2021 Daily Holidays that fall on August 7, include:
Aged Care Employee Day - (in Australia)
International Hangover Day - August 7, 2021 (Day after International Beer Day)
Mead Day - August 7, 2021 (First Saturday in August)
National Beach Party Day 
National Clown Day - August 7, 2021 
National Disc Golf Day - August 7, 2021 (First Saturday in August)
National Jamaican Patty Day - August 7, 2021 (First Saturday in August)
National Lighthouse Day 
National Mustard Day - August 7, 2021 (First Saturday in August)
National Play Outside Day - August 7, 2021 (First Saturday of Every Month)
National Raspberries and Cream Day 
National Sea Serpent Day 
Particularly Preposterous Packaging Day 
Professional Speakers Day 
Purple Heart Day 
Sandcastle Day - August 7, 2021 (First Saturday in August)
Taxpayer Appreciation Day - August 7, 2021 (First Saturday in August)
2021 Weekly Holidays that include August 7, are:
Air Conditioning Appreciation Days - July 3 - August 15
Gallop Inter-Tribal Indian Powwow - July 30 - August 10, 2021
International Assistance Dog Week - August 1-7, 2021 (Starts on First Sunday in August)
International Clown Week - August 1-7
International Mathematicians Week - August 1-9
Knights of Columbus Family Week - August 1-7, 2021
National Cleanse Your Skin Week - August 1-7
National Farmers Market Week - August 1-7, 2021 (First Week of August)
National Fraud Awareness Week - August 1-7, 2021 (First Full Week in August)
National Health Center Week - August 1-7, 2021 (First Full Week in August)
National Minority Donor Awareness Week - August 1-7
National Stop on Red Week - August 1-7, 2021
Perseid Meteor Showers - July 17 - August 24, 2021
Rock for Life Week - August 4-7
Simplify Your Life Week - August 1-7
Single Working Women's Week - August 1-7, 2021 (The Full Week containing August 4, which is Single Working Women's Day)
Twins Day - August 6-8, 2021 (First Full Weekend in August)
World Breastfeeding Week - August 1-7 (First Full Week of August)
2021 Monthly Holidays that include August 7, are:
There are too many monthly holidays to include here, so please check out our August Holidays page to see all of the holidays that are celebrated the entire month of August.
NOTE:
A page on each holiday will be coming soon and linked above.
If a date is a movable holiday, that is different every year, I'll include the year as well as the date rule above. Otherwise, the holiday falls on the same date each year.
World Festivals and Events
(Date Order)
Summer Olympics - July 23 - August 8, 2021 (Held in Tokyo, Japan)
World Police and Fire Games - This is a biennially event held every two years.  Next event will be July 30 - August 8, 2021 and held in Rotterdam, the Netherlands
Sturgis Motorcycle Rally - August 6-15, 2021
Vivid Sydney - August 6-28, 2021 located in Sydney, Australia is where art, technology, and commerce intersect, and is an event of light, music, and ideas. Featuring outdoor lighting sculptures, cutting edge contemporary music, and the illumination of the Sydney Opera House. Check out our Holidays in Australia page!
Astrological Sign

The Astrological Sign for August 7 is Leo.

Birth Flower of the Month

The Birth Flower(s) for the Month of August are:
Gladiolus - Strength, moral integrity, remembrance, infatuation. It blooms in a variety of colors like red, pink, white, yellow and orange.  It stands for sincerity and symbolizes strength of character.
Birthstone
The Birthstone(s) for August is:
Peridot which is known for its shimmering yellow-green color and the peace and good luck it brings to its wearer.
Famous Birthdays

1941 - B.J. Thomas, American singer (Raindrops)
1960 - David Duchovny, American actor, director, producer, and screenwriter (The X Files)
1963 - Patrick Bouvier Kennedy, American son of U.S. President John F. Kennedy (d. 1963 after only living 3 days)
1975 - Charlize Theron, South African/American actress and producer (The Cider House Rules, Monster)
Famous Deaths

1106 - Henry IV, Roman German King/Emperor (b. 1050)
1957 - Oliver Hardy, American actor, singer, and director, comedian of Laurel & Hardy, the double act that began in the era of silent films and lasted 25 years (b. 1892)
Famous Weddings and Divorces

1954 - Musician Johnny Cash marries Vivian Liberto (1st wife)
1974 - Actress Faye Dunaway marries Peter Wolf of the J. Geils Band
1987 - Actor Tom Selleck (Magnum P.I., Blue Bloods) marries actress and dancer Jillie Mack
1995 - Rapper LL Cool J marries Simone Johnson
2008 - Singer and songwriter Jewel marries rodeo champion Ty Murray
Quote of the Day

Recipe of the Day or a
Healthy Diet Habit Tip of the Day

Most of us are unaware of what influences us to overeat. The average person makes over 200 decisions about food every day. If we could understand why we made those decisions to eat, we could develop some healthy diet habits for success. 
Learn more about mindless eating from Kerry's Healthy Diet Habits website!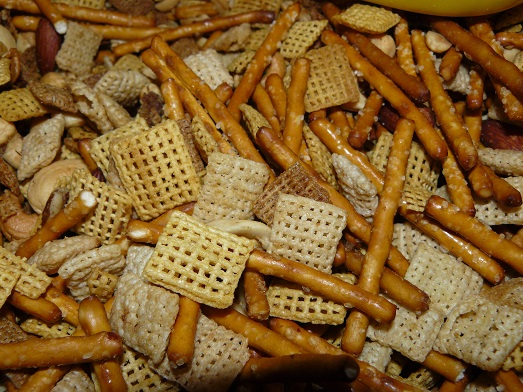 This Day in History

1782 - The Badge of Military Merit to honor soldiers wounded in battle is ordered created by George Washington. It is later renamed to the Purple Heart.
1789 - The United States Department of War is established.
1927 - The Peace Bridge between US (Buffalo, New York), and Canada (Fort Erie, Ontario) is dedicated.
1959 - The Lincoln Memorial U.S. Penny design goes into circulation
1974 - Philippe Petit walks a tightrope strung between the twin towers of the World Trade Center 1,368 feet in the air
1989 - U.S. Congressman Mickey Leland (D-Texas), and 15 others die in a plane crash in Ethiopia.
1998 - 212 people are killed in the U.S. Embassy bomings in Dar es Salaam, Tanzania and Nairobi, Kenya
This Day in Music

1965 - I'm Henry The VIII, I Am by Herman's Hermits hits #1
1965 - The Beatles Help Album hits #1
1965 - It Ain't Me Babe by The Turtles is released
1969 - The Beatles record The End
1971 - How Can You Mend a Broken Heart by The Bee Gee's hits #1
1975 - The Made In The Shade album by The Rolling Stones is certified gold
1976 - Don't Go Breaking My Heart by Elton John & Kiki Dee hits #1
1979 - The final live performance of Led Zeppelin is in the UK
1985 - Barbra Streisand records her Broadway Album
1991 - Paul Simon performs at a free concert in NY's Central Park
1997 - Garth Brooks performs at a free concert in NY's Central Park
2003 - The Osmonds are awarded a star on the Hollywood Walk of Fame
2008 - The Police finish their 151 show reunion tour at New York's Madison Square Garden.
This Day in Sports

1858 - The first football matching using Australian rules is played between Scotch College and Melbourne Grammar
1983 - The first World Track & Field Championships are held
1984 - Japan beats out the US for Olympic gold medal in baseball
1987 - Lynne Cox becomes the first person to swim from the United States to the Soviet Union
2007 - San Francisco Giants Barry Bonds breaks Hank Aaron's record after hitting his 756th home run
2010 - Jerry Rice is inducted into the Pro Football Hall of Fame
Word of the Day from Wiktionary

Dressage (noun)
An equestrian sport in which the horse and rider perform a test of specific movements in an arena, and are judged on the horse's obedience, acceptance of the bridle and of the rider's aids, gaits, impulsion, and the harmony between horse and rider.


Wishing You a Great Day Today!


Like this Page?
Like this Site?
---