Holidays in Ireland

When I think of Holidays in Ireland, without a doubt, the first thing I think of, is their St. Patrick's Day - Ireland is another one of the places around the World that I would love to visit, and I would love to time it around that time of year!
The crazy thing is, I was telling my parents that I had finished this page and would love to go to Ireland, and they said that I've already been to Shannon, Ireland.  I was like "What"??? It turns out that since I'm a Military dependent, I was born in Augsburg, Germany, and when we came back to the United States from Germany, we stopped in Shannon, Ireland, and then flew to Newfoundland in Canada for refueling (I didn't know I had been there either!). I obviously was too young to remember, so I still have it on my travel bucket list to go again.
In addition to the major Holidays that are celebrated, there are many different festivals and events throughout the year.  For Oyster Fans out there, there is the International Oyster Festival held in the City of Galway each year in late September.  For Jazz lovers, you'll want to time your visit to attend the biggest Jazz festival in Ireland in the City of Cork, which is held every October.
Map of Ireland

Ireland, known as the Republic of Ireland is highlighted on the map above. Northern Island, the part not highlighted, is one of the constituent Countries of the United Kingdom.
Holidays and Observances in Ireland
All the Holidays in Ireland information below will give the 2023 Date and Holiday Name. Ultimately, we will have a Daily Holidays Page for each of the Days of the Year, and a devoted page for each of the Holidays and Observances.  Pages completed will be linked up below once they are done.
If a Holiday does not have 2023 after it below, that means that it is observed annually on the same day.  Those with 2023 listed after the date, are movable holidays that are observed on different days each year.
January Holidays 

February Holidays 

March Holidays 

March 17 - St. Patrick's Day - When this day falls on a weekend, it is observed on the following Monday. In Ireland, this kicks off a 4-day festival with street fairs, carnivals, parades, food and lots of beer, and traditional Irish Music and dancing. The celebration in Dublin is the biggest.
April Holidays in Ireland

April 10, 2023 - Easter Monday - Most businesses and schools in Ireland are closed for the week.
May Holidays in Ireland

June Holidays in Ireland

June 5, 2023 - June Bank Holiday 
July Holidays 

August Holidays in Ireland

September Holidays 

October Holidays in Ireland

October 31 - Halloween - There are many Halloween Festivals and Celebrations around the Country.  This would be a fun time to visit!
November Holidays in

December Holidays in Ireland

December 24 - Christmas Eve - Ireland has a large Catholic population (approx. 84% in 2011), so midnight mass on Christmas Eve is popular, as well as Christmas Day mass.
December 26 - St. Stephen's Day - This day honors the Christian Martyr with ceremonies, feasts, and visits to the pubs.
Overview of Ireland

The video below is a few years outdated, but gives a great overview of Ireland, with some great facts and music to the video!
Fun Facts About Ireland

There are over 400 Golf Courses in Ireland
The three biggest symbols for the Country are the Celtic Cross, the Harp which is the National Symbol, and the Shamrock.
The History of Halloween, traces back to the Gaelic festival of Saimhain, which was a harvest festival held on October 31st, to celebrate the end of summer.
Yippee - There are no snakes in Ireland!
The most common spoken language in English since the late 19th century. Irish is the National and first official language, but both have official status in the Republic of Ireland.
The oldest Pub in Ireland is Sean's Bar, which was founded over 900 years ago!
The Titanic was built in Belfast, in Northern Ireland in 1912.
Ireland, is often called the "Emerald Isle", because of it's green scenery. Incredibly beautiful!!
Travel Information

Many people travel during the longer holidays for vacations, or to spend time with family living in a different area. 

To book hotels, I love to use Hotels Combined which is a world leading hotel comparison site.  You can enter the City in Ireland that you are traveling to below in the Search box, and you can find availability and the best hotel prices by comparing all the major travel sites with just the one search! Find the Hotel and Price that works best for your budget, and book your room!
Top Things to Do in Ireland

The video below from Tourism Ireland, is long (over 8 minutes), but does a great job of showing the Country. 
Golf! Over 240,000 golfers come to play golf in Ireland each year, at one of the 400 golf courses.
It's a great country to hike!
Take a Road Trip - it is a small country and the countryside is incredibly green and beautiful.
Visit an Irish Pub!  One Word...Guinness!
It is an Island, so take a Boat ride along the coast, or on one of the many rivers. The River Shannon is the largest at 240 miles.
The Island is surrounded by the Atlantic Ocean on the west, and the Celtic Sea separates it and mainland Europe.  The Irish Sea separates it from Great Britain.  There are many great beaches to visit in the country.  Some of the best are in the Southwest of Country Donegal, such as Bundoran Beach, Rossnowlagh Beach, Murvagh Beach, Fintragh Beach, and The Silver Stand.
Visit the Countries TWO Capitals. Dublin, in the Republic of Ireland, and Belfast, in Northern Ireland.
Visit the City of Cork, on the South end of the Island. Lonely Planet has named it one of the Top 10 Cities in the World!
Walk the Carrick-A-Rede Rope Bridge in Northern Island that links the mainland to the small island of Carrickarede.  (Bridge shown below, and you can see it in the video above)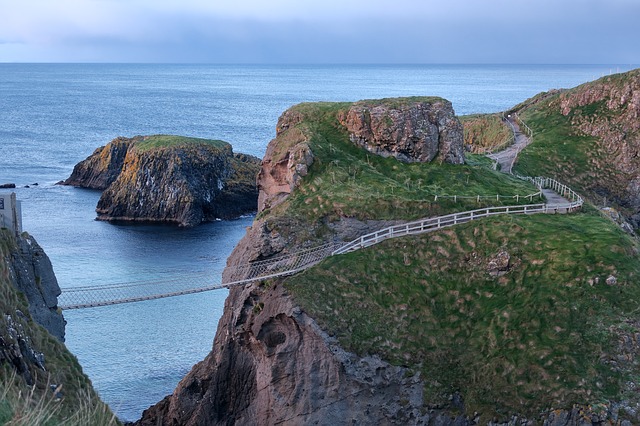 Music
Ireland has had some great musical acts throughout the years, as well as their great Celtic Music.  Some of my favorites are U2, The Cranberries, and Snow Patrol, who I didn't realize was an Ireland Band.  They are best known for their song, Chasing Cars, but one of my favorites of theirs has always been their song, Chocolate, which is featured below.
Some of the other well know musicians and bands from Ireland include Enya, Gealic Storm, One Direction (English-Irish), Rory Gallagher, Sinead O'Conner, The Corrs, The Dubliners, Thin Lizzy, Van Morrison and Westlife. There are lots more great artists, so many that I may have to do a devoted page of Ireland's Top Music at some point!
Above, is Linger, one of my favorite songs from The Cranberries! Lead singer, Dolores O'Riordan had such an amazing voice!
Country Resources

Pinterest Board of Ireland

Please Follow our Holidays and Observances Holidays in Ireland Holiday Board on Pinterest - below you will see our 30 most recent pins to this photo board!
Click on the SEE ON PINTEREST bar right above, to see all the rest of our photo's on this board, and to Follow the board. New photos will be constantly added!
Like this Page?
Like this Site?
---