March 3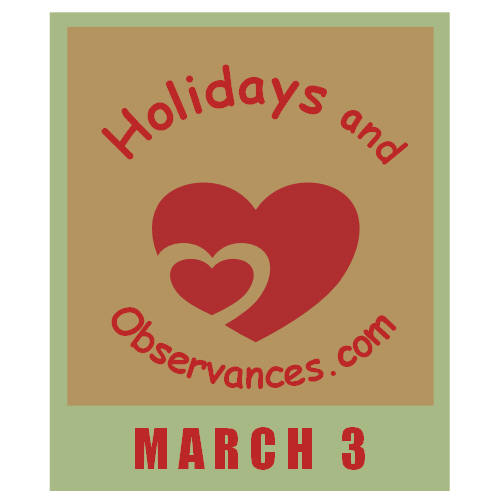 Holidays and Observances
(Alphabetical Order)
2021 Daily Holidays that fall on March 3, include:
33 Flavors Day 
Bonza Bottler Day 
Canadian Bacon Day 
I Want You To Be Happy Day 
If Pets had Thumbs Day 
International Ear Care Day 
National Anthem Day 
National Cold Cuts Day 
National Mulled Wine Holiday 
Navy Reserves Birthday 
Peach Blossom Day 
Simplify-Your-Life Day 
Soup it Forward Day 
Stop Bad Service Day - March 3, 2021 (First Wednesday in March)
Talk in Third Person Day 
TB-303 Appreciation Day 
World Birth Defects Day 
World Wildlife Day 
2021 Weekly Holidays that include March 3, are:
British Pie Week - March 1-7 (Observed for 7 days starting on March 1st)
Endometriosis Awareness Week - March 3-9, 2021
Fairtrade Fortnight - February 22 - March 7, 2021
Hearing Awareness Week - March 1-7
Lent - February 17 - March 29, 2021
Make Mine Chocolate - (Campaign kicks off annually on Feb 15, and ends on Easter which is April 4, 2021)
National Aplastic Anemia & MDS Awareness Week - March 1-6
National Cheerleading Week - March 1-7
National Ghostwriters Week - March 1-7
National Green Week - February 7 - April 30, 2021
National Pasty Week - February 28 - March 6, 2021
National Pet Sitters Week - March 1-7
National Write a Letter of Appreciation Week - March 1-7
Newspaper in Education Week - March 1-5, 2021 (First Full School Week in March)
Read Across America Week - March 1-5, 2021 (M-F week of Dr. Seuss Birthday on March 2)
Telecommuter Appreciation Week - March 1-7, 2021 (Week that includes Alexander Graham Bell's Birthday of 3/2)
Universal Human Beings Week - March 1-7
Will Eisner Week - March 1-7
2021 Monthly Holidays that include March 3, are:
There are too many monthly holidays to include here, so please check out our March Holidays page to see all of the holidays that are celebrated the entire month of March.
NOTE:
A page on each holiday will be coming soon and linked above.
If a date is a movable holiday, that is different every year, I'll include the year as well as the date rule above. Otherwise, the holiday falls on the same date each year.
World Festivals and Events
(Date Order)
North Dakota Winter Show - February 28 - March 6, 2021 (Valley City, ND)
Houston Livestock Show and Rodeo - March 2-21, 2021 (Houston, TX)
Astrological Sign

The Astrological Sign for March 3 is Pisces.

Birth Flower of the Month

The Birth Flower(s) for the Month for March are:
Birthstone
The Birthstone(s) for March is the aquamarine and the bloodstone.
Famous Birthdays

1847 - Alexander Graham Bell, Scotland, inventor (telephone)
1882 – Charles Ponzi, Italian criminal and scam artist who used the Ponzi scheme to scam people (d. 1949)
1947 – Jennifer Warnes, American singer and songwriter
1970 – Julie Bowen, American actress (Modern Family)
1982 – Jessica Biel, American actress (7th Heaven)
Famous Deaths

1959 – Lou Costello, American actor and comedian (Abbott & Costello) (b. 1906)
1987 – Danny Kaye, American actor, singer, and comedian  (Danny Kaye Show) (b. 1913)
Famous Weddings and Divorces

1984 - Denver Broncos quarterback John Elway marries swimmer Janet Buchan
Quote of the Day

I like this quote from Danny Kaye, who died on this day in 1987.  It is just a reminder that our life is an empty canvas, and it is up to us to draw the picture of what we want our life to be!
Recipe of the Day or a
Healthy Diet Habit Tip of the Day

The Holidays and Observances Recipe of the Day for March 3, is a Chicken Stir Fry Recipe with Cauliflower and Broccoli from Kerry, at Healthy Diet Habits.
This Day in History

Above is the Sky Tower in Auckland, New Zealand. It took two and a half years of construction and was completed on this day in 1997.  Check out our Holidays in New Zealand page for more information about New Zealand.
This Day in Music

1931 – The United States adopts The Star-Spangled Banner as its national anthem
1965 - The Temptations' My Girl hits #1
1966 - Rock group Buffalo Springfield forms
1973 - Elton John's Don't Shoot Me I'm Only the Piano Player

Album hits #1

1979 - The Bee Gees' Spirits Having Flown

Album hits #1



1978 - Van Halen starts their first ever US tour in Chicago as the opening act for Journey
2009 - Martina McBride sings The Star-Spangled Banner
This Day in Sports

1875 – The first ever organized indoor game of ice hockey is played in Montreal, Canada
1959 - San Francisco Giant's rename their stadium Candlestick Park
Word of the Day from Wiktionary

beey (adjective)
1. (informal, rare) Reminiscent of or containing bees.


Wishing You a Great Day Today!


Like this Page?
Like this Site?
---