October 31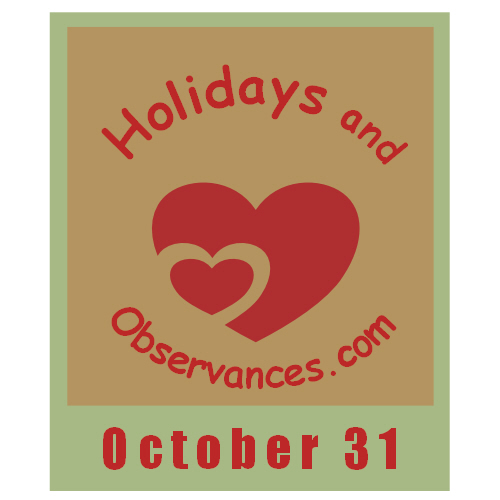 Holidays and Observances
(Alphabetical Order)
2023 Daily Holidays that fall on October 31, include:
All Hallows Eve 
Beggars' Night 
Books For Treats Day
Carve a Pumpkin Day 
Day of the Seven Billion 
Girl Scout Founder's Day 
Magic Day 
National Caramel Apple Day 
National Doorbell Day 
National Increase Your Psychic Powers Day 
National Knock Knock Jokes Day 
Reformation Day 
Samhain - (Pagan)
Save a Friend Day 
Sneak Some of the Candy Yourself Before the Kids Start Knocking Day 
Trick or Treat for UNICEF Day 
World Cities Day 
World Savings Day 
2023 Weekly Holidays that include October 31, are:
International Magic Week - October 25-31

National Red Ribbon Week - October 23-31 (Last 9 days of October)

Prescription Errors Education & Awareness Week - October 24-31

World Origami Days - October 24 - November 11
2023 Monthly Holidays that include October 31, are:
There are too many monthly holidays to include here, so please check out our October Holidays page to see all of the holidays that are celebrated the entire month of October.
NOTE:
A page on each holiday will be coming soon and linked above.
If a date is a movable holiday, that is different every year, I'll include the year as well as the date rule above. Otherwise, the holiday falls on the same date each year.
World Festivals and Events
(Date Order)
Cricket World Cup - October 5 - November 19, 2023
Astrological Sign

The Astrological Sign for October 31 is Scorpio which spans from October 23 to November 21.
Birth Flower of the Month

The Birth Flower(s) for the Month of October is:
Marigold

 is a Mediterranean native plant and has been prized for both its beauty and versatility. They come in a range of colors including white, gold, and yellow; however, probably the most popular is bright orange.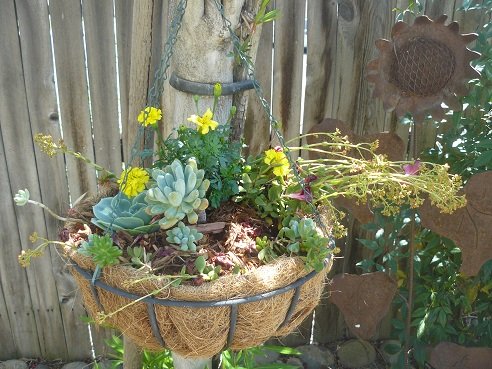 This year, I used several flats of marigolds around all my vegetables that I was growing.  I also re-potted a bunch of hanging baskets with succulents and put some yellow marigolds in each one for some color.
Birthstone
The Birthstone(s) for October are :
Famous Birthdays

1912 - Dale Evans, American singer, songwriter and actress (Roy Rogers Show) (d. 2001)
1936 - Michael Landon, American actor, director, producer, and screenwriter (Bonanza, Little House on the Prairie) (d. 1991)
1954 - Ken Wahl, American actor, screenwriter, and activist who advocates for Veteran's rights and against animal abuse (Wiseguy)
1976 - Piper Perabo, American actress and producer (Coyote Ugly, Covert Affairs)
Famous Deaths

1926 - Harry Houdini, American magician (b. 1874)
1993 - River Phoenix, American actor (Stand By Me) and singer (b. 1970)
Famous Weddings and Divorces

1968 - Singer Davy Jones of The Monkees, marries actress Linda Haines
1970 - Actor and Director Dennis Hopper (Easy Rider) marries singer Michelle Phillips of the Mama's and the Papa's
Quote of the Day

Recipe of the Day or a
Healthy Diet Habit Tip of the Day

Halloween Food is often not healthy food with lots of Halloween treats, and Halloween candy available during this time.  Treats are often made to look like pumpkins, ghosts, or skeletons, the scarier the better!  If you are a kid, Halloween is a much beloved Holiday, because you can often eat more goodies than normal!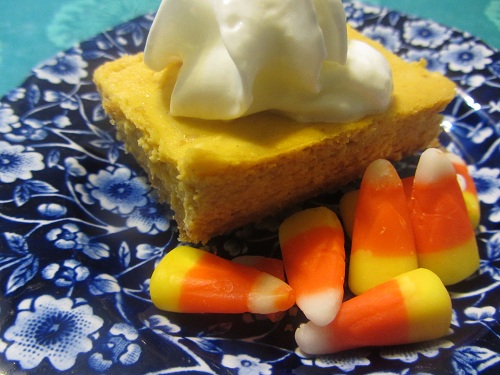 Find some tips and tricks, and ideas on making this unhealthy holiday, a little healthier, and some ideas on what to do with any excess candy from checking out our Halloween Food page!
This Day in History

1864 - Nevada is admitted as the 36th United States state
1876 - Over 200,000 deaths occur in India after a cyclone ravages the country
1913 - The Lincoln Highway is dedicated as the first automobile highway across the United States
1922 - Benito Mussolini is made the Prime Minister of Italy
1923 - Marble Bar in Western Australia has the first of 160 consecutive days of 100 degree weather
1924 - The Members of the Association at the 1st International Savings Bank Congress announces the start of World Savings Day
1941 - Mount Rushmore is completed after 14 years of work
1956 - The U.K. and France begin bombing Egypt to force the reopening of the Suez Canal
1963 - 74 people are killed and over 400 injured during an ice skating show when an explosion occurs at the Indiana State Fair Coliseum as a result of a faulty propane tank connection
1979 - Western Airlines Flight 2605 crashed upon landing in Mexico City, killing 73 people
1998 - Iraq announces that it would no longer cooperate with the UN weapons inspectors
1999 - All 217 people on board Egypt Air Flight 990 are killed when the plane crashes into the Atlantic Ocean near Nantucket, MA
2000 - Singapore Airlines Flight 006 crashes on takeoff from Taipei, killing 83 people
2011 - The United Nations recognizes the day as Seven Billion Day when the global population of humans reaches seven billion
2015 - Metrojet Flight 9268 is bombed in Egypt over the northern Sinai Peninsula, killing all 224 people on board
This Day in Music

1962 - Monster Mash becomes the most popular Halloween song of all times
1992 - End of the Road by Boyz II Men is #1 song on the Hot 100 for the 12th consecutive week
2000 - No Name Face is released as the debut album of Lifehouse with the first single Hanging By a Moment becoming the most played song on the radio in 2001 (video below)
2007 - Elvis Presley tops the annual Forbes magazine list of most profitable dead celebrities with his estate having earned $49 million over the past year
This Day in Sports

1908 - The 4th Olympic games ends in London
1999 - Jesse Martin circumnavigates the world in a yacht on a solo, non-stop trip ending in Melbourne
2003 - Surfer Bethany Hamilton suffers a shark attack while surfing in Hawaii and loses her arm at age 13
Word of the Day from Wiktionary

Lutheran (Adjective)
1. (Christianity) Of or pertaining to the theology of Martin Luther (1483-1546), or his followers, or the Lutheran church.


Wishing You a Great Day Today!


Like this Page?
Like this Site?
---