September 14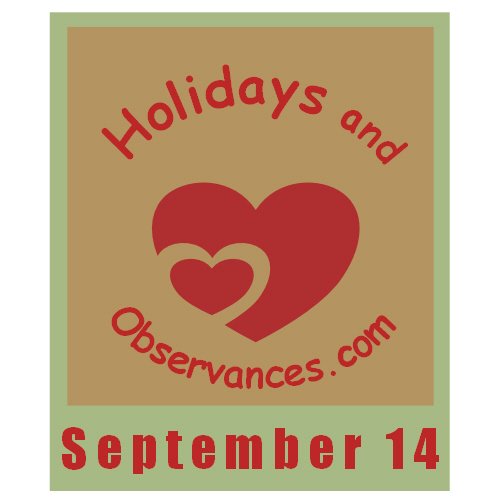 Holidays and Observances
(Alphabetical Order)
2023 Daily Holidays that fall on September 14, include:
Eat a Hoagie Day 
Gobstopper Day 
Live Creative Day 
National Coloring Day 
National Cream Filled Donut Day 
National Quiet Day (UK) 
National Sober Day 
Support Latino Business Day 
The Exaltation of the Holy Cross 
2023 Weekly Holidays that include September 14, are:
Direct Support Professional Recognition Week - September 9-15
International Housekeepers Week - September 10-16, 2023 (Second Full Week of September)

Line Dance Week - September 11-16, 2023 (Starts on Second Monday through Saturday in September)
National Assisted Living Week - September 10-16, 2023

National Environmental Services Week - September 10-16, 2023

National Eczema Week - September 13-21
National Nephrology Nurses Week - September 10-16, 2023 (Second Full Week in September)
National Suicide Prevention Week - September 10-16, 2023 (always has Sept. 10th in the week) 
National Truck Driver Appreciation Week - September 10-16, 2023
2023 Monthly Holidays that include September 14, are:
There are too many monthly holidays to include here, so please check out our September Holidays page to see all of the holidays that are celebrated the entire month of September.
NOTE:
A page on each holiday will be coming soon and linked above.
If a date is a movable holiday, that is different every year, I'll include the year as well as the date rule above. Otherwise, the holiday falls on the same date each year.
World Festivals and Events
(Date Order)
Invictus Games - September 9-16, 2023
Astrological Sign

The Astrological Sign for September 14 is Virgo.

Birth Flower of the Month

The Birth Flower(s) for the Month of September are:
Aster

- symbols of powerful love.

Morning Glory

- simple symbols of affection.
Birthstone
The Birthstone(s) for September is Sapphires:
Famous Birthdays

1947 - Sam Neill, Irish-New Zealand actor and director (Jurassic Park)
1954 - Barry Cowsill, American singer, songwriter and producer (The Cowsills) (d. 2005)
1960 - Melissa Leo, American actress
1964 - Faith Ford, American actress and producer (Murphy Brown)
1983 - Amy Winehouse, English singer and songwriter (Rehab) (d. 2011)
Famous Deaths

1936 - Aaron Burr, American colonel and polition who became the 3rd Vice President of the United States (b. 1756)
1851 - James Fenimore Cooper, American author (Last of the Mohicans) (b. 1789)
1901 - William McKinley, American soldier, lawyer, and politician, 25th President of the United States (b. 1843)
1982 - Grace Kelly, American actress and singer, Princess of Monaco (b. 1929)
2009 - Patrick Swayze, American actor, dancer, singer, and songriter (Dirty Dancing, Ghost, Point Break) (b. 1952)
Famous Weddings and Divorces

1835 - American essayist, lecturer and poet Ralph Waldo Emerson marries 2nd wife Lydia Jackson
1838 - Escaped slave Frederick Douglass marries free woman Anne Murray in New York
1954 - Comedian and actor Jerry Still marries actress Anne Meara
1962 - Actress Janet Leigh divorces actor Tony Curtis after 10 years of marriage
1970 - Singer Steve Wonder marries singer Syreeta (Rita) Wright
1974 - Singer and composer Quincy Jones Jr marries actress Peggy Lipton (Mod Squad)
1984 - Actor Gene Wilder marries comedian and actress Gilda Radner (Saturday Night Live)
2002 - Singer Gwen Stefani (No Doubt) marries singer Gavin Rossdale (Bush) 
Quote of the Day

I Love This!! Take the initiative and smile!
Recipe of the Day or a
Healthy Diet Habit Tip of the Day

Weight control is about continuing to monitor your problem areas, making positive helpful changes, and continually learning! Find tips to help from Kerry's Healthy Diet Habits website!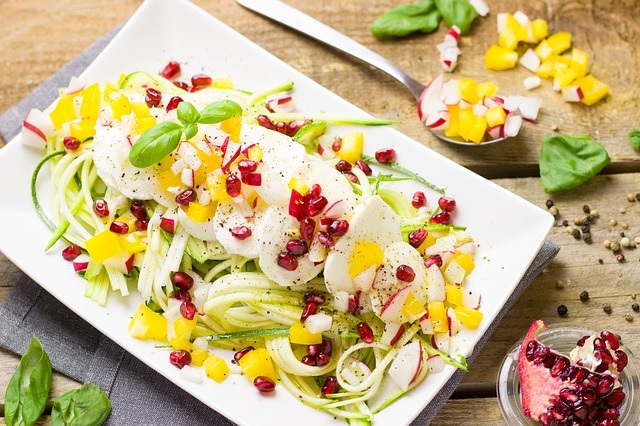 This Day in History

1682 - Bishop Gore School, one of the oldest schools in Wales is founded
1752 - The British Empire and American colonies adopt the Gregorian calendar
1814 - Francis Scott Key wrote the poem Defence of Fort McHenry which was later used as the lyrics of the Star Spangled Banner
1829

- The Treaty o Adrianople ends the Russian-Turkish War

1901

- U.S. President William McKinley dies after an assassination attempt on September 6

1901

- Theodore Roosevelt is sworn in as U.S. President after the death of William McKinley 

1960

- The Organization of Petroleum Exporting Countes is founded (OPEC)

1985 - Penang Bridge connects the island of Penang to the mainland opens as the longest bridge in Malaysia
1998 - MCI Communications and WorldCom merge to form MCI WorldCom in a $37 billion merger
2001 - The Washington National Cathedral hosts a historic National Prayer Serve for victims of the September 11 attacks.
2008 - Aeroflot Flight 821 crashes on approach to Perm Airport in Russia, killing all 82 passengers and 6 crew members 
This Day in Music

1814 - Francis Scott Key wrote the lyrics to the Star-Spangled Banner which becomes the official US National Anthem on March 3, 1931.
1963 - She Loves You by the Beatles becomes England's best selling single of all time
1973 - The Twelfth of Never by Donny Osmond is certified gold.
1974 - I Shot The Sheriff by Eric Clapton hits #1 on the charts.
1979 - Kenny Rogers is awarded a star on the Hollywood Walk of Fame
1994 - The Temptations are awarded a star on the Hollywood Walk of Fame
2007 - The movie Across the Universe which was inspired by The Beatles opens
Above, is a contemporary version of the Star Spangled Banner by Madison Rising, a musical project that call themselves "America's most patriotic rock band".
Please check out our Music Holidays page!
This Day in Sports

1984 - The first person to fly a gas balloon across the Atlantic Ocean alone is Joe Kittinger.
1987 - The Toronto Blue Jays hit 10 home runs in a single game for a record
1994 - Due to a strike, the Major League Baseball season is canceled.
Word of the Day from Wiktionary

Torrefy (verb)
1. To subject to intense heat.


Wishing You a Great Day Today!


Like this Page?
Like this Site?
---