Holidays in Germany

Holidays in Germany - I would love to travel and spend some time in Germany, since I was born in Augsburg Germany, while my Dad who was in the U.S. Army was stationed there.  My sister, Kerry, was also born in Germany, a couple years ahead of me, but she was lucky and has been able to visit Germany since then.  When she went to Augsburg, she brought me home a china plate from Augsburg, which means a lot to me!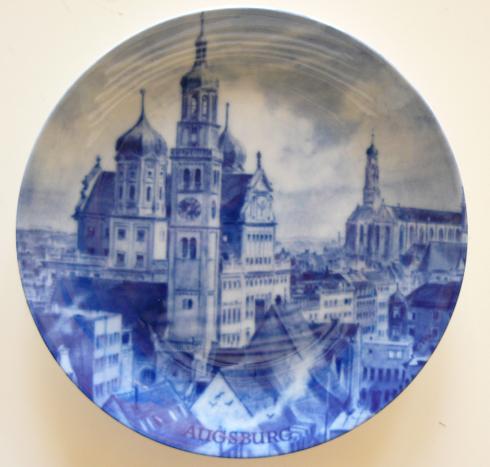 My kids are both half German, (last name STORZ), so I would love for all of us to be able to tour the Country one day together. I'm pretty sure that my son Ryan, would want to time a trip to take advantage of going to the Oktoberfest festivals, but I would love to be able to spend a Christmas in Germany, visit where I was born, and tour all the amazing castles! Ideally, it would be amazing to actually go live in Germany for a year and have the opportunity to celebrate all of the Holidays and attend all of the many festivals.

Ryan tells me we are related to the owners of Storz Chocolate in Tuttlingen.  It is amazing Chocolate! They are famous for having Chocolates decorated for all the different Holidays, like Easter, Christmas Chocolates that can be used as Tree Ornaments, Valentine's Day, Mother's Day and Halloween. They have a "bug" collection, and one of my favorites are the ladybug Chocolates.  The only places that we have found these in the U.S., is at World Market, or Amazon. Most of the Chocolates have the name "STORZ", on them, so my kids always thought they were fantastic! Now my grandkids can all get spoilt with them on holidays!

Our Mom and Dad have two cabinets full of the amazing German Beer Steins that they bought when they were stationed in Germany.
Map of Germany

Germany borders 9 countries (Austria, France, Switzerland, Denmark, Belgium, Luxemburg, Holland, Czech Republic, and Poland)
Germany is made of sixteen different States. I'll list the abbreviations that I'm using on the different Holidays and Observances, as some of them are only observed in some of the States:
Baden-Wurttember = BW

Bavaria = BY

Berlin = BE

Brandenburg = BB

Bremen = HB

Hamburg = HH

Hesse = HE
Lower Saxony = NI
Mecklenburg-Western Pomerania = MV

North Rhine-Westphalia = NW

Rhineland-Palatinate = RP

Saarland = SL

Saxony = SN

Saxony-Anhalt = ST

Schleswiq-Holstein = SH

Thuringia = TH
Holidays and Observances in Germany
All the Holidays in Germany information below will give the 2023 Date, Holiday Name, Holiday Type, and Where it is observed...in the event the Holiday is not celebrated in all of the States in Germany. Ultimately, we will have a Daily Holidays Page for each of the Days of the Year, and a devoted page for each of the Holidays and Observances listed below.  Pages completed will be linked up below once they are done.
If a Holiday does not have 2023 after it below, that means that it is observed annually on the same day.  Those with 2023 listed after the date, are movable holidays that are observed on different days each year.
January Holidays in Germany

February Holidays in Germany

March Holidays in Germany

April Holidays in Germany

May Holidays in Germany

June Holidays in Germany

June 8, 2023 - Corpus Christi - Local Holidays (States of BW, BY, HE, NW, RP, SL and some areas of TH)

June 21, 2023 - June Solstice - Season
July Holidays in Germany

August Holidays in Germany

August 8 - Peace Festival - Local Holiday in Bavaria
August 15 - Assumption of Mary - Local Holiday in Bavaria and Saarland
September Holidays in Germany

September 1 - World Peace Day - Observance
September 9, 2023 - German Language Day (Second Saturday in September) - Observance
September 10, 2023 - Day of the Homeland (Second Sunday in September)
September 10, 2023 - European Heritage Days - Observance
September 16, 2023- October 3, 2023 - Oktoberfest Beer Festival in Munich, Germany. This festival is now held all over the World. 
September 23, 2023 - September Equinox - Season
September 29, 2023 - German Butterbrot Day (Last Friday in September)
October Holidays in Germany

September 16, 2023 - October 3, 2023 - Oktoberfest Beer Festival in Munich, Germany. This festival is now held all over the World.
October 1, 2023 - Harvest Festival
October 3 - Germany Unity Day - National Holiday
October 29, 2023 - Daylight Savings Time ends
October 31 - Halloween - Observance
October 31 - Reformation Day - Local Holiday
November Holidays in Germany

November 1 - All Saints' Day - Silent Day - Observed in BW, BY, RP, NW, SL

November 2 - All Soul's Day - Silent Day
November 9 - Fall of the Berlin Wall - Observance
November 11 - St. Martin's Day - Observance
November 19, 2023 - National Day of Mourning - Silent Day
November 22, 2023 - Repentance Day - Local Holiday in Saxony
November 26, 2023 - Sunday of the Dead - Silent Day
December Holidays in Germany

Overview of Germany

The video above, show a lot of the beautiful scenery in Germany, as well as some of the Castles, like the Neuschwanstein Castle which was the inspiration for the Disneyland Castle.

Fun Facts About Germany

There are over 300 kinds of bread in Germany
Gummy bears were invented by a German named, Hans Riegel
The National Alcoholic drink of choice is beer with Germans being the second largest beer consumers in the world, after the Irish. 
There are over 1,500 different types of beer!

The first Oktoberfest was a wedding celebration for Prince Ludwig of Bavaria.
70% of the Autobahn (highway) has no speed limit
More than 400 registered zoos and animal parks operate in Germany, the most for any country

Germany is one of the leading countries in developing and using green technologies
Christianity is the largest religion in Germany
German is the official and predominant spoken language in Germany
Germany has the world's oldest universal health care system, dating back to 1883
Some of the world's most well-known classical music composers came from German, including Beethoven, Bach, Mozart and Brahms.
Meat is often eaten in sausage form, in fact there are over 1,000 different varieties!

Germany ranks third in the most Olympic Medals count by Country.
They build a great car....BMW, Mercedes, Porsche, Audi.
Berlin has the largest train station in Europe
The Christmas tree tradition came from Germany
There are over 150 castles in Germany, with the Neuschwanstein Castle being the most famous.
With a height of 530 ft, and 768 steps to the top, the Minster of Ulm is the tallest church in Germany, and in the world.
31% of the Country has been left in forests and woodlands
Albert Einstein, the most recognized scientist in the world was German

Travel Information in Germany

Many people travel during the longer holidays for vacations, or to spend time with family living in a different area.  I highly recommend visiting
Germany, and I am hoping that one day, I am able to go back to visit the Country I was born in.  It is an awesome Country with so many unique, and fun things to do.
To book hotels, I love to use Hotels Combined which is a world leading hotel comparison site.  You can enter the City that you are traveling to below in the Search box, and you can find availability and the best hotel prices by comparing all the major travel sites with just the one search! Find the Hotel and Price that works best for your budget, and book your room!
Top 10 Things to Do in Germany

COMING SOON - A devoted page will be coming shortly with this information
Music
COMING SOON - A devoted page will be coming shortly with this information
Country Resources for Additional Information

Germany Insider Facts - written by a German native, this looks like a great website full of lots of great information about the Country
Pinterest Board of Germany

Please Follow our Holidays and Observances Holidays in Germany   Holiday Board on Pinterest - below you will see our 30 most recent pins to this photo board!
Click on the SEE ON PINTEREST bar right above, to see all the rest of our photo's on this board, and to Follow the board. New photos will be constantly added!
Like this Page?
Like this Site?
---