September 1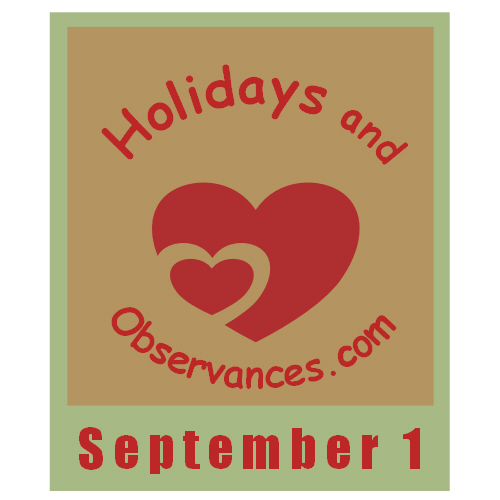 Holidays and Observances
(Alphabetical Order)
2022 Daily Holidays that fall on September 1, include:
Building and Code Staff Appreciation Day 
Chicken Boy Day
Emma M. Nutt Day 
Ginger Cat Appreciation Day 
National Cherry Popover Day 
National No Rhyme Nor Reason Day 
National Tofu Day (UK) 
Pink Cadillac Day 
Save Japan's Dolphins Day 
Toy Tips Executive Toy Test Day 
Wattle Day (Australia - First Day of their Spring)

World Letter Writing Day 
2022 Weekly Holidays that include September 1, are:
Drive Sober or Get Pulled Over - Labor Day: August 17 - September 5, 2022

International Enthusiasm Week - September 1-7
National Childhood Injury Prevention Week - September 1-7
National Nutrition Week - September 1-7
National Sweet Corn Week - September 1-5, 2022
Self-University Week - September 1-7
World Water Week - August 23, 2022 - September 1, 2022
2022 Monthly Holidays that include September 1, are:
There are too many monthly holidays to include here, so please check out our September Holidays page to see all of the holidays that are celebrated the entire month of September.
NOTE:
A page on each holiday will be coming soon and linked above.
If a date is a movable holiday, that is different every year, I'll include the year as well as the date rule above. Otherwise, the holiday falls on the same date each year.
World Festivals and Events
(Date Order)
National Championship Chuckwagon Races - August 27 - September 4, 2022 (Held in Clinton, Arkansas)

US Open Tennis Championships - August 29 - September 11, 2022
Astrological Sign

The Astrological Sign for September 1 is Virgo.

Birth Flower of the Month

The Birth Flower(s) for the Month of September are:
Aster

- symbols of powerful love.

Morning Glory

- simple symbols of affection.
Birthstone
The Birthstone(s) for September is Sapphires:
Famous Birthdays

1795 - James Gordon Bennett, Sr., American newspaper publisher who founded the New York Herald (d. 1872)
1923 - Rocky Marciano, American heavyweight boxer (d. 1969)
1933 - Conway Twitter - American country singer, songwriter and guitarist (1993)
1939 - Lily Tomlin, American comedienne, actress (Laugh-In)
1946 - Barry Gibb, English singer and songwriter (Bee Gees)
1957 - Gloria Estefan, Cuban-American singer, songwriter, and actress (Miami Sound Machine)
1975 - Scott Speedman, English-Canadian actor (Felicity)
1996 - Zendaya, American actress, singer, and dancer (Disney channel, Dances with the Stars)
Famous Deaths

Famous Weddings and Divorces

1730 - US Founding Father Benjamin Franklin establishes a common-law marriage with Deborah Read
1996 - Amy Carter, the only child of former U.S. President Jimmy Carter, marries computer consultant Jim Wentzel
2001 - Actress Geena Davis (Thelma & Louise) marries Iranian-American plastic surgeon Dr. Reza Jarrahy
2002 - Actress Sarah Michelle Geller (Buffy) marries actor Freddie Prinze Jr. 
Quote of the Day

Gloria Estefan, was born on this day, September 1, 1957! I have always loved her songs, and her inspirational life story! I love the words to her song Words Get in The Way in this quote!
Recipe of the Day or a
Healthy Diet Habit Tip of the Day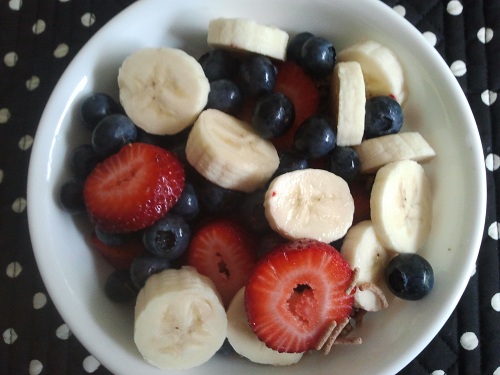 Start the day with a Healthy Breakfast! The month of September is All American Breakfast Month and National Breakfast Month!
Find out tips from Kerry at Healthy Diet Habits on why eating a Healthy Breakfast is so important! (link goes to her website)
This Day in History

717 - The Siege of Constantinople, where the Muslim armada of 1,800 ships is defeated by the Byzantine Navy through the use of Greek fire.
1449 - Mongols capture the Emperor of China
1715 - After reigning 72 years (the longest of any major European monarch), King Louis XIV of France dies
1772 - Mission San Luis Obispo de Tolosa is founded in San Luis Obispo, California
1878 - Emma Nutt is the 1st female telephone operator recruited by Alexander Graham Bell in Boston
1897 - The Boston subway opens as the first underground rapid transit system in North America
1923 - A 7.9 earthquake devastates Tokyo and Yokohama, killing over 142,000
1939 - Switzerland proclaims neutrality in World War II
1939 - Nazi Germany and Slovakia invade Poland and begin the European phase of World War II
1951 - The United States, Australia, and New Zealand sign the ANZUS Treaty, a mutual defense pact
1952 - The Old Man and the Sea, a novel by Ernest Hemingway is first published and would go on to win a Pulitzer Prize
1969 - A coup in Libya brings Colonel Muammar Gaddafi to power
1979 - The American space probe Pioneer 11 makes 1st fly by of Saturn
1982 - The United States Air Force Space Command is founded
1985 - A joint US and French expedition locates the wreckage of the RMS Titanic off Newfoundland
1997 - The death of Diana, Princess of Wales is announced by Buckingham Palace (She died on August 31, 1997 in Paris, France)
2017 - In response to sanctions from the United States, Russian President Vladimir Putin expels 755 diplomats
This Day in Music

1962 - Sheila by Tommy Roe hits #1
1967 - Box Scaggs joins The Steve Miller Band
1972 - Back Stabbers by The O'Jay's is certified gold
2002 - The album A Rush of Blood to the Head by Coldplay hits #1 in the UK
This Day in Sports

1926 - The British Columbia Rugby Football Union is formed
1972 - In Reykjavik, Iceland, American Bobby Fisher becomes the world chess champion after beating Russian Boris Spassky
1980 - Nancy Lopez wins the LPGA Rail Charity Golf Classic
Word of the Day from Wiktionary

Diaperhood (noun)
1. (informal) The period of time for which one wears a diaper as a child; babyhood.


Wishing You a Great Day Today!


Like this Page?
Like this Site?
---