September 21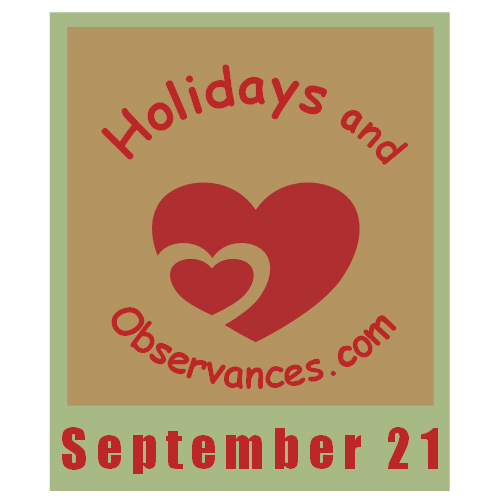 Holidays and Observances
(Alphabetical Order)
2022 Daily Holidays that fall on September 21, include:
Black Women's Equal Pay Day - September 21, 2022
Escapology Day 
International Banana Festival 
International Day of Peace 
Miniature Golf Day 
National Chai Day 
National Farm Safety Day for Kids 
National Myositis Awareness Day 
National Pecan Cookie Day 
National Rehabilitation Day - September 21, 2022 (Wednesday in Third Week of September)
National School Backpack Awareness Day - September 21, 2022 (Third Wednesday in September)
Pause the World Day 
Peace One Day 
World Alzheimer's Day 
World Gratitude Day 
2022 Weekly Holidays that include September 21, are:
2022 Monthly Holidays that include September 21, are:
There are too many monthly holidays to include here, so please check out our September Holidays page to see all of the holidays that are celebrated the entire month of September.
NOTE:
A page on each holiday will be coming soon and linked above.
If a date is a movable holiday, that is different every year, I'll include the year as well as the date rule above. Otherwise, the holiday falls on the same date each year.
World Festivals and Events
(Date Order)
Astrological Sign

The Astrological Sign for September 21 is Virgo.

Birth Flower of the Month

The Birth Flower(s) for the Month of September are:
Aster

- symbols of powerful love.

Morning Glory

- simple symbols of affection.
Birthstone
The Birthstone(s) for September is Sapphires:
Famous Birthdays

1866 - H.G. Wells, English novelist, and historian, called the father of science fiction (The Time Machine, The War of the Worlds (d. 1946)
1931 - Larry Hagman, American actor, director and producer (I Dream of Jeannie, Dallas) (d. 2012)
1950 - Bill Murray, American actor, comedian, producer and screenwriter (Saturday Night Live, Groundhog Day)
1962 - Rob Morrow, American actor (Northern Exposure)
1967 - Faith Hill, American singer, songwriter, producer, and actress (Breathe, This Kiss, The Way You Love Me)
1983 - Maggie Grace, American actress (Lost, Taken)
Famous Deaths

1832 - Walter Scott, Scottish novelist, playwright and poet (Rob Roy, Ivanhoe) (b. 1771)
1998 - Florence Griffith Joyner, (Flo Jo), American sprinter, track and field athlete who was the fastest woman of all time who set world records in 1988 for both the 100m and 200m, wom a silver medal at the 1984 Olympics and won three gold medals at the 1988 Olympics
Famous Weddings and Divorces

1996 - Magazine Publisher John F. Kennedy Jr., son of U.S. President John F. Kennedy, marries Caroline Bisset in cumberland Island, Georgia
Quote of the Day

World Gratitude Day is September 21st!
Who / What are YOU thankful for? Take the time today, to thank all of the wonderful people in your life! Take the time today, to thank God for all the blessings in your life!
Recipe of the Day or a
Healthy Diet Habit Tip of the Day

Is quick and easy soup possible? Everyone knows that soup needs time to simmer; to blend the flavors to perfection.
Many say they would never attempt to make homemade soup, but it can be one of the simplest healthy recipes to prepare! Definitely a healthy diet habit that should be a part of everyone's fall and winter meal plans and even into summer, as there are many lighter or cold soups that work well.
Find out some tips for quick and Easy Soup from Kerry's Healthy Diet Habits website!
This Day in History

1776 - Part of New York City is burned after being occupied by British forces
1780 - Benedict Arnold gives the British the plans to West Point
1921 - A storage silo in Oppau, Germany explodes, killing up to 600 people
1934 - Honshu, Japan is hit by a large typhoon killing more than three thousand people
1938 - The Great Hurricane of 1938 makes landfall on Long Island in New York with a death toll of approx. 500-700 people
1942 - The Nazis send over 1,000 Jews of Pidhaitsi to the Belzec extermination camp on the Jewish holiday of Yom Kippur
1942 - The Nazis murder 2,588 Jews in Dunaivtsi, Ukraine
1942 - The Boeing B-29 Superfortress makes its maiden flight
1949 - The People's Republic of China is proclaimed
1964 - Malta gains independence from the United Kingdom, but chose to remain in the Commonwealth
1964 - The World's fastest bomber, the North American XB-70 Valkyrie makes its maiden flight from Palmdale, California
1965 - The Gambia, Maldives, and Singapore are admitted as members of the United Nations
1971 - Bahrain, Bhutan, and Qatar join the United Nations
1972 - Martial law is declared by Philippine President Ferdinand Marcos
1976 - Seychelles joins the United Nations
1981 - Belize is granted full independence from the United Kingdom
1981 - Sandra Day O'Connor is unanimously approved by the U.S. Senate as the first female Supreme Court justice
1984 - Brunei joins the United Nations
1991 - Armenia grains their independence from the Soviet Union
1993 - Russian President Boris Yeltsin suspends parliament and scraps the constitution
1996 - The United States Congress passes the Defense of Marriage Act
1999 - The Chi-Chi earthquake strikes in central Taiwan, killing around 2,4000 people
2013 - Al-Shabaab Islamic militants attack the Westgate shopping mall in Kenya, killing at least 67 people


This Day in Music

2000 - Phil Collins, Mike Rutherford, and Tony Banks get back together as Genesis for a one time performance at the London Hilton during the British Music Roll of Honour gala
2001 - The benefit concert America: A Tribute to Heroes, airs on most major TV networks with performers Neil Young, Paul Simon, Billy Joel, Tom Petty, and Willie Nelson who raise over $128 million for the victims of the September 11 attacks
2004 - Yusuf Islam (Cat Stevens), shows up on a terrorist watch list accused of funding terror groups, so is denied entry into the United States
2011 - After more than 30 years together, R.E.M. announce they are breaking up as a band
2012 - Rush and Show is released by No Doubt, 11 years after their last album (video below)
This Day in Sports

1933 - Mexican professional wrestling is established by Salvador Lutteroth
1964 - In the 20th America's Cup, Constellation (U.S.) beats Sovereign (England)
1985 - Michael Spinks beats Larry Holmes in 15 rounds to become the Heavyweight Boxing Champion
1991 - USA Basketball announces "Dream Team" for the 1992 Olympics
1997 - New York Yankee Cecil Fielder hits his 300th HR
Word of the Day from Wiktionary

Infanticide (noun)
1. The murder of an infant.


Wishing You a Great Day Today!


Like this Page?
Like this Site?
---