January 1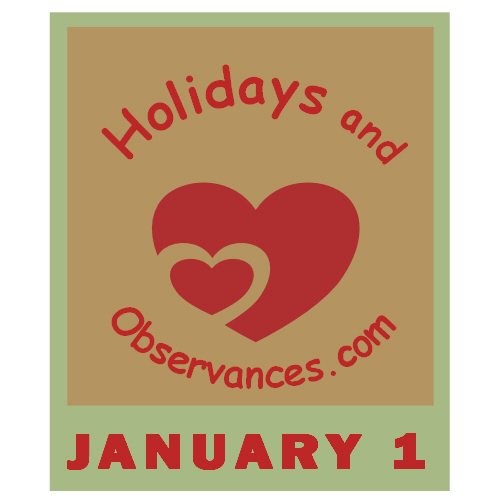 January 1, is the day that the new calendar year starts, according to the Gregorian Calendar that is in worldwide use.  The most popular holiday of the day is New Years Day. It is also a great day to start working on setting your annual New Years Resolutions!

It is a day of new beginnings!  One of my favorite Quotes is "Cherish Yesterday, Dream Tomorrow, Embrace Today". This would be great for everyone to learn to do everyday!
The drink of the day is a Bloody Mary, for those who indulged too much during their New Years Eve Celebration the night before!
 Holidays and Observances
(Alphabetical Order)
2022 Daily Holidays that fall on January 1, include:

Apple Gifting Day 

Bonza Bottler Day 
Commitment Day 
Copyright Law Day 
Ellis Island Day 
Euro Day 
First Foot Day 

Global Family Day 
Mummer's Parade 
National Bloody Mary Day 

National Hangover Day 
National Play Outside Day - January 1, 2022 (First Saturday of EVERY Month)
New Years Day - January 1 (Observed December 31, 2021)
New Year's Dishonor List Day 

Polar Bear Plunge or Swim Day 
Public Domain Day 
Rose Bowl Game - January 1, 2022
Solemnity of Mary, Mother of God - (Catholic)
St. Basil's Day 
Tournament of Roses Parade (Rose Parade) - January 1, 2022
World Day of Peace 
Z Day 
2022 Weekly Holidays that include January 1, are:
Celebration of Life Week - January 1-7
Christmas Bird Count Week -  December 14, 2021 - January 5, 2022
Diet Resolution Week - January 1-7
Drive Sober or Get Pulled Over (Winter Enforcement) - December 18, 2021 - January 1, 2022
Kwanzaa - Evening of December 26, 2021 - January 1, 2022

New Years' Resolution Week - January 1-8
Silent Record Week - January 1-7
Tie One On For Safety Campaign - Runs November 25, 2021 through January 1, 2022 (Thanksgiving to New Years Day)
2022 Monthly Holidays that include January 1, are:
There are too many monthly holidays to include here, so please check out my January Holidays page to see all of the holidays that are celebrated the entire month of January.
NOTE:
A page on each holiday will be coming eventually, and linked above.
If a date is a movable holiday, that is different every year, I'll include the year as well as the date rule above. Otherwise, the holiday falls on the same date each year.
World Festivals and Events
(Date Order)
Harbin Ice and Snow Sculpture Festival - Starts annually on January 5, and typically runs for a month or more, in Harbin, China and is the largest ice and snow festival in the world! 2022 dates are January 5 - February 28, 2022. Some pre-events are starting on December 23, 2021
Mummer's Parade - January 1 Held each year on New Years Day in Philadelphia, Pennsylvania, It is believed to be the oldest folk festival in the United States.
Rose Parade or Tournament of Roses Parade is held every year on January 1 in Pasadena, California.  If Jan. 1st is a Sunday, then it will be held on January 2. It is a festival of flower covered floats, marching bands, equestrian riders followed by the Rose Bowl college football game. 2022 is on January 1st!
Astrological Sign

The Astrological Sign for January 1 is a Capricorn.
Birth Flower of the Month

The Birth Flower(s) for the Month for January are:
Carnation - The Carnation is the Birth Flower for January. The  symbolization of the Carnation means love, pride, beauty, purity, distinction, fascination, and loyal.
Snowdrop is a white flower with three small petals in the middle surrounded by three larger petals on the outside. The symbolization of the snowdrop means love, fascination, and purity.
See our GARDEN HOLIDAYS page for all the special days celebrating things of the garden!
Birthstone
The Birthstone for January is Garnet, which comes in a rainbow of colors. It is considered a great gift to symbolize friendship and trust.
Famous Birthdays

1735-1818 - Paul Revere, Patriot in the American Revolutionary War
1752-1836 - Betsy Ross, seamstress who designed the first U.S. Flag
1895-1972 - J. Edgar Hoover, FBI Director from 1924-1972
Famous Deaths

1782 - Johann Christian Bach, German composer (b. 1735)
1953 - Hank Williams, American singer and songwriter (Drifting Cowboys) (b. 1923)
1968 - Malcolm Wheeler-Nicholson, American publisher who founded DC Comics (b. 1890)
Famous Weddings and Divorces

1772 - Founding Father of the United States, Thomas Jefferson marries Martha Wayles Skelton
1824 - US President James Knox Polk marries Sarah Childress
1989 - Actor Leonard Nimoy marries actress Susan Bay
1994 - Microsoft CEO Bill Gates marries Melinda French
Quote of the Day

Every Day is a new start! And every year is a new start! If you don't like something in your life, change it! If you don't like something in your personality, work to change it! Every day we are blessed with the ability to create our life the way we want it to be.  Sure there are struggles, problems, and road bumps along the way, but each day, put the past behind you and work towards the life that you want to have!
Recipe of the Day or a
Healthy Diet Habit Tip of the Day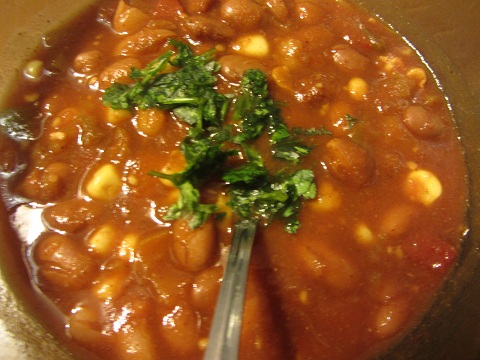 Slow Cooker Chili Recipe made by Kerry, of Healthy Diet Habits.
A perfect healthy meal that can be fixed ahead of time. You can use this for dipping chips, while watching the games on January 1. Click the link above for the recipe, on Kerry's Healthy Diet Habits website.
This Day in History

Below are some of the big historical events that happened on January 1:

This Day in Music

1960 - Johnny Cash plays the 1st of many free concerts behind bars
1966 - Simon & Garfunkel's "Sounds of Silence" reaches #1
Live in Central Park in New York in 1981
This Day in Sports

Below are just a few of the many great Sports Events or accomplishments that happened on January 1:

1935 - 1st Orange Bowl

1935 - 1st Sugar Bowl

1977 - Tony Dorsett runs for a record 202 yards in the Sugar Bowl
Word of the Day from Wiktionary

Inception - (noun)

1. The Creation or beginning of something, the Establishment.


Wishing You a Great Day!


Like this Page?
Like this Site?
---