January 10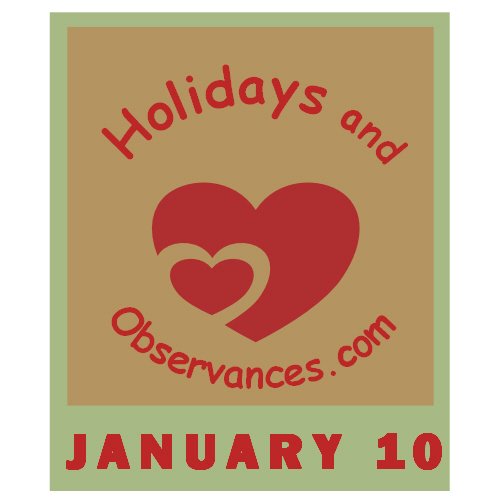 Holidays and Observances
(Alphabetical Order)
2023 Daily Holidays that fall on January 10, include:
Bittersweet Chocolate Day

Golden Globe Awards (Beverly Hills) - January 10, 2023

Houseplant Appreciation Day 
League of Nations Day 
National Cut Your Energy Costs Day 
National Oysters Rockefeller Day 
National Peculiar People Day 
National Poetry at Work Day - January 10, 2023 (Second Tuesday in January)
National Shop for Travel Day - January 10, 2023 (Second Tuesday in January)
Save the Eagles Day 
2023 Weekly Holidays that include January 10, are:
Congenital Heart Defect Awareness Week - January 7-14
Home Office Safety and Security Week - January 8-14, 2023 (Second Full Week in January)

National Mocktail Week - January 8-14, 2023 (Second Full Week in January)
National Pizza Week - January 8-14, 2023 (Second Full Week of January)
Take a New Year's Resolution to Stop Smoking Month (TANYRSS) - December 17, 2022 - February 5, 2023; December 17, 2023 - February 5, 2024

Universal Letter Writing Week - January 8-14
2023 Monthly Holidays that include January 10, are:
There are too many monthly holidays to include here, so please check out my January Holidays page to see all of the holidays that are celebrated the entire month of January.
NOTE:
A page on each holiday will be coming soon and linked above.
If a date is a movable holiday, that is different every year, I'll include the year as well as the date rule above. Otherwise, the holiday falls on the same date each year.
World Festivals and Events
(Date Order)
Harbin Ice and Snow Sculpture Festival - Usually starts annually on January 5, and typically runs for a month or more, in Harbin, China and is the largest ice and snow festival in the world! 2023 dates are December 23, 2022 - February 28, 2023
Pennsylvania Farm Show - January 7-14, 2023 (Harrisburg, PA)

National Western Stock Show and Rodeo - (Denver, CO) - January 7 - 22, 2023
Golden Globe Awards (Beverly Hills, CA) - January 10, 2023
Astrological Sign

The Astrological Sign for January 10 is a Capricorn.
Birth Flower of the Month

The Birth Flower(s) for the Month for January are:
Carnation - The Carnation is the Birth Flower for January. The  symbolization of the Carnation means love, pride, beauty, purity, distinction, fascination, and loyal.
Snowdrop is a white flower with three small petals in the middle surrounded by three larger petals on the outside. The symbolization of the snowdrop means love, fascination, and purity.
See our GARDEN HOLIDAYS page for all the special days celebrating things of the garden!
Birthstone
The Birthstone for January is a Garnet.
Famous Birthdays

1836 - Charles Ingalls, father of Laura Ingalls Wilder, author of The Little House on the Prairie Series
1865 - Mary Ingalls, sister of Laura Ingalls Wilder, author of The Little House on the Prairie Series
1938 - Willie McCovey, American baseball player
1943 - Jim Croce, American singer
1944 - Frank Sinatra, Jr., American singer
1945 - Rod Stewart, Scottish singer
1949 - George Foreman, American boxer
1953 - Pat Benatar, American singer
Famous Deaths

1862 - Samuel Colt, American businessman who founded Colt's Manufacturing Company and invented the 6 shot revolver (b. 1814)
1917 - Buffalo Bill Cody, American soldier and hunter (b. 1846)
1935 - Edwin Flack (Teddy), Australian tennis player and runner was a double Olympic Gold medalist in 1896 (b. 1873)
2015 - Robert Stone, American Novelist and Journalist (Dog Soldiers) (b. 1937)
2016 - David Bowie - English singer & songwriter (b. 1947)
Famous Weddings and Divorces

1870 - Wyatt Earp, American Sheriff marries Urilla Sutherland
1942 - Actor Mickey Rooney marries Actress Ava Gardner
1998 - Barry Bonds, American Major League Baseball player marries Elizabeth Watson
2009 - Fergie, American singer (The Black Eyed Peas) marries Actor Josh Duhamel
Quote of the Day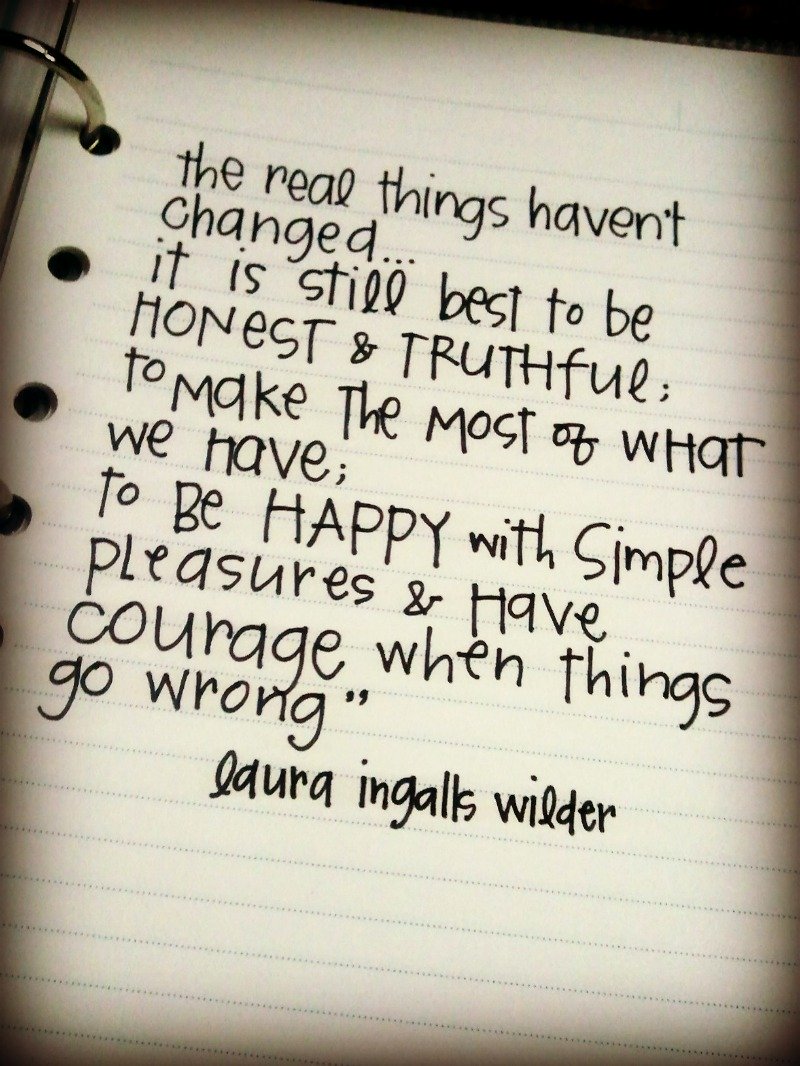 Today's Quote of the Day is from Laura Ingalls Wilder, author of the Little House on the Prairie Books.  Her father (Pa), and her sister Mary, were both born on this day.  I loved her books, and the Little House on the Prairie TV Series - I'm pretty sure I watched every episode at least once, if not more!
I saw the above quote on Pinterest from Home Grown Hospitality, but could not find the quote on their website. Love the website!! 
Recipe of the Day or a
Healthy Diet Habit Tip of the Day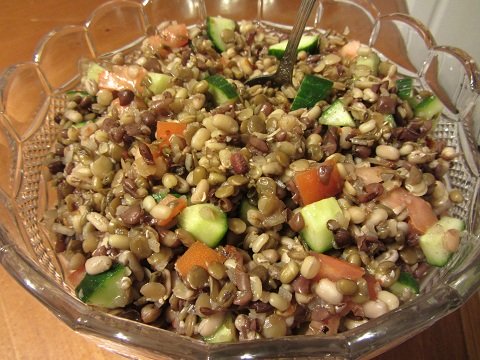 Healthy Sprouted Bean Salad Recipe from Kerry at Healthy Diet Habits, using a blend of sprouted green lentils, sprouted adzuki, and sprouted mung beans. Add whatever fresh vegetables you like (recipe uses cucumbers and tomatoes), and Kerry's recommended seasonings, and it makes a great vegetarian dish, or Meatless Monday dish.
This Day in History

1776 - Thomas Paine publishes

Common Sense

,  a pamphlet that gave the American colonists reasons for pursuing freedom from British rule. It became an immediate success.
1861 - During the American Civil War, Florida secedes from the Union.
1870 - John D. Rockefeller incorporates Standard Oil.
1901 - Oil is discovered in Texas
1920 - League of Nations is established
1932 - Mickey Mouse comics is syndicated
1946  - The first General Assembly of the United Nations opens in London with Fifty-one nations represented.
1949 - RCA introduces the 45 RPM record
1951 - 1st jet passenger trip made
1980 - The last broadcast of the Rockford Files on NBC
1984 - The United States and Vatican City establish full diplomatic relations after 117 years
2013 - Several bomb blasts in Pakistan kills more than 100 people and injures 270
This Day in Music

1953 - Perry Como's Don't Let The Stars Get In Your Eyes hits #1
1956 - Elvis records Heartbreak Hotel
1958 - Jerry Lee Lewis' Great Balls of Fire reaches #1 on the UK pop charts
1968 - Aretha Franklin's Chain Of Fools is Certified Gold.
1975 - Al Green's album Al Green Explores Your Mind is Certified Gold
1976 - C.W. McCall's Convoy hits #1
1985 - Chris Isaak releases his first album, Silvertone.
1997 -  James Brown receives a star on the Hollywood Walk of Fame.
This video is a great duet with Aretha Franklin (the Queen of Soul), and Mariah Carey singing Aretha's song, Chain of Fools. They sing amazing together!
This Day in Sports

1980 - Jim Stewart, Bruin's rookie goalie allows 3 goals in his 1st 4 minutes, & a total of 5 goals in the 1st period. He never again plays in the National Hockey League.
Word of the Day from Wiktionary

open book (noun)

1. Something of which salient aspects are obvious or easily interpreted.
2.A person who through naivete responds candidly to questions or openly displays their emotions or intentions.


Wishing You a Great Day Today!


Like this Page?
Like this Site?
---